A Detailed Ad-Aware Anti-virus Review
Ad-Aware Free is Now an Antivirus But Definitely Not a Security Suite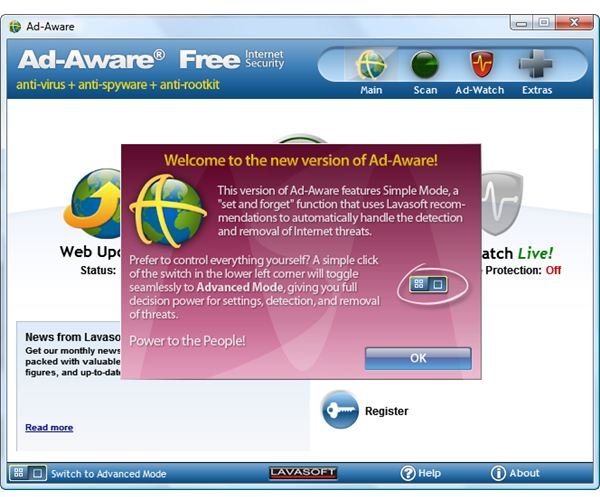 Lavasoft has released a new version of its popular anti-spyware and anti-adware program, Ad-Aware. Version 8.3 of Ad-Aware Free has changed the product name from Ad-Aware Free to Ad-Aware Free Internet Security. Also, the free version now includes antivirus protection using the detection engine by Sunbelt Software VIPRE. Users of the free edition are now allowed to use the scheduler feature to setup automatic scan.
Ad-Aware 8.3 Free Internet Security is not an Internet security suite that some users thought it might be. Lavasoft did not name the product as Ad-Aware Free Internet Security Suite since the free version does not include a firewall, anti-spam, and parental control. It's just a free Internet security protection by Ad-Aware against spyware, adware, rootkits, and now from viruses. The only item that I noticed missing in the new version is the email scanner for Outlook plug-in. The said email scanner is now available only in the paid edition, Ad-Aware Total Security. Let's now find out more about the new program in this Ad-Aware anti-virus review.
Installation and System Requirements (4 out of 5)
The install process of Ad-Aware Free Internet Security has not changed:
A PC restart is required to allow the program to install the Ad-Watch Live driver that is offering real-time protection against malicious processes.

The setup file of Ad-Aware still bundles Google Chrome installer which is optional but not required to use Ad-Aware free protection.
Ad-Aware antivirus will install on Windows 2000 Pro, XP and 32-bit/64-bit of Vista and Windows 7. The program will install the plug-in, Download Guard for Internet Explorer as additional protection when downloading files. After the install process and the required PC restart, Ad-Aware report its status to the Windows Security Center.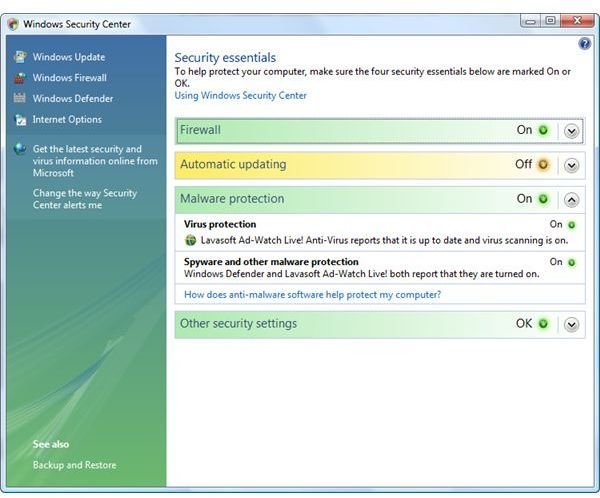 It will not disable Windows Defender, the free anti-spyware by Microsoft in Vista and Windows 7 or for XP.
The program will use 85MB of hard-disk space and will install the Microsoft Visual C++ Runtime 9.0 SP1. I'm glad to see that it's a service pack because some vendors continue to install the vulnerable version of this component from Microsoft. An example is Spyware Doctor by PC Tools.
There have been reports from Ad-Aware V8.3 users that the program will not install in English and it was acknowledged by Lavasoft as glitch with a bug fix on its installer coming this week.
User Interface and Browsing Protection by Ad-Aware (5 out of 5)
The user interface of Ad-Aware is simple and easy to manage. A basic and advanced mode is still an option for Ad-Aware users. You can customize the skin or theme of the program and you can switch to a different language within the program even after you've finished installing the product. An option to display the Ad-Aware notification icon in the system tray is also available.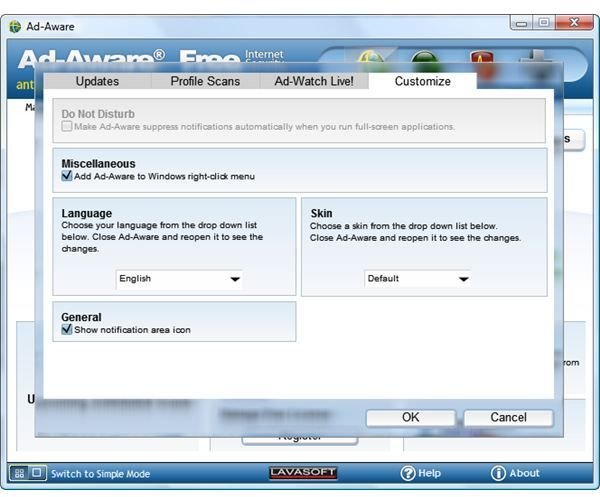 To check the ability of Ad-Aware plugin for IE browser, I started to download malicious or unwanted files from the Internet using Internet Explorer. Ad-Aware's Download Guard for IE is really useful as extra protection in Windows.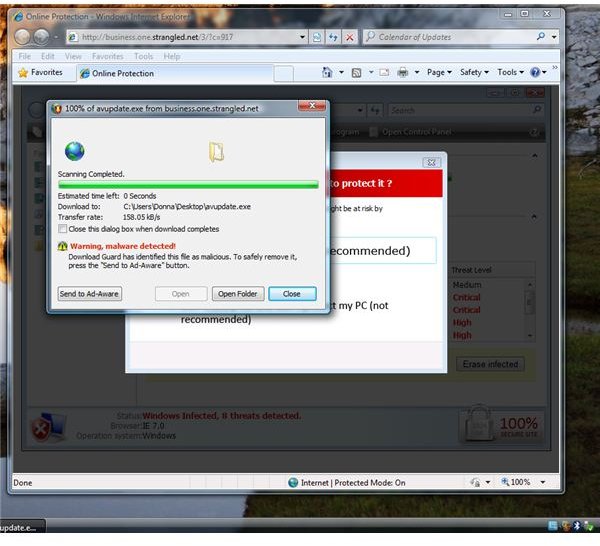 Current users of Ad-Aware will receive an upgrade notice and the existing settings are not affected after the upgrade.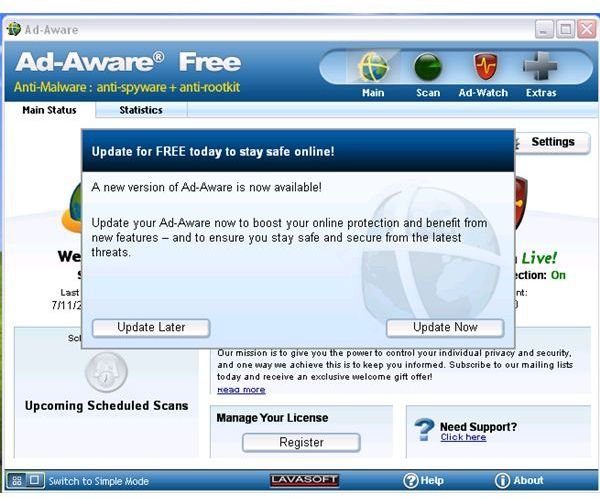 Ad-Aware provides a handy menu in the notification area in Windows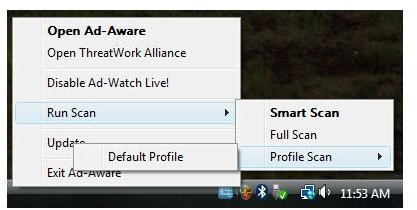 Features and Performance of Ad-Aware Antivirus (5 out of 5)
Continuing with my Ad-Aware Anti-Virus review or better known as Ad-Aware Free Internet Security, it offers the following in its program:
Antivirus engine to detect and protect against viruses and other types of malware. Ad-Aware is currently using the detection engine of VIPRE. You have the option to disable this feature if you have another antivirus program.

Rootkit, spyware and adware protection and removal

Real-time protection against malicious processes using Ad-Watch Live! - Note that this is a limited protection and it will not monitor malicious files, registry, and network in real-time. Only the paid edition has the complete real-time protection.

Scan Scheduler and Scan Statistics

Automatic Updates - Note that you cannot modify the default update schedule for Ad-Aware even if you use the Task Scheduler in Windows.

Download Guard for IE browser - This will only check if the file you are downloading is known to Ad-Aware as malware. It will not check if the website is rogue or malicious. The said protection to block malicious and unwanted websites is only available in the paid edition of Ad-Aware.

Scanning - Full, custom, quick scan, and context menu scan is available.

Quarantine Manager and Ignore List

TrackSweep - The TrackSweep is quite useful in removing the temp files in Opera, Internet Explorer, and Firefox browsers.

ThreatWork Alliance - An option to submit suspicious files to Lavasoft via its toolbox in the program.

Background Scan - It is slower, however, to finish scanning because it uses low memory, allowing you to use the computer and other applications without worrying about the memory usage of the scanner.
I did not notice a lag while browsing or using the computer when running Ad-Aware V8.3. It only uses an average 18MB, which is impressive. In the screenshot below, you will notice that I have Explorer, Opera, Outlook, and Firefox running and Ad-Aware is only using the shown amount of memory.

When I run a scan without shutting down any browser and email program, Ad-Aware continues to use an acceptable memory usage.

Malware Detection and Protection (4 out of 5)
To complete this Ad-Aware anti-virus review, we now look at the protection and detection ability of the program. Since the product does not offer real-time protection for malicious files during a transfer, I have to check if Ad-watch Live! will trigger an alert or block a malicious process when execution occurs. Also, I can only check whether Ad-Aware Free will be able to detect the 315 malware samples that I transferred and if the removal of the detected items is successful.
In the image below, you will see that Ad-Aware's Ad-Watch Live! is good in preventing execution of malicious files.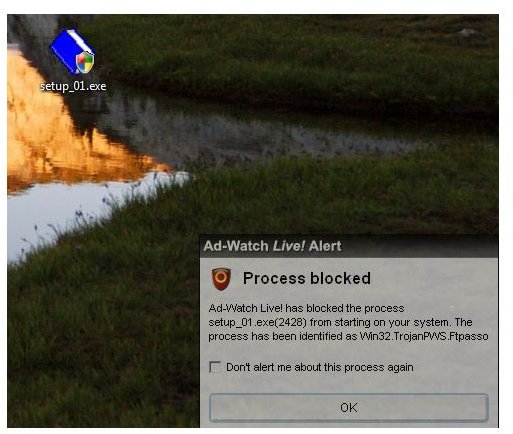 Ad-Aware's detection for malware is pretty good. It is able to detect and remove 233 malicious files out of 315. It failed to detect 82 malware samples.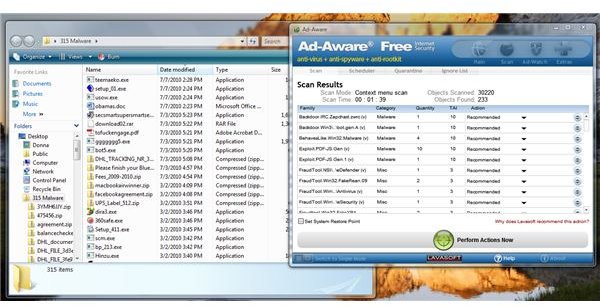 The problem that I noticed in Ad-Aware is that it failed to detect any malware inside archived files even though the program is configured by default to scan archived files. The undetected 82 samples consisted of 71 malware samples that were compressed. When I extracted the contents of the compressed files, Ad-Aware was able to detect them all, leaving the computer unsafe only from 11 malware samples.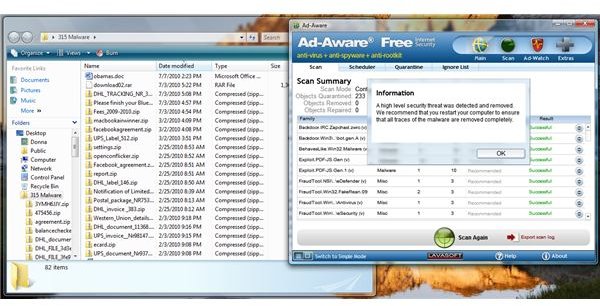 Ad-Aware is able to handle what it detects by using the recommended settings to move the detected threats in the quarantine.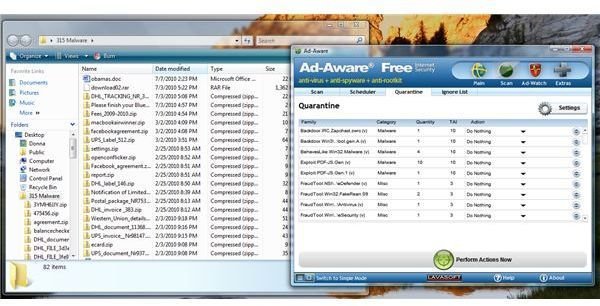 Conclusion
Ad-Aware Anti-Virus is an impressive malware detection and protection program without compromising the performance of the PC. A highly recommended antivirus and anti-malware protection as long as Lavasoft continues to provide daily detection updates.
Screenshots courtesy of Lavasoft Ad-Aware Free Internet Security