Free Antivirus Download Review: Avast! 5 Review
Avast! 5
The new Avast! Free Antivirus is now version 5 with a new user interface and a better scan engine. T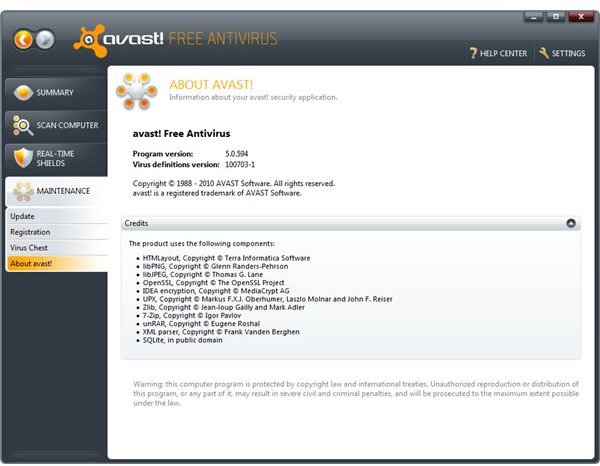 he program name has changed from Avast! Home Edition to Avast Free Antivirus. The detection ability by Avast continues to receive awards and good ratings by antivirus testing laboratories.
Boot-time scan is still available but it's no longer automatic to prevent deletion of critical system files.
Installation of Avast! 5 (4 out of 5)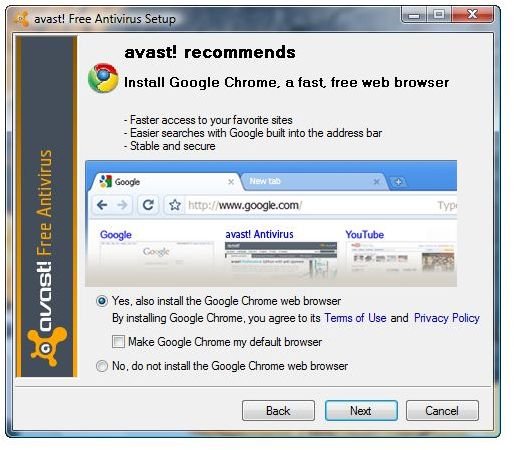 The setup file of Avast! 5 is only 51 megabytes. You can install Avast! Free Antivirus without the need of internet connection but it's best to enable the connection to allow the program to download the detection updates after the install. Avast's installer will offer to install a third-party program, Google Chrome browser, which is not required to use the free antivirus program.
Installing Avast! 5 is straight-forward. You can customize the installation by choosing which Avast! shields to use: File, Mail, Web, P2P, IM, Network and/or Behavior shields. Avast will install the Microsoft Visual C++ 2008 Redistributable. The good thing is the said package is not the vulnerable version because it installs Service Pack 1. Some software vendors continues to install the same program using a vulnerable version. An example is Spyware Doctor with Antivirus by PC Tools and Agnitum's Outpost Firewall.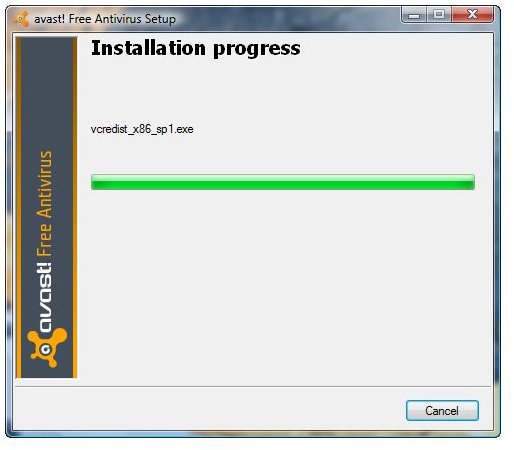 A system restart is not required to start using or configuring Avast! 5. The notification icon or system tray icon of Avast! is now single or one icon only. The only missing option in the Avast! notification icon is the handy menu to run a quick, full or custom scan that most antivirus programs have. Avast will properly report its status to Windows Security Center and it did not disable the free anti-spyware program, Windows Defender. Avast will use 128MB of hard-disk space and there's no add-on in any browser that unfortunately, some antivirus vendors is using. Note that most toolbars offered by antivirus programs are not needed, especially if it's a co-branded toolbar only.
Avast! 5 User Interface, Improvements and System Requirements (5 out of 5)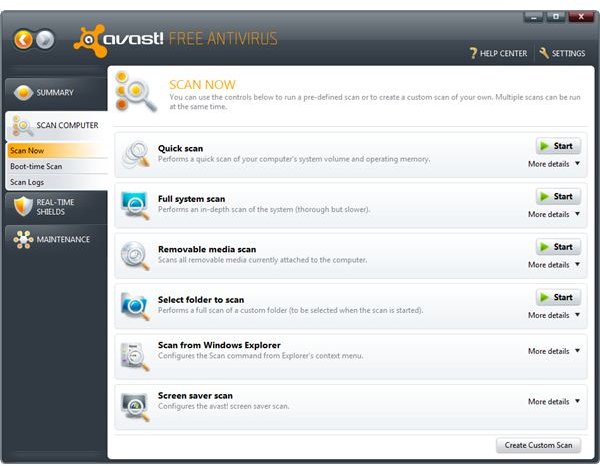 Microsoft Windows 2000 SP4 and 32-bit/64-bit editions of Windows XP, Vista and Windows 7 are the supported operating systems by Avast! free AV. The UI of Avast has a big improvement! It's no longer a media player like user-interface and I am glad that Alwil decided to improve the UI that most Avast users wanted. Navigating Avast! settings via its UI is much better.
What else is new or improved in Avast! 5? Not only have the UI and system tray icon changed but now Windows Vista 64-bit edition users can now access the Avast! screensaver, the scan engine has improved, and the RAM requirement has been reduced.
Features, Performance and Network Shield by Avast! 5 (4 out of 5)
The features of Avast! 5 are as follows:
Real-time protection against malware, rootkit, spyware, viruses, trojans, worms, keyloggers, malicious websites and downloads.
Several scan options: Full, Quick, Custom and Context-menu scan. Although I'm having problem using the right-click scan which is not working, no matter how many times I asked Avast! 5 to scan a particular folder when I right-clicked to scan with Avast. The only way I can make Avast! scan a particular folder is by using the custom scan.
Virus Chest - This is the Quarantine Manager of Avast.
Scheduler - Use this option to schedule a scan.
Automatic program or definitions update.
Boot-time Scan - This the popular feature in Avast! 5 to scan and detect malware before Windows is loaded.
Exclusion Manager - Add files or folders to exclude during on-demand or scheduled scan. The real-time protection will not exclude any.
Network Shield - The best feature that you can find from Avast! Free that will block the connection to malicious websites and unwanted downloads.
Avast will use an acceptable memory usage while its monitoring the computer for any malicious activity. The scanner is fast and it is not causing any lag while using the computer or any other applications. Avast! will monitor secure connections of email, which is good if you are accessing a secure email network like Gmail.
The network shield by Avast is good but not perfect so its best to add an extra layer of protection by using Web of Trust or enabling SmartScreen FIlter in IE or Fraud Protection in Firefox or Opera browsers.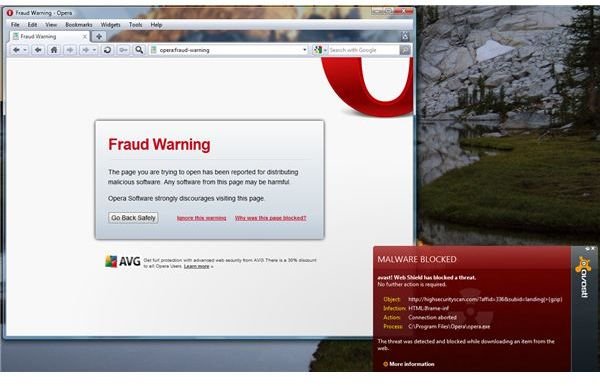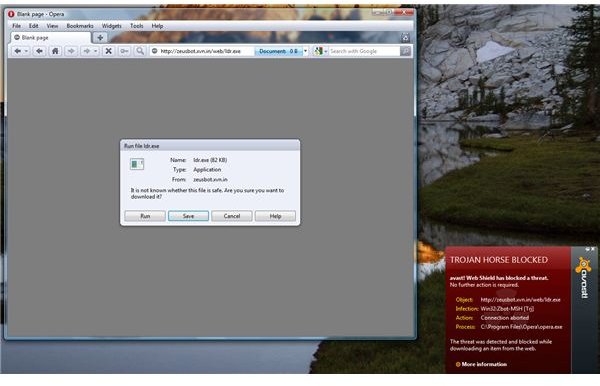 The above screenshots shows how Avast will block malicious downloads and dangerous websites. The screenshot below is an example that Avast! Network Shield can also miss in blocking dangerous website but if you have the fraud protection enabled in a browser, you will be safer while browsing the internet: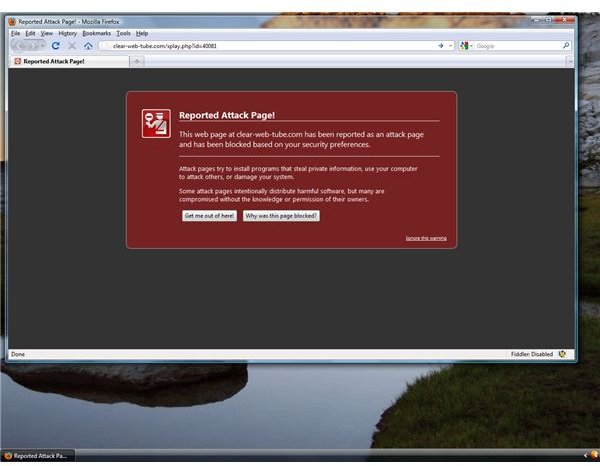 Malware Detection by Avast! 5 (5 out of 5)
To continue in this Avast! 5 review, I decided to transfer 310 malware samples from Virtual PC to the system drive where Avast! free is installed. Avast's real-time protection is quite impressive. It automatically moved the detected malware to the Virus Chest during the transfer leaving only 8 samples as successful transfer of malware: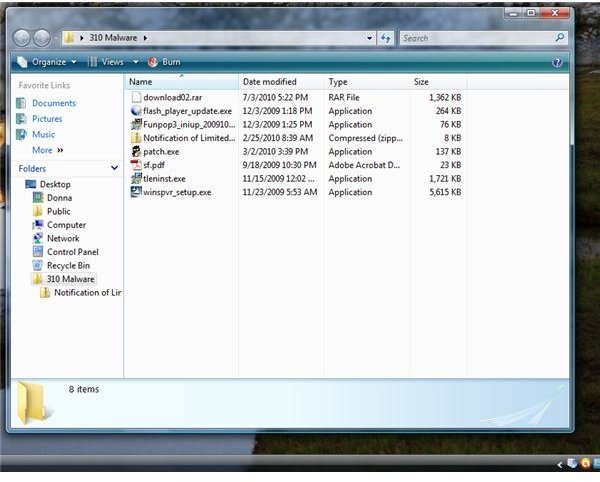 I set the Avast! custom scanner to scan the remaining 8 samples but it failed to detect any more threats: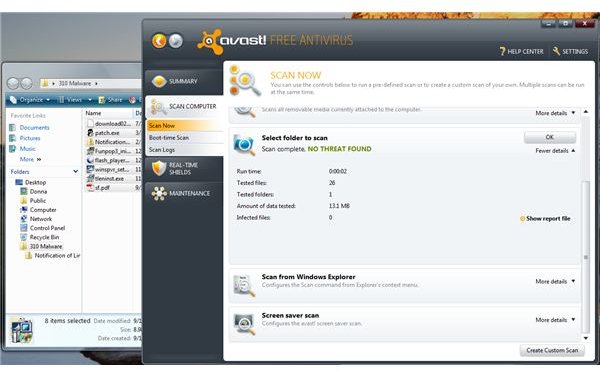 Overall, Avast! Free has protected the system against 302 threats out of 310 malware samples. While this is not perfect, it's still above average detection and protection by Avast! 5.
Conclusion
Avast! 5 does not only offer important protection shields but also offers a friendly user interface and is an easy to manage antivirus program that provides 97% protection against malware. Highly recommended!