Review: Diskeeper 2008 Pro Premier - Hard drive Defragmentation Tool
Product Overview (5 out of 5)
We're all familiar with the sound of a hard drive chattering away as it diligently searches for and writes information to the platters. The number one cause of this phenomena is fragmentation. According to our good friends at Wikipedia, "In computer storage, fragmentation is a phenomenon that [occurs when] storage space is used inefficiently, reducing storage capacity." To correct these inefficiencies, a process called defragmentation can be performed. Microsoft has a defrag utility built in to Windows but, in all but the most recent iterations of the operating system (Windows Vista), it must be run manually. Vista does offer a defragmenting utility that can be scheduled but does not really offer any log or status indicators and does not offer any customization options. A utility that can with more powerful scheduling and modification capabilities would be more convenient. Software packages that do this do exist. However, why not go one step further and automate the process real-time? How about giving us detailed log and status indicators and other tools to help manage fragmentation issues? Enter Diskeeper 2008 Pro Premier.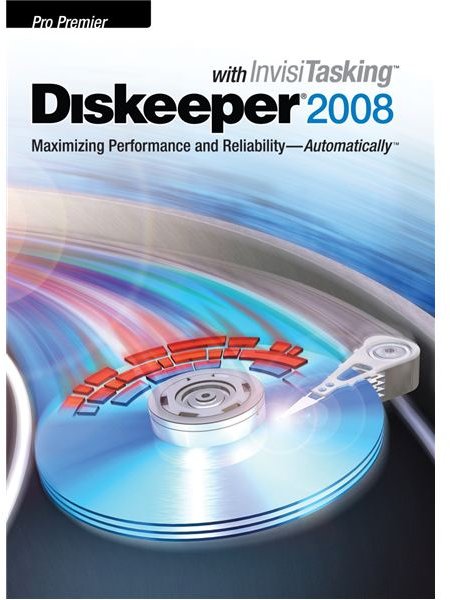 Diskeeper 2008 is an automated defragging utility that offers a slew of tools and configuration options for managing your hard drive read/write performance. File fragmentation is a very common phenomenon but is rarely addressed as often as it should be. A noisy or "grindy" hard drive is really a symptom of a larger problem, namely fragmentation. Essentially, fragmentation causes a hard drive to work harder as it looks for information to read and searches for space to write. This inefficiency reduces drive integrity as the hardware is required to worker harder and more frequently than a drive with less fragmentation. Diskeeper's solution? Real-time defragging. But does it work? And if it works, will it have a noticeable effect on system performance? Read on to find out.
Installation & Configuration (4 out of 5)
Installation was very simple and was complete within 15-20 minutes. The installation file is a single executable at roughly 170KB that is really just an installer that pulls the application down from the Diskeeper file servers. Test system specs are as follows:
Dell XPS 410
Intel Core2 DUO 6600 (2.40GHz)
2.00GB RAM
250GB Hard Drive
Microsoft Windows XP Media Center Edition (SP3)
The configuration of Diskeeper 2008 was all but non-existent. You simply install the software, perform the typical after-install reboot, and Diskeeper 2008 does the rest. For the typical user this may work just fine. However, the more advanced user may want to take advantage of some of the configuration options that Diskeeper offers. Especially if your system use goes beyond email activities and web browsing. If you run a multi-media system for editing music and videos or for resource-intensive gaming, fragmentation is probably more likely; especially if you're running multiple drives. Check out the Feature Set section below where I cover feature configuration.
Feature Set (4 out of 5)
Diskeeper 2008 Pro Premier provides an impressive list of features for something as seemingly simple as a defragmentation utility.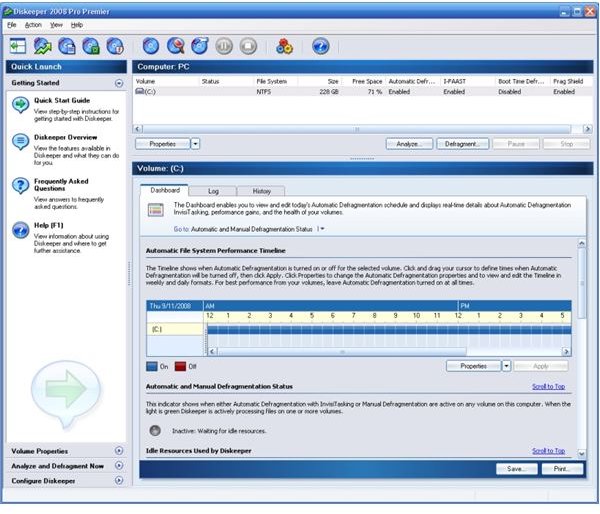 The feature set includes the following:
Fully Automatic Operation
Descriptive Console Interface
Performance and Volume Health Analysis
I-FAAST (Intelligent File Access Acceleration Technology)
Frag Shield
Terabyte Volume Engine
Boot-Time Defragmentation
Selectable Disk and CPU Priorities
Exclusion Lists
Event Logging
Simultaneous Analysis or Defragmentation Operations
I found the most useful features to be the Frag Shield and Boot-Time Defragmentation tools. Frag Shield keeps track of MFT (master file table) and paging files and prevents fragmentation of them. Fragmentation of these types of files can greatly affect system performance. Page files are basically an extension of RAM but stored locally on the hard drive. Excessive paging can be avoiding by simply adding more RAM but paging will still occur from time to time. Activating Frag Shield can help prevent fragmentation of these important files. Boot-Time Defragmentation takes typical defragging one more step. System files that run in the boot sector of the drive cannot be defragged if they are in use. Boot-Time Defragmentation takes care of this when it detects fragmentation on the boot sector and addresses this at your next manual reboot or scheduled reboot. After my first run with this tool I immediately noticed an improvement in boot time.
Price to Value (4 out of 5)
Diskeeper 2008 Pro Premier can be a bit pricey. Here are the figures for the Small Business Edition package:
Diskeeper 2008 Pro Premier: Small Business Edition
1 Administrator License
1 Server License
5 Pro Licenses
Given the nature of what Diskeeper 2008 does, the value placed on the product is somewhat subjective. If you take into consideration the cost of hard drive replacement due to excessive wear and tear on heavily fragmented drives, you could argue that puchasing Diskeeper 2008 might actually save you money in the long run. As with any licensed software, a cost analysis should be made before making a purchase to determine if the product is a good fit for your environment. Given my distaste for noisy, fragmented hard drives and my affinity for efficient hardware utilities, I'm giving Diskeeper 2008 a 4/5 for Price to Value.
Support (5 out of 5)
Diskeeper 2008 Pro Premier support is great. The in-program help includes screenshots, tutorials, and reference information in a nicely outlined, easy-to-understand format. Online support is comprehensive and nicely structured. The program is very intuitive (if you are familiar with defragmentation nomenclature) but I have full confidence in the resources provided by Diskeeper should I ever need assistance.
Conclusion
In conclusion, I feel it's important to note that PC "maintenance" goes beyond installing antivirus software. The health of your hard drive is just as important. Diskeeper 2008 Pro Premier is a great utility for helping you maintain hard drive integrity and performance. If you're concerned with it affecting system performance, don't be. I sometimes forgot it was even running.