TrustPort Antivirus Review
Program Overview (4 out of 5)
For those unfamiliar with the company, TrustPort is a data security company that mostly specializes in the personal, end-user security software realm. The company is based in the Czech Republic.
TrustPort Antivirus is a bit of an enigma in the antivirus arena. The most interesting feature of the software is the ability to choose from different antivirus engines. A number are included but additional engine licenses can be purchased. As explained in the Product Features flier, "The engines excel thanks to their unique technologies. For example, heuristic analysis or the technology of virtual computer, are able to identify unknown viruses which have yet to be included in virus signature databases." This could, in theory, prevent the spread of a new variant before the virus has a chance to take hold of a system or network.
Other features included with TrustPort are typical of most antivirus packages: spyware and spam scanners, internet scanner, comprehensive activity logs, and scheduling ability. These will be covered in more depth under the Feature Set section of this review.
Installation and Configuration (4 out of 5)
Installation was fairly straightforward and was complete within 5-10 minutes. The installation file is a single executable at roughly 120MB. Keep in mind this was the trial version as I was unable to obtain a licensed copy from TrustPort for review. Once installation was complete, the system automatically performed a search for updates. A few were located, downloaded, and installed which took another 5-10 minutes. All things considered a very painless, typical process.Test system specs are as follows:
Dell XPS 410
2.00GB RAM
250GB Hard Drive
Microsoft Windows XP Media Center Edition (SP3)
Configuration options are great but documentation was a bit cumbersome. This may simply be a result of using the trial version. I elected to keep most settings at their defaults but was forced to track down one particular setting to prevent myself from going mad. By default, there is a system tray message pop up that is displayed every time an application is launched. The same pop up is displayed when sending (uploading) and receiving (downloading) data from within an internet browser. This as you can imagine became very annoying very quickly. However, with a little persistence I was able to locate the setting under the Internet Scanner configuration menu and uncheck the "Display a balloon tip above the tray icon" check box. This was the only setting I changed and the software performed wonderfully under the defaults.
Feature Set (4 out of 5)
The TrustPort Antivirus feature set is as follows:
Antiviral and antispam protection
Multiple scanning engine support
Resident protection
On-demand scanning
Scanning of incoming post
Scanning of downloaded files from the internet
Quarantine
Planning
Regular actualization
Detailed statistics & logging
The features listed are pretty self-explanatory so I'll only cover a few that deserve mentioning. A unique feature of the TrustPort Antivirus package is the ability to use different scanning engines. The Norman antivirus engine is installed by default but the following were also included with the trial software: Grisoft, Ewido Antispyware, VirusBlokAda, and DrWeb. Licenses can be purchased for different engines through TrustPort resellers. The detailed statistics and logging system was very streamlined and simple which is more than enough for the average user. While it may not be enough for let's say the system administrator of a small business, it was more than adequate for my purposes. Another notable feature is the Scheduler. While this is a standard feature in almost all antivirus packages on the market today, the TrustPort Scheduler was very customizable, allowing you to create individual tasks and then schedule them as you see fit. All-in-all a very well-rounded feature set.
Price to Value (3 out of 5)
Comparatively speaking, TrustPort Antivirus is very affordable at $35 / user (1 year). While it is not the most comprehensive antivirus package on the market, it does its job and it does it quite well. While surfing some of the seedier websites (Warez and file sharing) that usually house all types of malware, TrustPort intercepted and quarantined a number of tracking cookies and potentially malicious cache files.
Support (2 out of 5)
The Support (both online and in-program) were just average. While an in-program manual is available, the pages look as if they were scanned in and the print is very small and hard to read. The online support is a very basic FAQ and does not cover the trickier configuration options that may require guidance. This area should be improved.
The Bottom Line
Given the customizable nature of TrustPort Antivirus and the multi-engine support, this software is a good fit for the budget user looking for an affordable, barebones antivirus package. However, novice users beware as the support documentation is sketchy at best. More experienced users should be able to figure out configuration settings after surfing through the tabs and implementing the "click and pray" method that I so lovingly embrace.
Images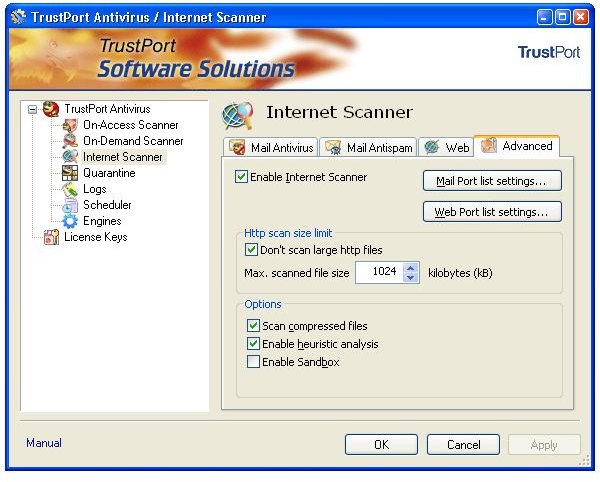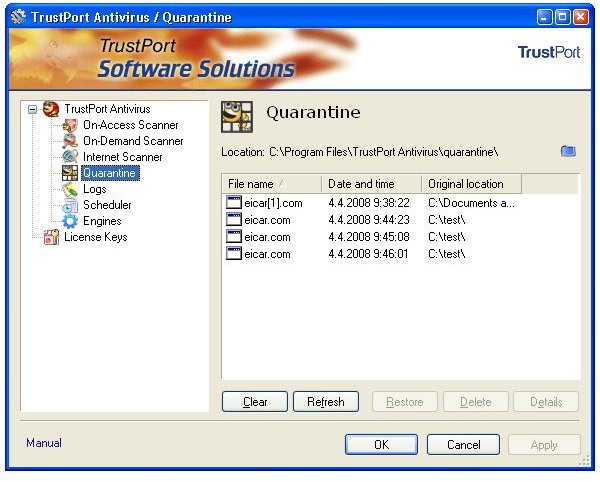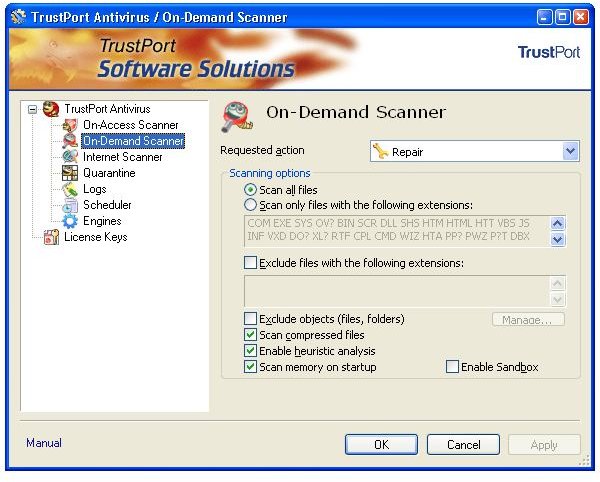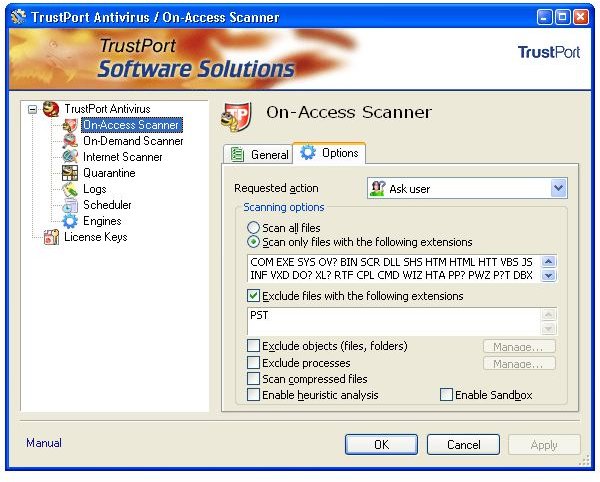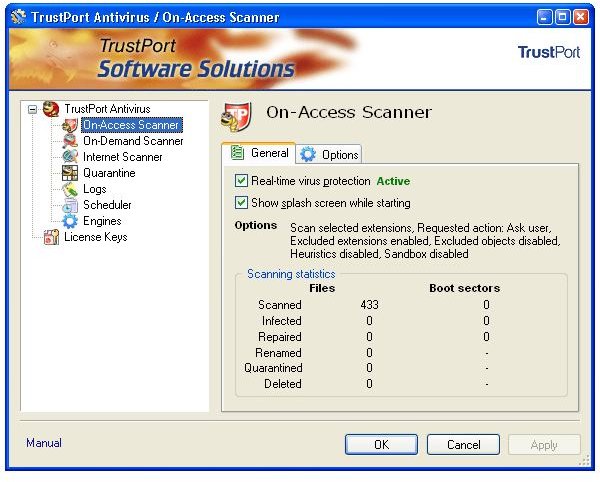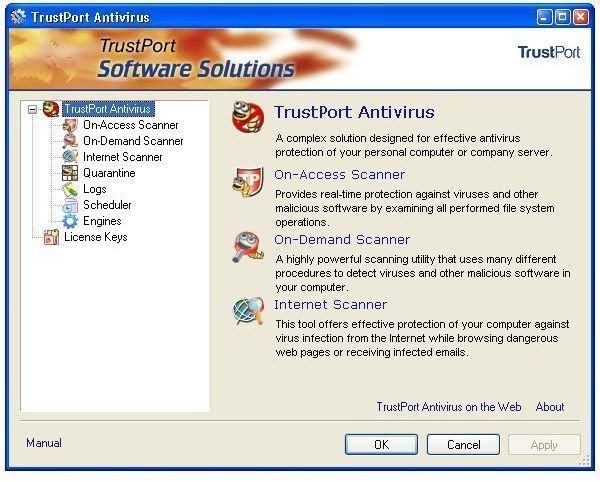 More Reviews!
Would you like to read more reviews? Look around Bright Hub and you'll find reviews of numerous other leading security solutions including SpamTitan, GFI MailEssentials, Atek Secure Password Organizer, GFI LANguard, Norton Internet Security, Panda Internet Security, ESET Smart Security, McAfee Site Advisor, Norman Internet Security Suite and Undelete.