Internet Security Suite Review: Kaspersky Internet Security 2010 Review
Overview
Kaspersky Internet Security 2010 protects the computer, your privacy, and your family against malware, hackers, spam, and fraudsters. The program will run on Windows 7, Vista and XP but the price is not competitive compared to other top rated Internet Security software in the market: $60 for a single computer only. This review on Kaspersky Internet Security 2010 should help you decide if it's worth using the program.
Installation and User Interface (5 out of 5)
You can install Kaspersky Internet Security 2010 (KIS 2010) in two ways: Custom Install or Recommended installation. Which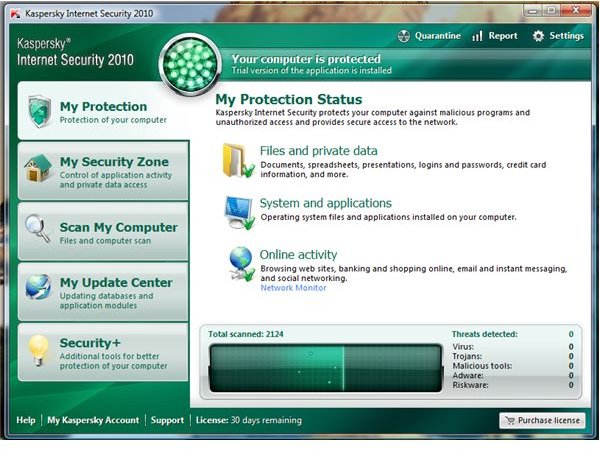 ver method you will use, you can always change the program's configuration after the install.
The UI of KIS 2010 is easy to understand and manage and you'll have a number of handy commands in using the program via its systray icon. KIS 2010 will install its browser add-ons for Firefox and Internet Explorer: Kaspersky URL Advisor and the Virtual Keyboard plug-ins. There's an option to join the Kaspersky Security Network during installation, but it's not required. Unchecking the terms of participation during the install process will not prevent you in using KIS 2010. Kaspersky will only use 36.1MB of hard-disk space and will integrate itself to Security Center in Windows. If you are using Windows 7 or Vista, the anti-spyware by Microsoft will not be disabled by Kaspersky.
Features of Kaspersky Internet Security 2010 (5 out of 5)
KIS 2010 provides the following protection, if you will install all the features:
File Antivirus – the real-time scan engine that monitors whenever they are accessed
Mail Antivirus – provides monitoring of incoming and outgoing email for viruses
Web Antivirus – blocks malware from penetrating your PC via HTTP protocol
IM Antivirus – scans instant messengers traffic
Program Kernel and scan tasks – the on-demand scan engine to run an in-depth scan
Proactive Defense – the heuristic scanner in KIS 2010. It also monitors changes in the system registry and programs being opened
Application Control – provides protection on program launching
Firewall – monitors network traffic and detects intrusions
Anti-Spam – removes junk emails
Anti-Banner – blocks advertisements. You can also use this feature to block malicious IP addresses
Network Attack Blocker – prevents unauthorized access to your PC and stealing data from it
Parental Control – allows you to restrict internet resources with undesirable content
Virtual Keyboard – protects against Keyloggers
Safe Run Mode – the sandbox feature in KIS 2010
Game mode – it will suspend alerts, scans and updates while playing games
Browser and System Tune-up – scans the computer and browser settings and provides recommendation for secure settings
Privacy Cleaner – deletes history and other internet traces
Vulnerability Scanner – scans applications in the computer for vulnerability
Rescue Disk – an option to create a rescue disk to repair damage PC
Memory Usage and Scan Performance (3 out of 5)
KIS 2010 uses 22MB of RAM while it's sitting in the notification area of Windows to monitor any activity in the computer. Running a quick scan using Kaspersky will use up to 30MB of RAM but if you will run a system drive scan, it will use a whooping 255MB of RAM. It affects the system performance during a full or system drive scan:

The KIS 2010's scan performance is fast and gave no false detections:
Quick Scan has finished in 1 minute and 12 seconds with 4,278 items scanned.
The system drive scan has finished in 32 minutes with 774,906 items.
Web and Malware Protection, Detection and Removal Performance (5 out of 5)
The web protection by Kaspersky is quite effective. I tried visiting a lot of unwanted and malicious websites and also unsafe downloads, and it able to block the pages or unsafe downloads. An example below is how KIS will block a website or detect malware in a website without displaying the webpage: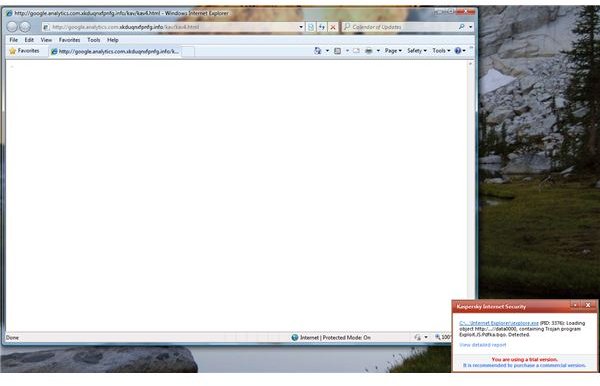 To test the real-time protection by KIS, I initiated a transfer of 250 malware samples. Kaspersky has prevented 233 out of 250 malware samples. That's an impressive performance by its File Antivirus module.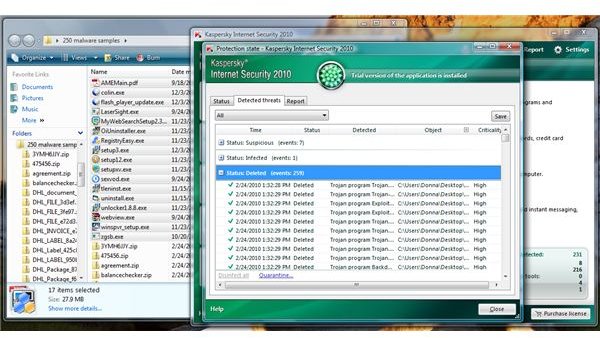 I proceed to running its on-demand scanner against the 17 malware samples that the File AV of Kaspersky has failed to block: it detected another 8 threats, leaving the system unprotected from malware files or files that can pose privacy and security risk to the PC or end-users' data.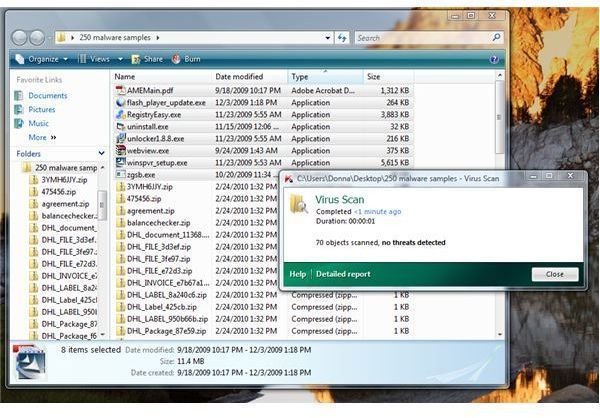 This is good malware detection and prevention by Kaspersky but its removal engine requires improvement. No malware has been executed but the KIS required a PC restart to proceed in quarantining or deleting some malware files.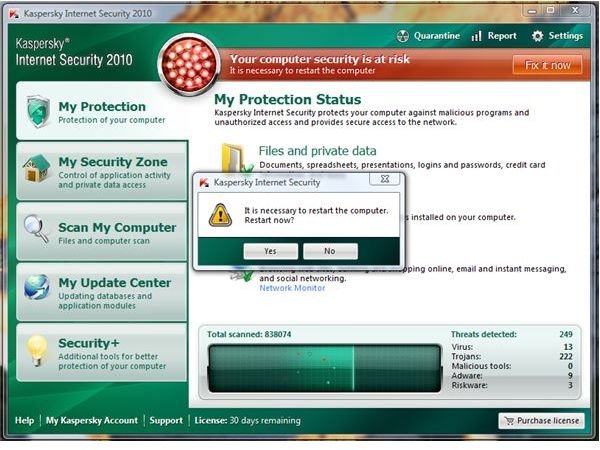 Overall, Kaspersky's malware detection and prevention can offer up to 97% protection.
Conclusion
Kaspersky Internet Security is worth keeping for it provides an in-depth scan, advanced protection against malware and frequent detection updates. Highly recommended!