Standalone Antivirus Program Review: VIPRE Antivirus Review
Overview
Sunbelt's VIPRE Antivirus program provides malware protection in real-time. The program only costs $30 for 1 computer. If you have more than 2 computers, you can take advantage of VIPRE's Home Site license: $50 for 3 to 10 computers which is a very good deal for home office users.
VIPRE Antivirus was first introduced to the public during 2008, and Bright Hub published a review the same year. The only major problem that I saw is a system performance when opening files and folders. After 18 months, I'm reviewing VIPRE Antivirus again to check if the problem has been fixed.
Installation, System Requirements and Features of VIPRE Antivirus (5 out of 5)
The install process of VIPRE requires a PC restart before you can start using it to protect the computer. Unlike many antivirus programs, VIPRE is one of the few security tools that do not add browser add-ons. VIPRE will only use 20.7 MB of hard-disk space. The installer of VIPRE does not come with detection signatures, which means you cannot immediately scan the system using any definitions until you allow the installation of definitions from their update servers. VIPRE runs on Windows 2000 SP4, XP, Windows Server 2003, Vista, Windows 7, and Windows Server 2008.
Like many other antivirus program, VIPRE is offering the following features and options to help protect the computer:
Malware Protection – VIPRE features its Active Protection to block and detect viruses, Trojans, spyware, adware, and other types of malware.
Advanced Detection – A rootkit scan and heuristic scanner is available in VIPRE.
E-mail Protection – whether you are using Microsoft Outlook, Outlook Express, Windows Mail, Thunderbird and other e-mail programs that support POP3/SMTP, VIPRE will check any harmful messages. E-mail attachments are scanned by VIPRE including archive files (e.g. zip or rar format).
Task Scheduler – With VIPRE, you can schedule an automatic scan and program updates. If your PC is in sleep mode, there is an option in VIPRE to wake the computer from sleep to perform the scheduled scan.
ThreatNet – This is the worldwide network for VIPRE and CounterSpy, another product by Sunbelt, where the detected suspicious files are automatically sent to Sunbelt. This feature is optional, but quite useful in helping other computers using VIPRE to be protected.
Manual scanner – There are three options to scan the system using VIPRE: Quick, Deep, and Custom scans. A context menu scan is also available.
Windows Integration – VIPRE can report itself to Windows Security Center, and you can configure VIPRE to automatically disable Windows Defender in Vista and Windows 7. This is no longer an option in VIPRE v4. See updated information below.
Setup Wizard – This is the guide to configuring the program, and you can always open the setup wizard via its Help menu.
Update (March 6, 2010): Version 4 of VIPRE is out! I noticed that the Windows Integration and Proxy tab is gone. During installation, VIPRE Antivirus 4 will no longer provide an option to disable Windows Defender. The installer will automatically disable Windows Defender for you. Also, there is no more selection whether to integrate or not, the VIPRE Antivirus in Windows Security Center. You can now change the proxy settings via Update settings in VIPRE. Sunbelt have removed also the options in its Active Protection to quarantine or block known bad programs. An Anti-Phishing Protection has been added in VIPRE's e-mail protection. Another new option in VIPRE Antivirus v4 is an option to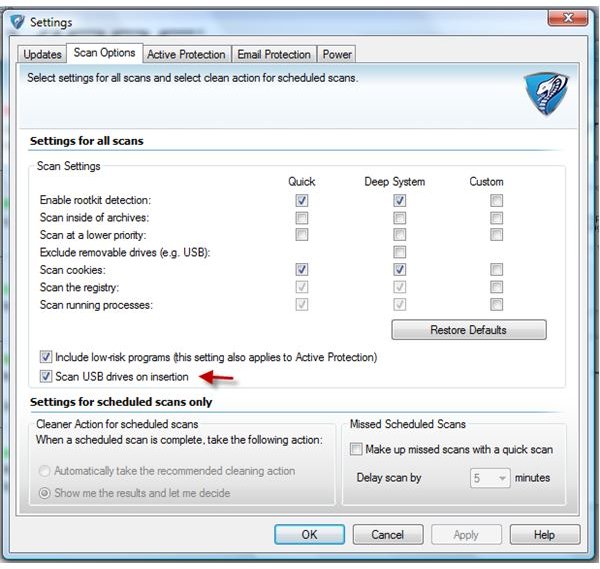 .
User Interface and Updating VIPRE (5 out of 5)
The UI of VIPRE is straightforward. You'll find it easy to manage the settings without having to dig through many menus: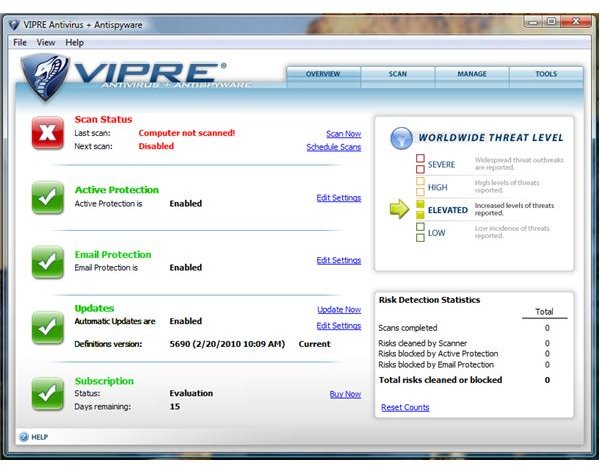 If you allow internet access for VIPRE, the UI will display the Worldwide VIPRE Threat Level (which is also available online). This is useful so end-users are aware on the latest threats and what the customers should do to prevent any security attacks in the network or home PC. Also, the UI will display the status of the scan and risk detection statistics that VIPRE has found in your PC.
Updating VIPRE is easy! You will either allow it to update the definitions to detect malware on schedule or manually updating the program by downloading the definition file from Sunbelt website or by simply pushing the Update button within the program's UI or using its program's icon in the systray.
Update (March 6, 2010): Incremental definitions update is now introduced in VIPRE Antivirus v4. What does this mean to you? You will now receive frequent definitions update from Sunbelt to protect against malware, as soon as possible. It will also help end-users with dial-up connection.
Performance and Memory Usage (3 out of 5)
Update (March 6, 2010): Sunbelt have released v4 of VIPRE Antivirus on March 2, 2010. The issue on SBAMSvc.exe that caused slow in browsing using any browser has been fixed when Sunbelt released definitions v5708 (see the post of Nick Hallin, Sunbelt's Customer Support at the bottom of the page). Also, the new definitions of VIPRE Antivirus v4 todate has fixed the false detection on AppRemover.
VIPRE uses 30 MB of RAM when monitoring the files for any malicious activity. It can use up to 46 MB during a scan, but if you open the program while it is busy scanning, expect another 10M B of RAM to be run by its SBAMUI.exe processes. I'm impressed that the previous performance issue in opening files or application has been solved in the new build of VIPRE. However, VIPRE's Antimalware service, SBAMSvc.exe is running a lot of resources while browsing the internet using any browser. This issue will occur only if the "checked files when they, are opened and copied" is selected under its Active Protection settings. I tried to reproduce the issue using Firefox, Internet Explorer and Opera and it continue to occur. I noticed that this issue has been reported in their forums as well by VIPRE customers. Another major problem that I found in VIPRE is any newsgroup messages using Windows Mail will fail to display or retrieved if email protection is enabled: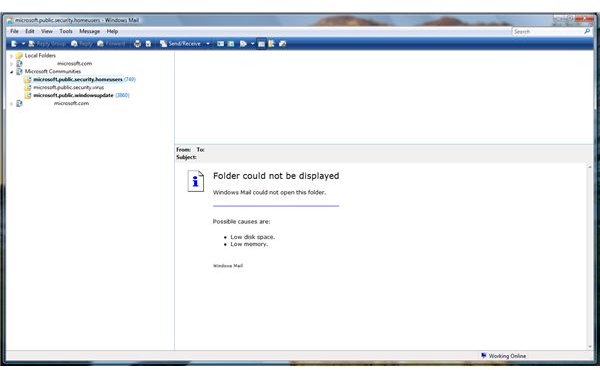 Turning off the email protection will load the messages in the newsgroup. This issue is old and only affects Windows Mail but not with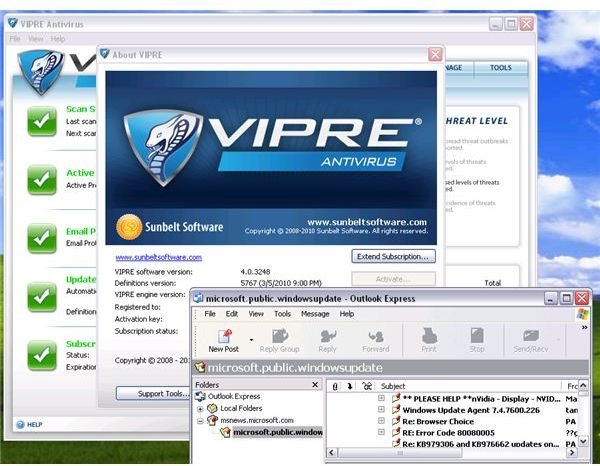 . Here's hoping that Sunbelt will be fixing this issue by releasing a fix or in their upcoming v4 that is currently in beta. Other minor issue that I found is the UI: you can't sort the list using its PC Explorer tool and the notification box on alerts by its Active Protection is not aligned above the taskbar: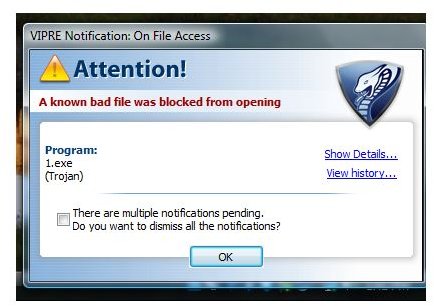 The scan performance of VIPRE is good. It only took 2 minutes and 44 seconds to finish a quick scan while it finished the deep scan in 42 minutes. Like any other antivirus programs, VIPRE can also provide a false detection. The Active Protection with definition v5691 alerts on AppRemover by OPSWAT as infected with Trojan: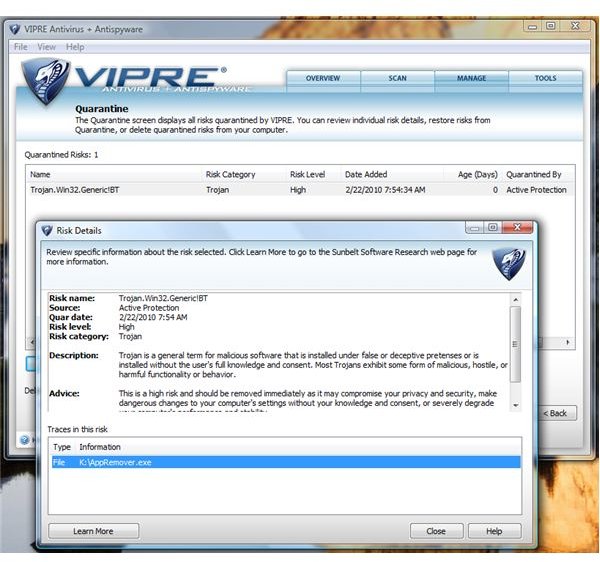 I allow the program to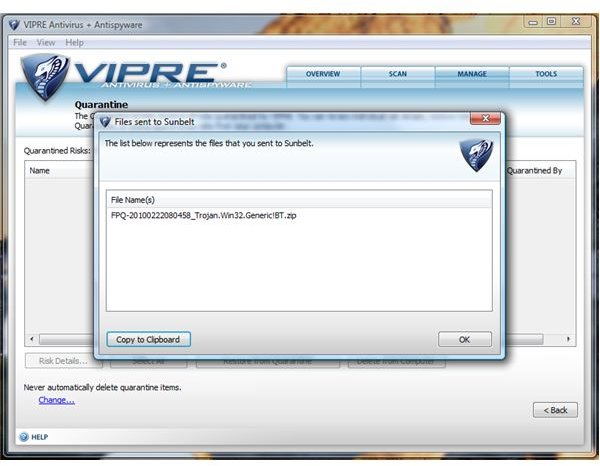 but the program is now using definitions v5694 and it continue to detect it as Trojan. A quick scan using the scanners in Virustotal shows 4 other malware scanner found detection on AppRemover and I believe it's a false detection.
Malware Prevention and Detection (5 out of 5)
To test the prevention on malware by VIPRE using its Active Protection, I initiate a transfer of 250 positive malware samples to the computer: VIPRE is able to prevent 177 out of 250 malware samples.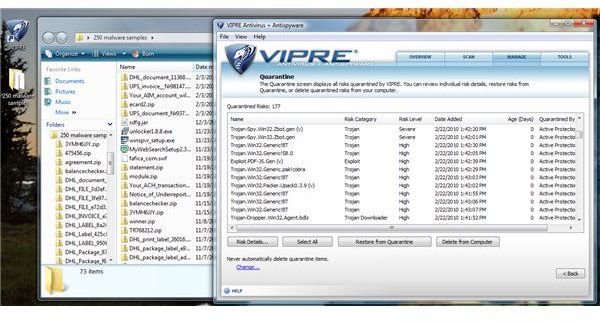 I proceed to test its on-demand scanner by allowing it to scan the remaining 73 malware samples and it detected another 62 objects, leaving the computer at risk to 11 malware samples. Overall, VIPRE's malware detection and prevention can offer up to 96% protection! Note that the not selected items in the screenshot below is detected and cleaned by VIPRE. The program renamed the malware inside archives.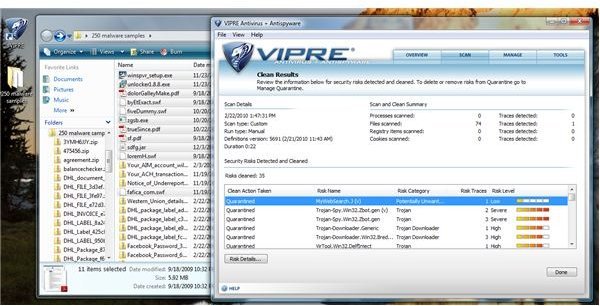 Another test that I tried is to download unsafe files and again, like other antimalware protection, VIPRE can miss to prevent the download of unsafe file: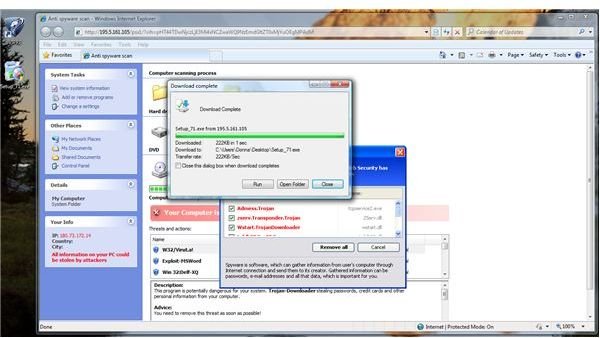 If an unsafe file download is known to its detection signatures, VIPRE's Active Protection is fast to block it: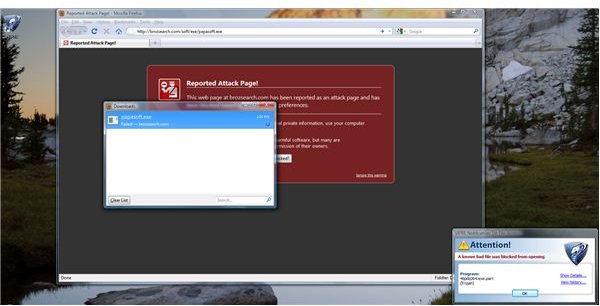 Price to Value (5 out of 5)
At $50 up to 10 PCs is a great deal. Users of XP Mode or any virtual machine can use VIPRE without purchasing an extra license. For existing customers, a subscription renewal is not available until the expiration date is within 30 days.
Conclusion
The advanced protection, ease of use using VIPRE Antivirus, superb support and nice pricing are more than enough to recommend this program. Highly recommended!