Powerful Scanner and Remover: Malwarebytes Anti-Spyware and Anti-Malware Review
Overview
Malwarebytes Anti-Malware (MBAM) is one of the more popular malware scanners and removers on the market. MBAM is a recommended anti-malware scanner in most discussion and malware removal forums. It's available in two versions: Free for personal use and a paid version. You can run MBAM in 32-bit and 64-bit editions of Windows 7, Vista, XP and Windows 2000. The program supports several languages: English, Albanian, Arabic, Belarusian, Bosnian, Bulgarian, Catalan, Chinese Simplified, Chinese Traditional, Croatian, Czech, Danish, Dutch, Estonian, Finnish, French, German, Greek, Hebrew, Hungarian, Italian, Korean, Latvian, Macedonian, Norwegian, Polish, Portuguese, Romanian, Russian, Serbian, Slovak, Slovenian, Spanish, Swedish, Turkish, and Ukrainian.
Installation and Setup (5 out of 5)
The install process of the Malwarebytes anti-spyware and anti-malware software is a quick process. A reboot is not required to start scanning the system for malware. The free edition of MBAM will not add a startup entry because there's no real-time protection with it. MBAM will use 4.07MB of hard-disk space and you have the option to create its program icon on the desktop, quick launch bar or both. The installer of MBAM is only 4.87MB and includes a detection signature. To use the paid edition of MBAM, you will only need to enter the user ID and license key in the free edition of MBAM. A successful registration of MBAM converts the free version to the paid edition, enabling the full functionality of its real-time protection and other features.
Features of MBAM (5 out of 5)
MBAM Free lets you manually update the detection signatures, scan and remove the computer for malware, use the built-in FileAssassin tool to delete locked files, and obtain free support. The paid edition of MBAM provides real-time protection against malware, protection against malicious IP address or websites, a quick scan and update scheduler, an option to run the program at Windows startup and priority support.
Malwarebytes also features a context menu scan, quick and full scan. Both editions of MBAM let you use the quarantine manager, manage the ignore list, and access logs.
Performance and Memory Usage of Malwarebytes' Anti-Malware (5 out of 5)
Malwarebytes will use 64MB of RAM during a scan process. As per PC Pitstop, the average RAM usage of MBAM is 50MB. The scan performance of MBAM is impressive:
Scan type: Quick Scan | Objects scanned: 105809 | Time elapsed: 4 minute(s), 32 second(s)
After a quick scan, MBAM detected that my Automatic Update settings for Windows Update in Vista was disabled. I had to add it to the ignore list because I prefer to manually check the updates for Windows.
Scan type: Full Scan (C:\|) | Objects scanned: 196035 | Time elapsed: 36 minute(s), 8 second(s)
If you have a paid edition of MBAM, you will find two running processes: mbamgui.exe and mbamservice.exe. During this review, the mbamgui.exe used 1.3MB of RAM while the mbamservice.exe used 37MB of RAM. It did not slow down my system that has 3GB of memory.
Images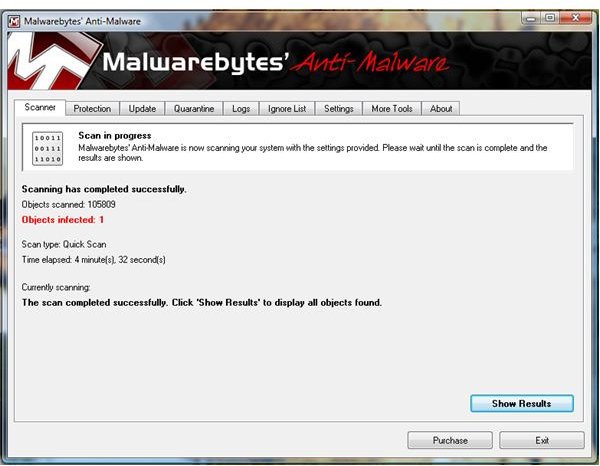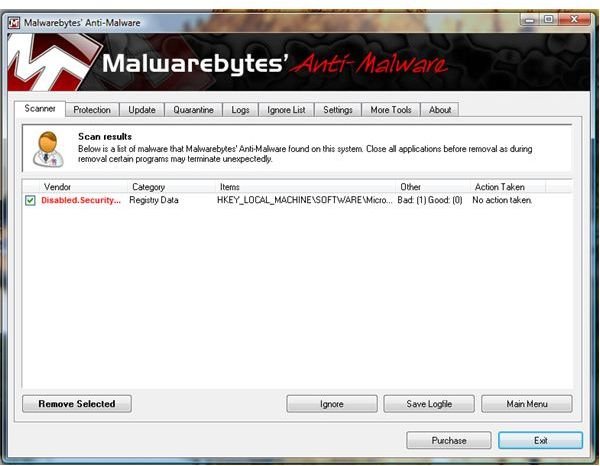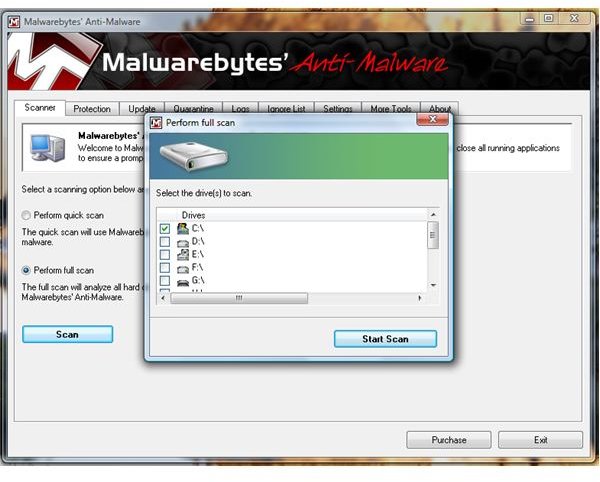 On the next page, we'll discuss some issues related to using the Malwarebytes anti-spyware and anti-malware program. The IP protection and malware detection of MBAM are discussed, too.
Issues with using MBAM (3 out of 5)
The following are some of the minor issues that I found while using Malwarebyte's anti-spyware and anti-malware program:
If MBAM detected an infection on the computer and you wish to add it in the ignore list,

if you do not manually highlight or select the detected item, even though the scanner has automatically selected the detected item. This incident does not occur if you click on the "

" button, even if you don't highlight an item in the scan result window.

There is no activity log by the FileAssassin tool.

The tabs are not clickable after a scan and, after it finished doing its job, not available to add items to the ignore list.

When you're done adding the item to the ignore list and have no other objects to deal with using MBAM, clicking thr "Main menu" button will prompt if you want to abort the scan. The program should detect that the scanner has finished in handling any detected object or when there are no more items in the "scan result" window.
Real-Time Protection and Malware Detection (4 out of 5)
The IP Protection feature in the paid edition of MBAM is fast and easy to use. Simply enable IP Protection and you'll be protected from websites that are known to host or serve malware files or malicious URLs and rogue sites. You have the option of adding blocked IP addresses to the ignore list.
Using 100 malware samples (exe and dll file formats), Malwarebytes has detected 96 out of 100 and only leaves the system unprotected against 4 samples. However, using 73 malware samples in other file formats (pdf, rar, swf and zip), the program only detected 1 out of 73. This is because MBAM will not detect malware inside compressed files. The 73 malware samples during this review consist of the following file formats: 13 pdf, 2 rar, 3 swf and 55 zip files. MBAM's scanner was able to detect only 1 out of the 13 infected pdf files. To check if the built-in anti-spyware in Windows will detect anything in the remaining 72 malware samples that MBAM has failed or do not support, I ran the scan using Windows Defender. The anti-spyware by Microsoft was able to detect and remove 22 out of 72 samples. It seems there's use in keeping Windows Defender enabled!
Images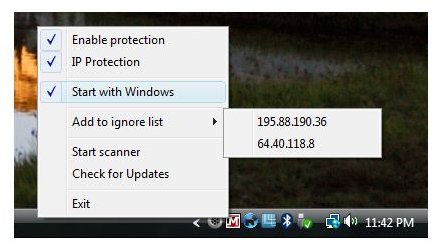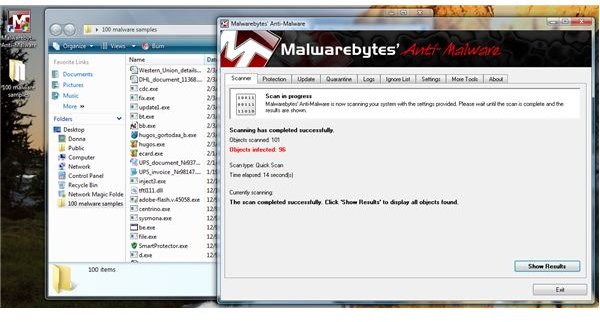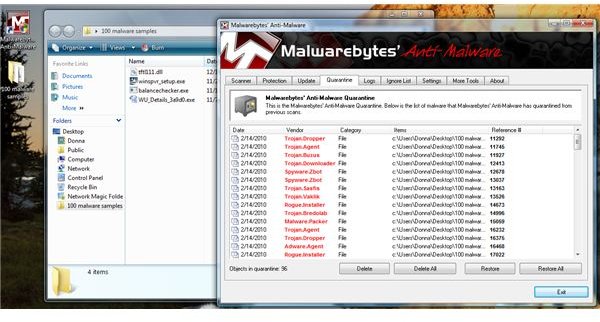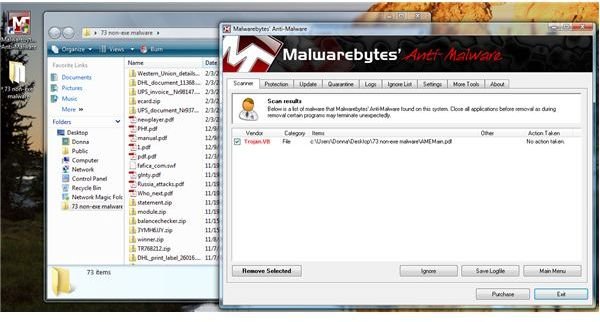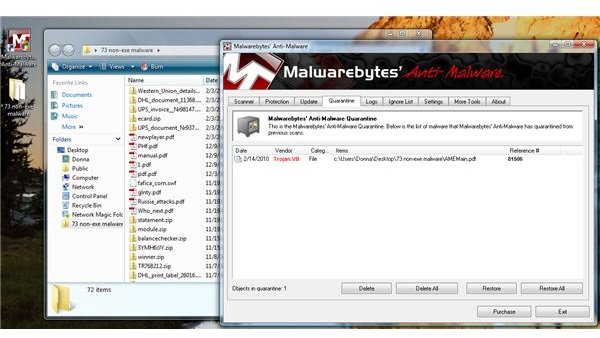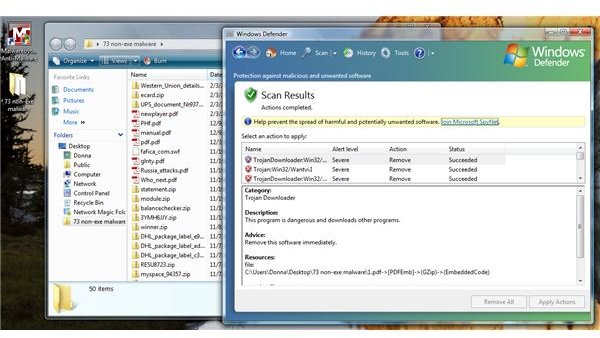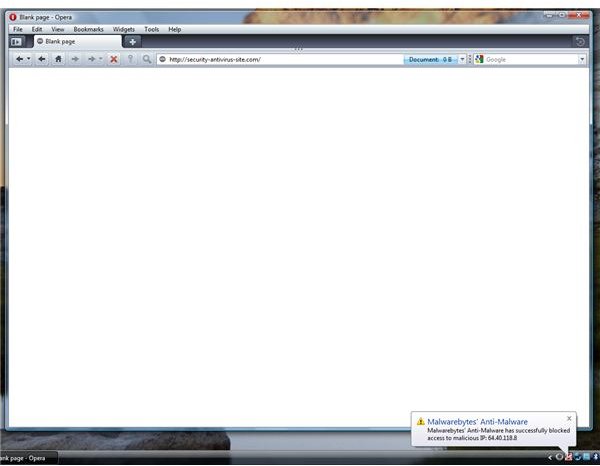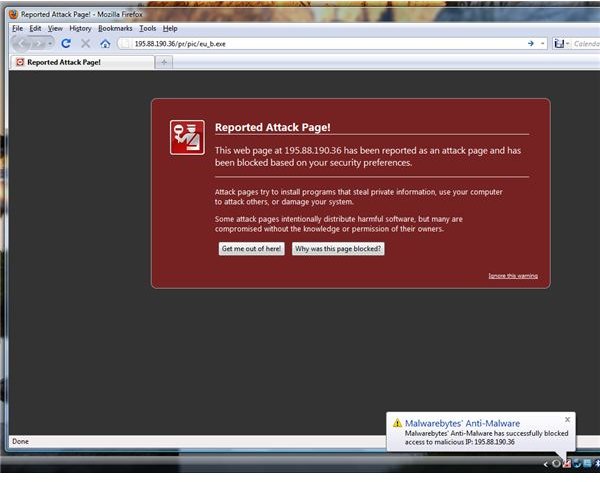 Price and Support (5 out of 5)
The paid edition of the Malwarebytes anti-spyware and anti-malware software only costs $24.95. It's a one-time license fee which means, you'll never have to pay again when a new version is released. However, I do not recommend paying for the backup CD and extended download because the installer is available on many websites including CNET's Download.com, MajorGeeks.com or FileHippo.com. You can always use another PC to download the installer, and since the program is updated often, it is no use keeping a backup CD that only has old version of the installer. Priority support is available and you can also interact with the MBAM team in their free support forums or simply send kudos!
Conclusion
Malwarebytes' Anti-Malware speedy scan with good detection on supported file extensions is worthwhile using in addition to the real-time protection of an antivirus program. The paid edition of MBAM is also worth buying to enjoy real-time protection against bad sites, IP addresses and malicious processes. Highly recommended!