A Review of Winguard Pro Free Edition
(4 out of 5)
We live in a time in people feel they are constantly being watched and monitored. This is definitely seen through our computer activities, as the amount of cyber fraud has increased tremendously. In order to combat this, experts agree that passwords should be something that can be remembered, but not easy to for anyone to guess. Files should also be renamed or placed within folders that are not easily accessible.
The answer to this is a tool created by Winguard.com called Winguard Pro Free Edition 7.0.2. The file is not large to download at about 2 MB. It uses a main password to access the computer and it can encrypt and decrypt files as needed.
How It Protects (4 out of 5)
Before any changes can be made to the computer, the user will have to log in with a password. The software is supplied with a default password "LETMEIN" and this can be changed on the settings menu. In the area to change settings, the user is able to add a password to a program, and it is possible to use a few different passwords for various tasks. If this option is enabled when prompting for a password, a blue screen before inputting in the password can be displayed to further safeguard sensitive information.
On installing and running the program, it is easy to see that it is straightforward to run. It has a simple user interface that will be appreciated by novice computer users. There are three options to choose from on the interface menu: "Protect a program or website," "Encrypt a file, folder, or drive" "Apply Configuration (administrator or all users)." Clicking on the first option will take the user to a list of tasks that they can choose to protect.
The second option on the interface menu allows the user to choose a file, folder, or drive they would like to encrypt. Winguard Pro encrypts by changing the file extensions, and keeps them hidden from prying eyes that might want to access them. The software gives the user the ability to encrypt and decrypt, with the option to re-encrypt files or folders on closing the software.
The third option on the interface menu will allow a user to apply the recent changes to the administrator or to all users. At the very top of the user interface menu is the ability to change settings, set "tweaks," or review more advanced options.
Images of Winguard Pro Free Edition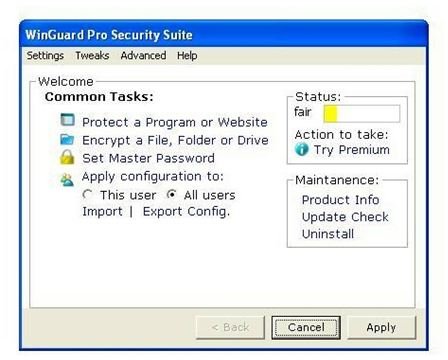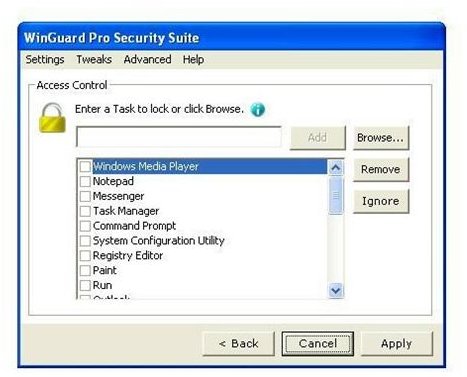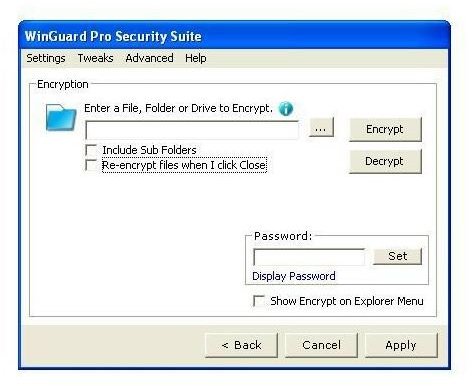 Winguard Pro Installation (5 out of 5)
Installation of the software was straightforward and the file is only 1.9 MB to download. It supports the following operating systems: Windows Explorer 98, ME, XP, and Vista. It is not a large file to download, and needs hard drive space of 3.2MB to install. A minimum of 512 MB of memory is needed. The software can be downloaded by: https://www.winguardpro.com/products.html
The edition evaluated was available as freeware from https://www.winguardpro.com/download/wgpro.exe, however the full version can be purchased as a Premium Edition upgrade for $19.95.
Overall Opinion on Winguard Pro (4 out of 5)
It is quite as easy as selecting the folders, ticking the box to include any sub-folders, and entering the password to set encryption. It is aggressive in what it does, and provides maximum protection for folders.
Files are not only protected from someone using your computer, but also as information is transferred over broadband or wireless Internet.
This is really an undersized, trouble-free software intended to assist you in guarding the data and information on your hardware!