Norton Internet Security 2010 Review: Antivirus Protection Made Easy
Introduction
There are "experts" that want to be in control of their system (and I recommend the free Comodo Internet Security for them), but for inexperienced computer users, safety without annoyances is ideal.
And if you are willing to hand over the money, Norton Internet Security 2010 achieves this goal.
Installation (4 out of 5)
On a clean VMware virtual machine, the installation went smoothly. I liked the slick interface used with the installer.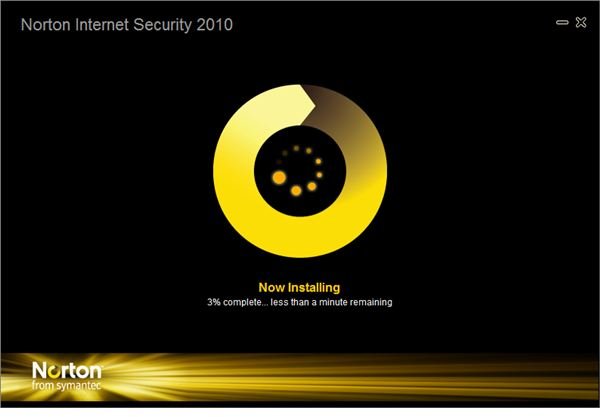 After waiting a minute or two, I get the installation complete screen.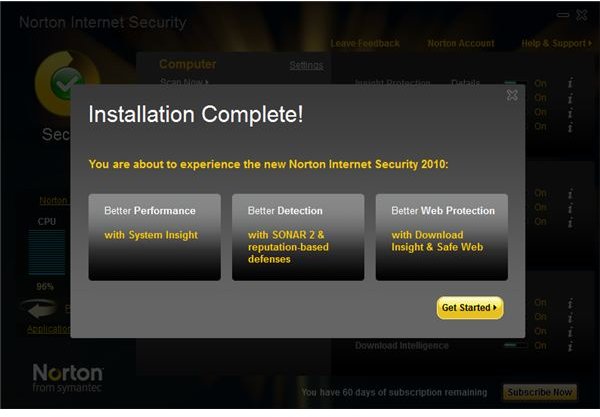 Now, it is time to activate NIS. Since I had previously made an account for Norton, I didn't need to make a new one.
Norton Activation Images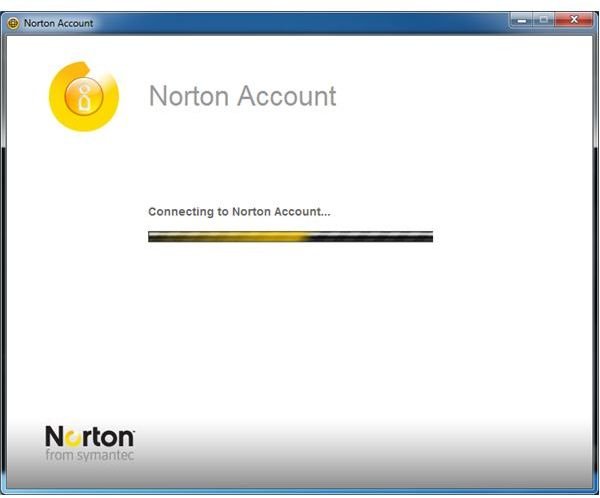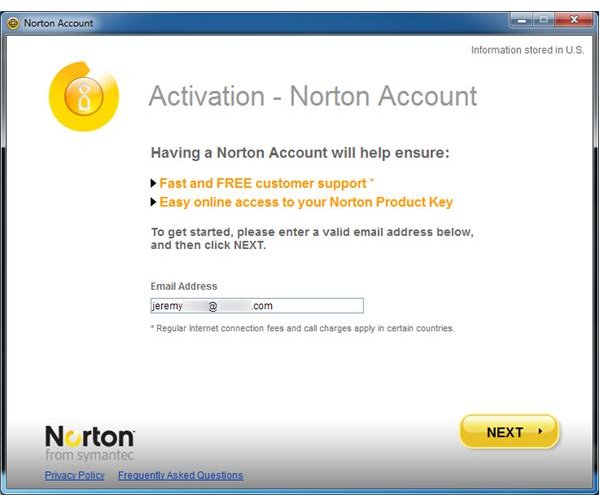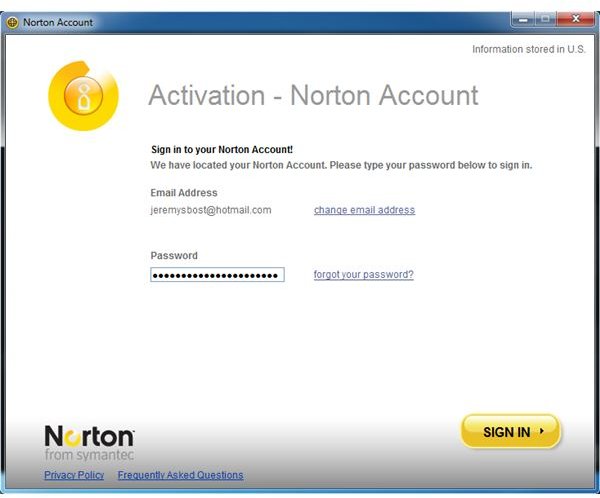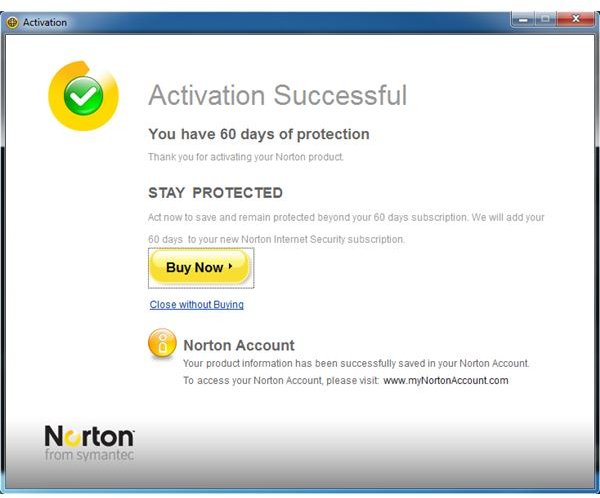 Ease of Use / Usability (5 out of 5)
I have to say, I really like the GUI (Graphical User Interface) Norton Internet Security 2010 has. The Welcome screen: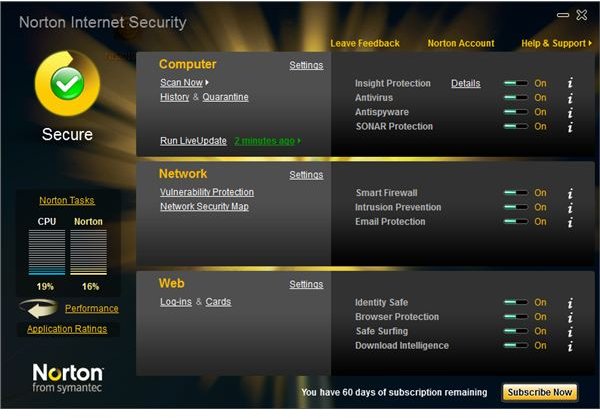 As you can see, there are many different features shown on this screen. Mousing over the "?" display a quick pop-up with info. I found this useful.
The Performance screen shows some history of your computer.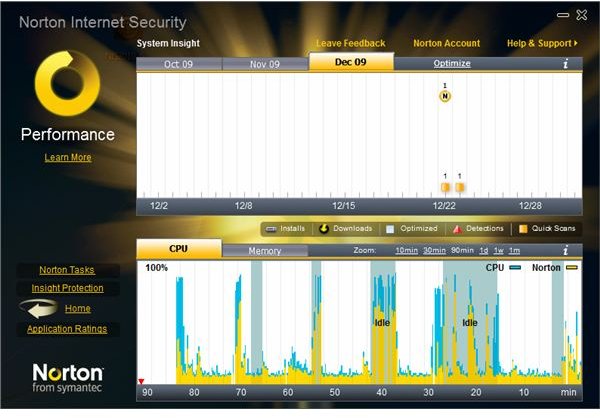 Since I haven't done much yet with it, the timeline is mostly empty.
The
(click for a picture) provides data from other Norton users about files.
With the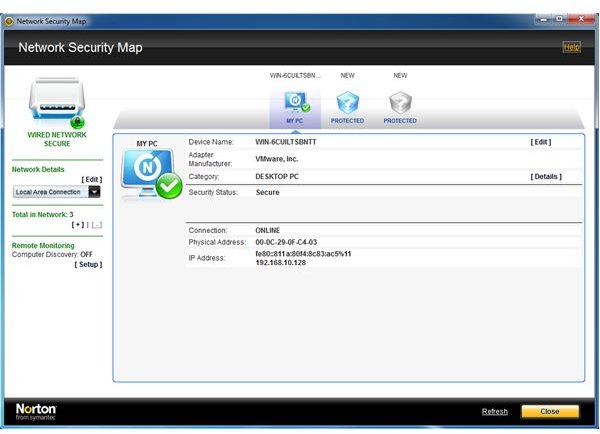 , you can see details of your network(s).
To help eliminate long scan times, files trusted by the Norton community are not scanned. (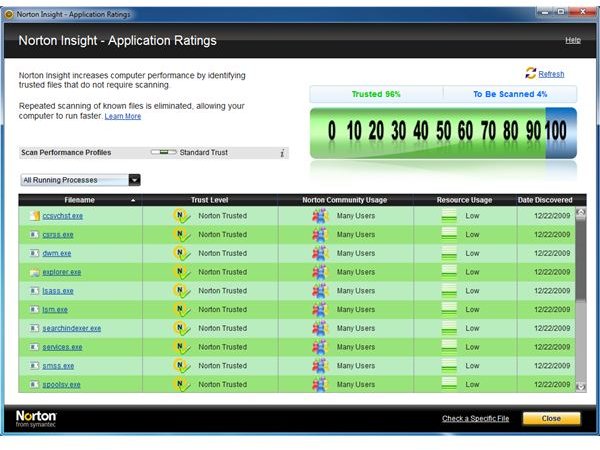 .)
NIS also has a parental control feature, that you download separately. When I downloaded and opened the installer, I got a little pop-up in the lower-right corner of the screen, saying "safetyminder[1].exe" was safe. Clicking on "More Details," this screen from File Insight comes up: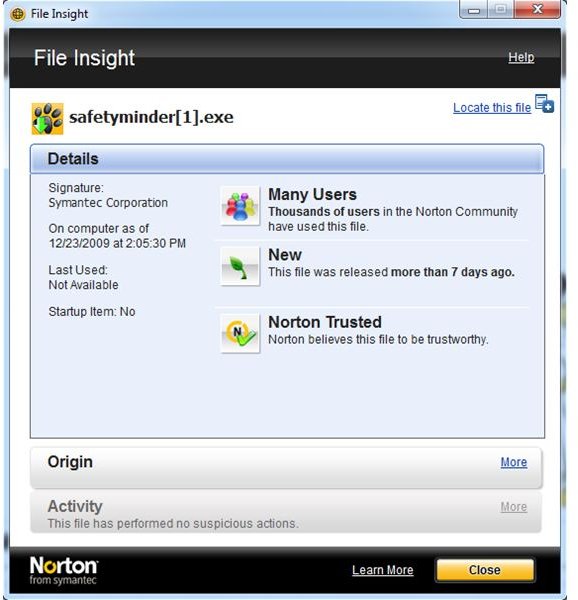 I found that NIS can stay in the background for "newbies," and for advanced users it provides details info.
Continue on for some testing results.
Testing
Now that we've found out how to get around it's interface, we can see that it certainly looks slick, has nice features, and the interface is helpful.
But does it actually work good? Let's give it some tests to see how well it can spot viruses and malware.
First Testing (2 out of 5)
In this first part of testing NIS, I will use a test suite provided by Comodo, downloadable here (alternate link).
One file, Coat.dll, was Auto-removed by NIS before I could run it. This test is made to leak past the firewall, or to bypass the security program. Not to test the anti-virus/spyware (which uses a blacklist method), so in the first run I disabled the anti-virus and anti-spyware.
Norton Internet Security 2010 scored a sad 160/340.
Download test results. (Alternate download.)
Now I will try it with the anti-virus/spyware enabled. The maximum score will be lower, because NIS detected and automatically removed some before I could run them.
NIS scored the same (160/330), so having the anti-virus on didn't effect the results.
During all of these tests, I didn't get a single alert. Some people will like this, while others won't. Do you want a program to decide for you what ok and what isn't?
Now, I know that these tests do not represent real-world circumstances. All they do is give you a view of how NIS works.
Note: The only program I know of that can pass all these tests is Comodo Internet Security, if set up to maximum security. With Comodo, a lot of alerts are given though. I personally can't decide for you which is better, but for me I perfer to have alerts and be in control (and have the annoyance that sometimes comes with it).
Finding and Installing Malware (3 out of 5)
Now, my own tests to see what NIS does with malicious programs.
In one of the tests, I saw this screen: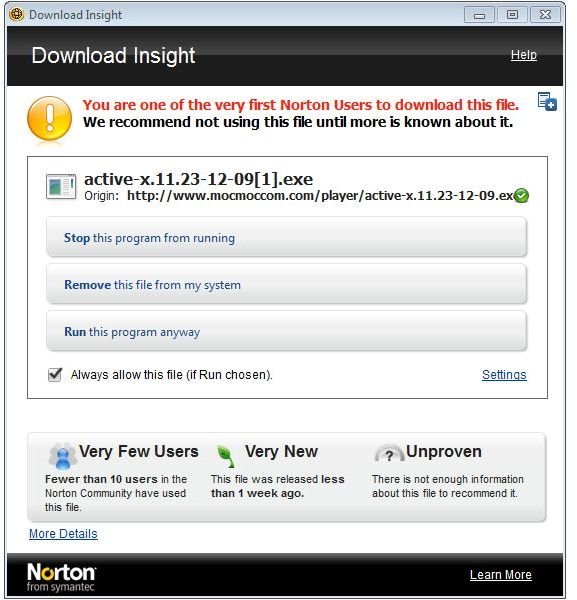 If a child saw this, there is a chance he would click any of the buttons. If it was someone who thought that this is a porn video or something, he may be determined to see it. He may press remove it.
Or someone else may think it is safe, and runs it.
We know what would happen if I clicked remove or stop. But I want to see what Norton would do if I allow.
If I "meet up" with an alert that says NIS is sure it is a baddie, I will remove. But if it is indefinite (like this one), I allow it to run partly to see if NIS will do any more about it.
Nothing happened after this, so I moved on.
The next file was blocked before I tried to open it (Download Guard detected "bad" behavior).
Over time of testing 15+ malicious files, I noticed that some were removed by heuristics (blocking base on behavior). With a lot, I just got a pop-up like the picture above, and giving no definite info one way or another.
During the testing time, I had a lot of little pop-ups in the lower-right corner, saying SONAR had detected and removed some file. So Norton was finding stuff, but still I noticed many funny tasks running, and I was getting tons of pop-ups by rogue security programs.
Conclusion (4 out of 5)
With Norton Internet Security 2010, you get good looks, and behind-the-scenes work. If you either don't like to pay for your programs, or want alerts and control, NIS isn't for you.
Detection is about as good as a anti-virus can get, and there are numerous other feature designed to protect you.
My computer was a bit slower with Norton, and it used a fair amount of memory and CPU (though less than when I had tested a previous version a few years ago).
My verdict: NIS 2010 isn't bad, but I would recommend others. (See my security setup recommendations here.)