iNet Protector Review: Immediately Restrict and Password Protect Internet Connection
Overview
Manage internet usage by restricting on schedule or demand is what iNet Protector offers. The program can password the internet connection to avoid anyone in using or managing without your consent. Find out if business users, parents and guardian should try iNet Protector.
System Requirements and Installation (5 out of 5)
Windows 7 (32-bit only), Vista, XP and Windows 2000 customers can use iNet Protector. The install of iNet is straight-forward and requires no system restart to start restricting internet connection or managing internet usage. A password is required to enter before you can start using the program. This password will be your administrative password when opening the program's settings, disabling or enabling the internet in a click. iNet Protector will a Windows service, iProtectorService.exe so the feature will continue to run even if you've closed its UI. The installer will also add a startup entry, iprotect.exe tray. After installation, iNet will use 3.58MB of hard-disk space. The notification icon of iNet is also added with handy commands in managing or using the program.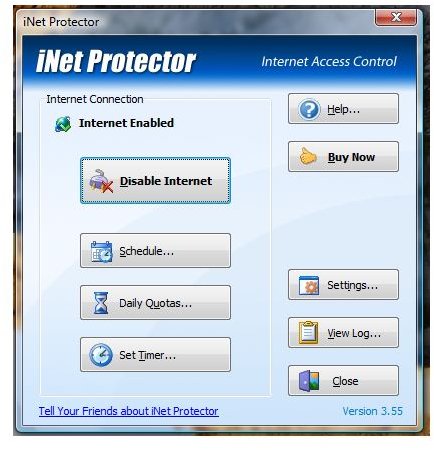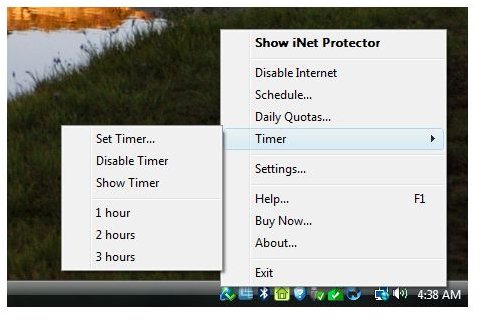 User Interface and Features (5 out of 5)
The UI of iNet is neat with not much stuff to dig because everything you will need is easy to find via its icon or UI. With iNet installed, you can take advantage of the following features and options:
Block changes to system's time
Display warning in specified number of minutes prior the internet is disable automatically (on schedule or timer)
Log activity of the program
Prompt for password when existing iNet
Automatic disable of internet on Windows startup, when the screensaver starts or when Windows is idle in specified number of minutes
Add/Remove any programs, services in Windows, websites and IP addresses that allowed to use the internet when iNet disabled the internet connection
Add/Remove any websites to be blocked with option to allow everything else or only allow the items listed in allowed programs, services in Windows, websites and IP address
Disable/Enable the internet on demand, on schedule, timer or by creating quotas per user account profile or for all users
Usage and Performance (5 out of 5)
After I configured iNet to block the internet and only allow particular IP address of a domain by adding the IP address in Allowed IP address tab, the program works as advertise. Any program or browser that will make a connection to the specified IP address while the internet is disabled or blocked for all others site or applications and services is not allowed by iNet Protector.
The program will use 4.5MB of memory and even if you closed its tray icon or exited the program, iNet continue to protect the internet connection by only allowing what I configured. If the bypass option in its trial edition is not available, it'll be nice to continue trying this program for many days but that's their strategy to sell the product which is OK.
Price to Value (5 out of 5)
At $29.85, iNet Protector is worth to use or buy. A family and business license ($39.85/$79.85) is available if you have more than one computer in your home or business network. Trial version available and it will remove the bypass protection button when the program has been unlocked from its trial state.
Conclusion
Easily restrict internet access and usage using iNet Protector at your home or office. iNet Protector is a must have tool if you want your staff to focus at work instead of surfing the net or your children to focus with studies while allowing them to do online research. Recommended!