Program Protector Review: Password Protect Windows Programs
Overview
Program Protector by Blumentals Solution is a tool to password protects any programs in Windows PC. You can also use Program Protector to password protect any executable (portable applications, standalone program). Read below to learn more about Program Protector.
Features and Options in Program Protector (5 out of 5)
Once you've installed Program Protector, you can start using it without a system restart. You can add programs, program's shortcut or any Windows executable to protect by using the command to add items in the list of programs to protect. Drag and drop is also an option to add any Windows application to be protected. Each application that you will be protecting requires entering a password.
Other options in using Program Protector:
Unprotect applications
Set administrative password to protect Program Protector
Change password for protected applications
View protected program usage log
Customize password dialog message
Bypass protection
System Requirements and Installation (5 out of 5)
Program Protector will run on 32-bit edition of Windows 7, Vista, XP, 2003 and 2000. The installer is straight-forward and will only use 2.35MB of hard-disk space. The install will add a Windows service, ProtectorService.exe so it will always run or remember the protected applications even if you've exit the user interface.
User Interface and Performance (5 out of 5)
The UI of Program Protector is simple and requires not much setting to start protecting any Windows application. It will use 4MB to 10MB while in use. I noticed low memory usage when there's few protected applications is added while more resource is used when the UI is opened. Closing the UI will reduce the usage of memory.
I tried protecting many applications I could and tried to select many in the list but it's not possible in this program. There is not option to create one master password for all protected application but you will need to enter a password for each added application. You can password protect any executable, including any setup file or installer but this is not recommended if you are to install the program. It's better to unprotect the executable and remove it from protected list before execution of the install.
The password protection on any Windows application works as advertise and it also blocked any attempt to run a protected application if no password or incorrect password is entered. The usage log is disabled by default and when I enabled it, Program Protector displayed the correct usage on protected programs.
Images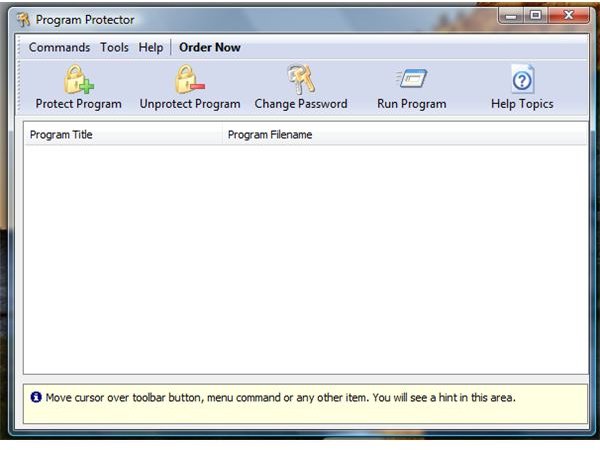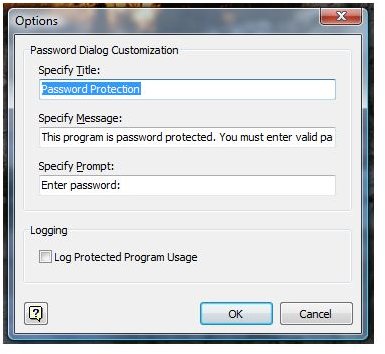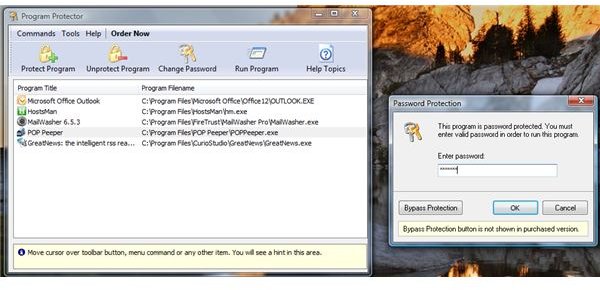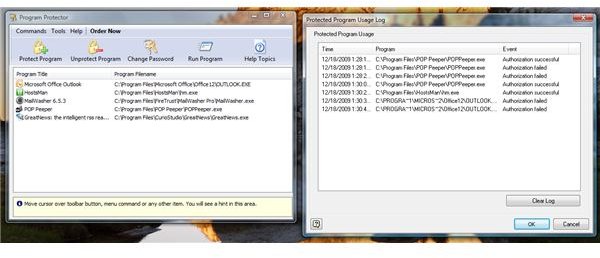 Price to Value (4 out of 5)
At $29.85 for single PC, Program Protector is worth to buy. A family license cost $39.85 for all computers in your home. That's a good deal if you are maintaining more than 1 computer!
Conclusion
Program Protector is useful in securing access to your applications. Guardians, parents or IT administrator will find this program helpful. Highly recommended!