Avoid AhnLab V3 Internet Security 8.0
What is AhnLab V3 Internet Security 8.0 ?
AhnLab is an official Microsoft Windows 7 Consumer Security Software Provider [1] from Korea. AhnLab V3 Internet Security 8.0 includes antivirus protection (which is not sold on its own) along with PC optimization and secure file deletion.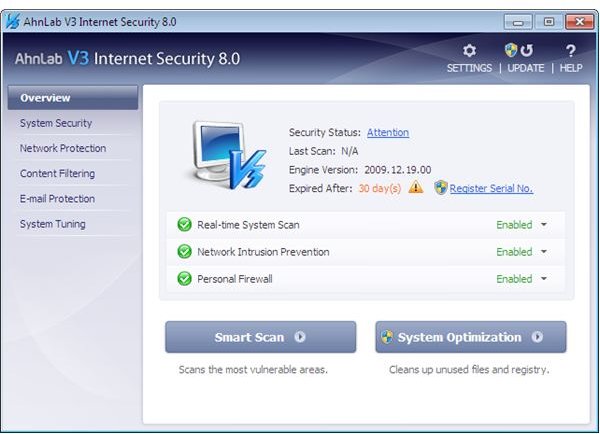 System Requirements (3 out of 5)
AhnLab V3 Internet Security 8.0 runs on 32-bit and 64-bit editions of Windows 7, Vista and legacy Microsoft desktop operating systems meeting or exceeding these requirements: 300 MB of free hard disk space, PII 500MHz CPU, 256 MB RAM, 800 x 600 screen resolution and Internet Explorer 5.0
AhnLab V3 Internet Security 8.0's manual downloaded from the vendor's website states on p 18/19 that supported languages are English, Korean, Japanese as well as Chinese (Simplified/Traditional) and that "If you install V3 IS 8.0 in other language versions, we cannot guarantee its normal operation". However, for the sake of fairness we have to add that the manual seems outdated as there is no reference towards Windows 7 compatibility.
Moreover, as Windows 7 has been developed around a language independent core we do strongly believe that you could just download and install AhnLab V3 Internet Security 8.0 Trial on any Windows 7 based computer. In any case try before you buy AhnLab V3 Internet Security.
System Requirements acc. to Vendor Homepage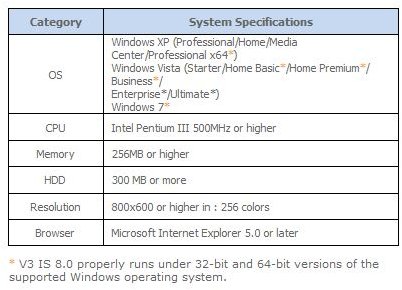 Installation & Setup (2 out of 5)
The install of V3 Internet Security 8.0 follows standard steps and it is very easy. However, we found that the update download following the install is taking an unnecessary amount of time due to downloading approx. 100 MB of uncompressed (!) update files.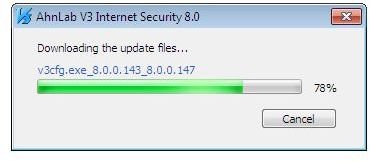 Interface (5 out of 5)
The light AhnLab V3 Internet Security interface has made an excellent visual impression and is easy to use. Nonetheless, clicking on Settings reveals plentiful configuration options explained in more detail in the manual and in Help.
Help and Support (4 out of 5)
Clicking the Help menu entry in the Help menu open the vendor's online help file which contains the information found in the manual in html format. Following the second entry in Help takes you to AhnLab's homepage where you additionally find FAQ's and technical support information including a report generator and email contact information.
Despite that the aforementioned manual needs some updating the document is of good quality and worth skimming/reading.
Features & Performance (2 out of 5)
AhnLab V3 Internet Security 8.0 is a feature-rich security suite offering the following areas of protection:
Web Security: It is possibly to manually register malicious websites and sites known so that they will be blocked in the future, and the same is true for phishing sites, both of which can be found in settings –> Content Filtering.
But such kind of Web Security simply doesn't make much sense! Competitors of AhnLab V3 Internet Security 8.0 use far more advanced proactive means of Web Security, so we recommend checking out our links to top anti-virus software and much more at the end of this review.
We could go on to list detailed functionality but as we can tell from random examination we don't have the impression that our rating of AhnLab V3 Internet Security 8.0 would increase. Therefore, we only give a summary of the rest of V3 Internet Security 8.0 features without recommending the product:
• Mail Security
• Process Execution Blocking
• Personal Firewall
• Network Infiltration Blocking
• Virus / Spyware Diagnosis & Clean-Up
On top of that does V3 Internet Security 8.0 provide and
• PC optimization
and
• Complete File Deletion
But these last two features add little value and are not thoroughly thought out with the ordinary user in mind.
Price to Value (3 out of 5)
The price tag of AhnLab V3 Internet Security 8.0 is 62.95$ for up to 3 household PCs with a license for one year. If the quality of the software increased so would our rating.
The Bottom Line
AhnLab V3 Internet Security's deficits are many: documentation, uncompressed updates as well as weak features and performance for example. From what we have seen we wouldn't be surprised though if the next release of AhnLab Internet Security would be a success, yet for the time being we preferring sticking with fully matured products from vendors with quality control. As a best practice always play safe when it comes to computer security!
Make sure you don't miss Bright Hub's review Top Antivirus Software for Windows 7.
References
[1] Consumer security software providers
Writer's own experience
Screenhots by the writer