AppRemover Review: Free Security Program Removal Tool
Overview
AppRemover is a free application to remove specific list of anti-spyware, firewall and anti-virus software in Windows. It is not the common uninstaller in removing any Windows-based application. Read this review to find if AppRemover is worth in using.
System Requirements and Installation (5 out of 5)
There's no need to install AppRemover. It's a standalone tool that will scan the system for installed and supported security programs (Norton, McAfee, Trend Micro, Panda, NOD32, CA, Kaspersky, PC Tools, AVG, AntiVir and many others). The executable's file size is 3.34MB only and can be run in Windows 2000, 2003, 2008 and in 32-bit or 64-editions of Windows XP, Vista and Windows 7.
You can run AppRemover in any location of your hard-drive and removable drive (USB, flash drives)
Features and Options of AppRemover (5 out of 5)
The key features of AppRemover are:
Scan the system for installed anti-virus, firewall and anti-virus applications
Removing a single or multiple security programs
Scan the system for Incomplete uninstalls of security programs
If AppRemover failed to detect a security application, there is an option to report or submit. There's no need to configure AppRemover utility. This means advanced or beginner end-users have nothing to worry which settings to use.
You have two options in removing any detected security applications:
Automatic Mode Removal – you don't have to respond on any prompts when you use this method.
User Interactive Mode Removal – if the program is detected to have its own uninstaller or if you wish to remove using step by step method, this method will work like any other uninstaller.
Performance and Usage (5 out of 5)
I tried AppRemover in Vista with SP2 that has Microsoft Security Essentials, VirusTotal Uploader, WinPatrol and Agnitum Outpost Firewall 2009. AppRemover detected all of these security applications except WinPatrol. In XP SP3 with A-squared, Ad-Aware, Spybot – Search & Destroy, Malwarebytes' Anti-Malware, SUPERAntispyware, VirusTotal Uploader and Windows Defender, AppRemover detected all security tools except A-squared.
When I use AppRemover to remove all of the detected programs in one session using Automatic mode, the program successfully remove the objects without glitch! A reboot is required to continue deleting other files but you'll see this prompt to reboot when you are about to exit AppRemover.
Images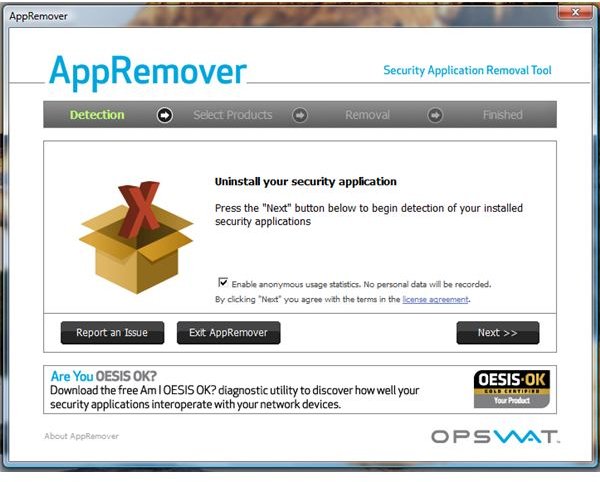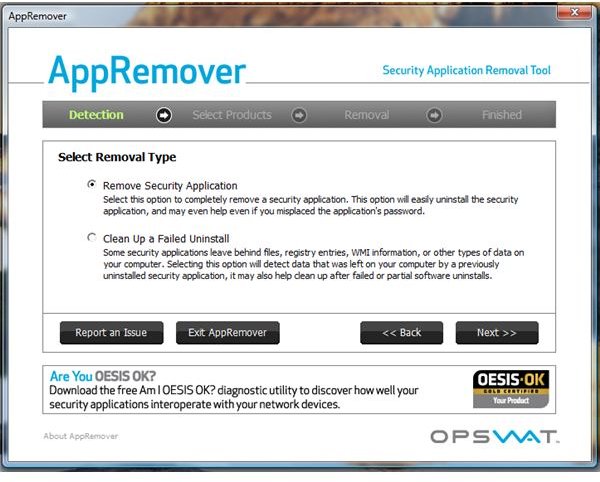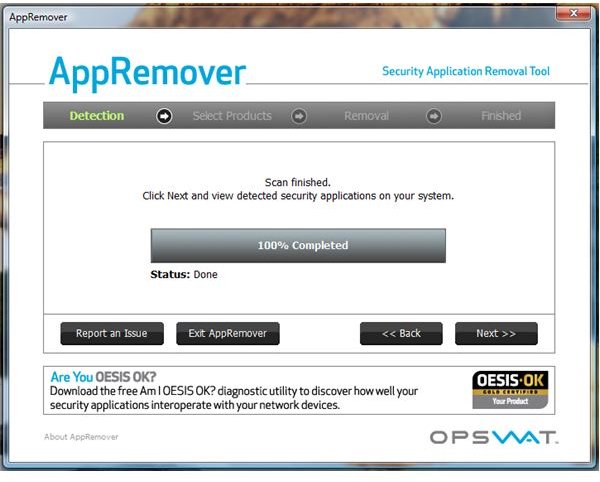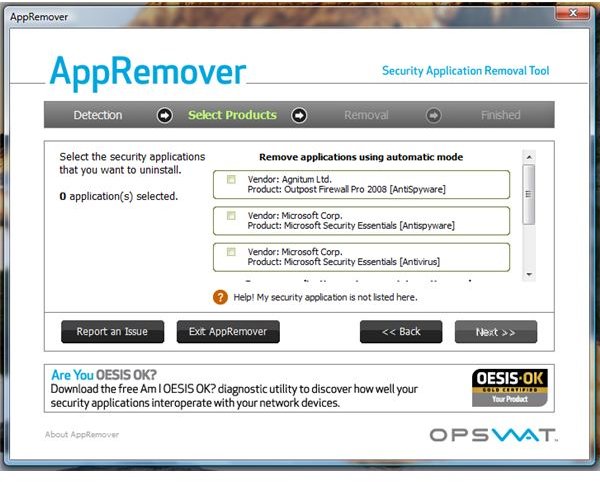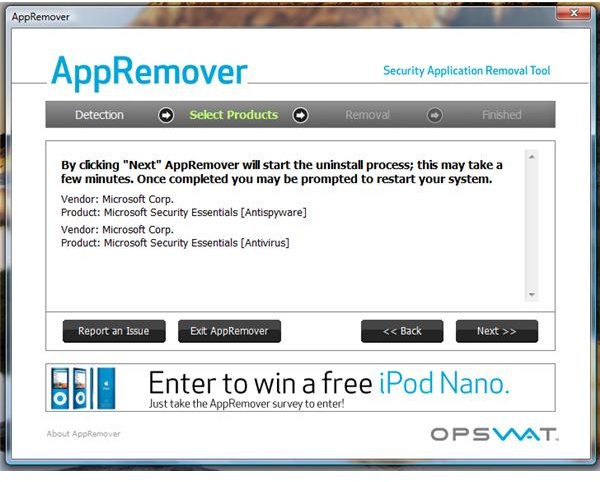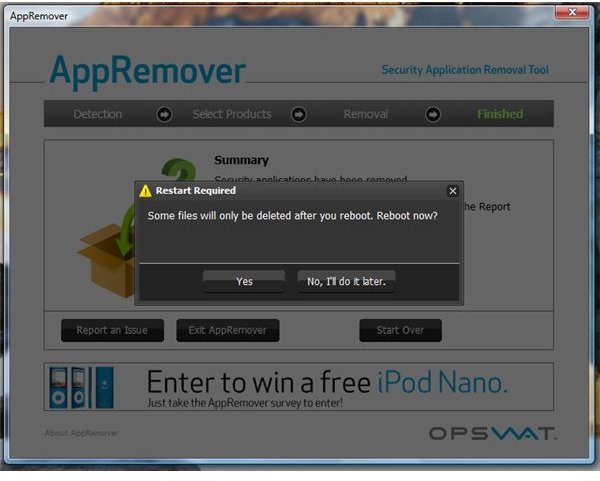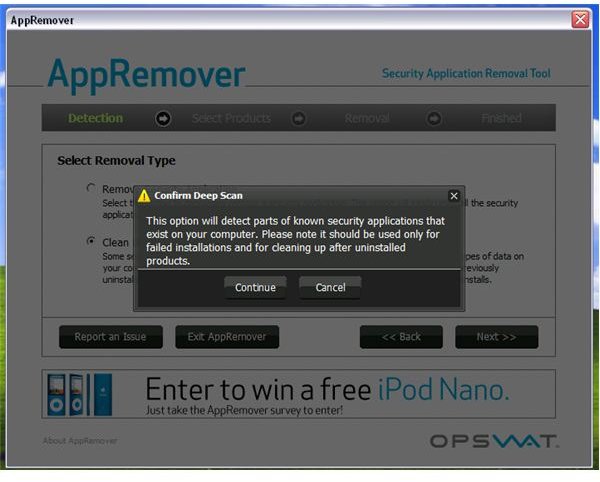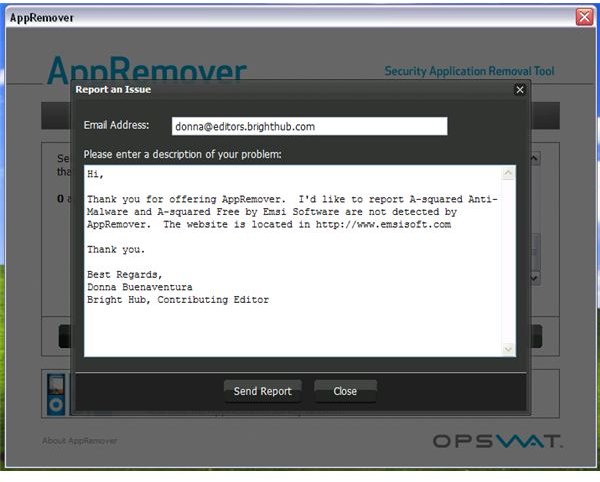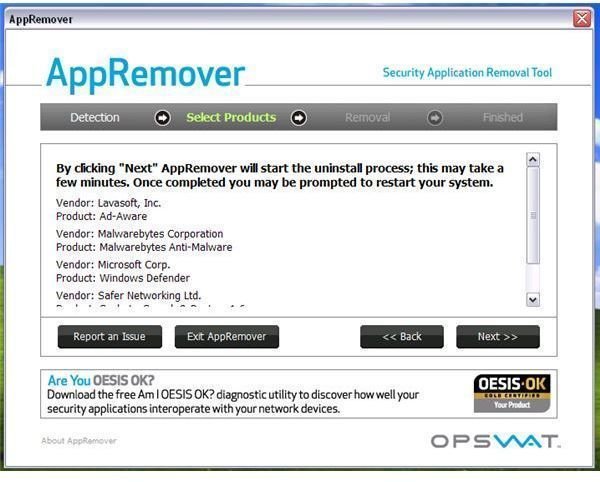 Price to Value (5 out of 5)
Free to use. What else can I say?
Conclusion
AppRemover is going to be your hero when you want to replace your antivirus software. You can use it also to remove supported security programs, even if you've forgotten the password of the security program. Highly recommended!