PC Tools File Recover Review
What is PC Tools File Recover?
File Recover 7.5 is the latest file and folder recovery software for Windows by PC Tools. The software is Windows 7 compatible and useful when you have to undelete files. To save time you can narrow your PC Tools File Recover recovery scan by path information (e.g. Desktop), logical and physical units. One top of that can you make use of any of these filters a combination thereof: file type, name and size.
Unless in cases of mechanical defects can a hard drive and similar storage device usually be mounted or attached to a any working Windows based computer onto which you can install PC Tools File Recover to start a recovery of physical scan type.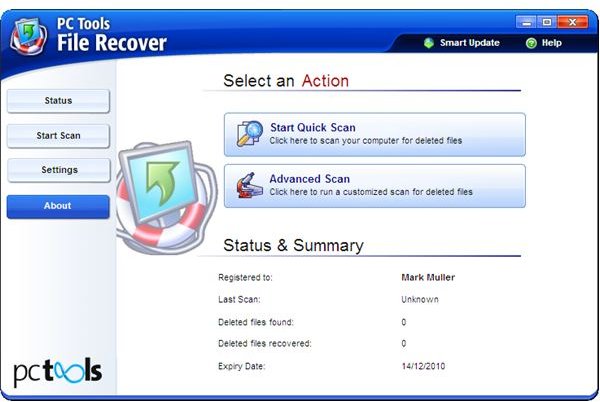 System Requirements (5 out of 5)
File Recover 7.5 runs on runs 32-bit and 64-bit editions of Windows 7 and Vista as well as on earlier of Microsoft Windows. The software requires approximately 20 MB of free disk space on your hard drive.
Installation (3 out of 5)
The installation of PC Tools File Recover is straightforward following standard steps until you reach the Google Toolbar Screen where you have to opt-out or have the Google add-ons installed automatically.
After the install of File Recover we recommend registering your license right away by means of the button on the left pane of the interface. Unless you register File Recover the software will only show what could be recovered without actually recovering lost files and folders.
Interface (3 out of 5)
The interface of PC Tools File Recover is nice and logically organized. This helps much when in need of a file or folder recovery because recovering documents probably isn't a daily task of yours.
Help and Support (5 out of 5)
The graphical user interface of PC Tools File Recover has an integrated help menu with a quick start guide. Within the quick start guide there is a link to File Recover Online Help which is truly recommended.
More information is available online at the vendor's website where you can FAQ's, search the knowledge base or find the answer to your question in dialogues. Technical support can be reached by logging in to your license-bound account.
Features & Performance (4 out of 5)
Quick Scan scans your file system for deleted documents such as those purged from the Windows Recycle Bin or permanently erased using the Shift Key + Delete command. A Quick Scan usually doesn't take long.
Deep Scan, also found in the Advanced Scan menu, additionally searches for files in unallocated clusters. The time it takes until the process completes depends largely in the size of the volume or partition, respectively their fill levels. The process can be speeded up by narrowing the scan location in the right pane of the interface.
Physical Scan: In cases when your drives' MFT (index of your files) has been deleted or got corrupted and you media is being reported as unformatted then PC Tools File Recover's Physical scan is the right selection. Please note that it "should be used with caution and only in the event of a corrupted hard drive. [1]"
File Recover 7.5 is relatively easy to use and cut out for file and document restore. The software performed as expected on our test system where File Recover could restore a Word document on the fly using Quick Scan.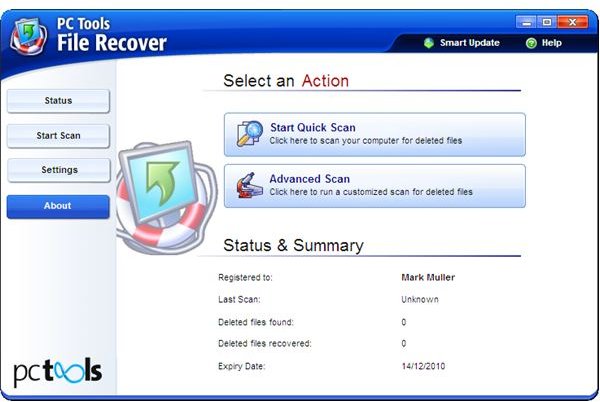 Price to Value (3 out of 5)
File Recover 7.5 for Windows carries a price tag of 29.95 Euros for one year / one computer. Our rating takes into account that free file recovery software sometimes achieves excellent results, too. However, this might be at the cost of support.
Please note that the trial version of PC Tools File Recover 7.5 cannot recover files.
The Bottom Line
PC Tools File Recover 7.5 for Windows is helpful for recovering lost files and folders. As a best practice always recover files and folders to another partition or volume to prevent restoring to the original location which can cause the free drive space of the to be restored object being written to by the recovery process.
No File Recover software guarantees that objects can be undeleted, so in the first place you should have a backup software making copies of your files and folders. Here's the best free backup software for Windows.
More File Recovery Software
You may also be interested in checking out Bright Hub's article How to Recover Data from a Crashed External Hard Drive.
References
[1] https://www.pctools.com/file-recover/help/6.2/
Product reference: PC Tools File Recover 7.5.0.15
Official vendor product page: https://www.pctools.com/file-recover/
Writer's own experience
Screenshots by writer