PC Tools Spyware Doctor with Antivirus 2010 Review
What is PC Tools Spyware Doctor with Antivirus 2010?
PC Tools Spyware Doctor with Antivirus is the latest Windows 7 compatible antimalware solution from PC Tools which offers protection against viruses, spyware and similar threads and annoyances.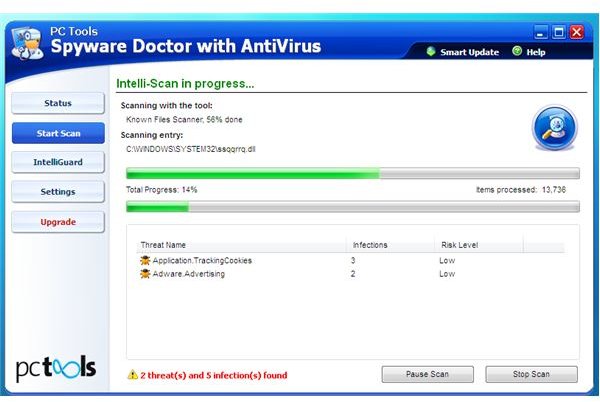 System Requirements (5 out of 5)
PC Tools Spyware Doctor with Antivirus 2010 is compatible with Microsoft Windows 7 (32 and 64 bit), 32-bit and 64-bit editions of Windows Vista SP1+ as well as Windows XP with Service Pack 2 or higher.
On our Windows 7 test system PC Tools Spyware Doctor with Antivirus 2010 used up approximately 100 MB for install and update.
Installation & Setup (3 out of 5)
The PC Tools Spyware Doctor with Antivirus setup wizard follow standard steps, and it is recommended leaving Automatically install updates ticked on the Select Additional Tasks screen. On the other hand when you come to the Google toolbar screen you have to opt out before clicking Next or the Google toolbar with automatically be installed, too!
The end of the setup process by default leads over to the automatic updates of signature file without user intervention. After this step does your system undergo a full scan which may be takes some time (we have noticed that subsequent scans after a reboot perform faster).
Make sure you enter the license information to activate full protection. In System Status, click on Starter Edition, Upgrade now. A Warning message asking to deactivate Windows defender comes up but we have ignored that.
To upgrade the product click on Smart Updates. Restart you computer when the process completes.
Interface (5 out of 5)
PC Tools Spyware Doctor with Antivirus 2010 has a top interface which is straightforward.
Tip: Should you have difficulties accessing the GUI right click a the application and select Run as administrator. The phenomenon is quite common among PC security software for Windows 7.
Features (5 out of 5)
PC Tools Spyware Doctor with Antivirus 2010 protects your computer by a multi-layer approach:
Site Guard (Layer 1): Websites known to be sources of malware are blocked

Browser Guard (Layer 2): All scripts are analyzed in real-time and stopped if containing drive-by-downloads and similar threads and nuisances

Download Guard (Layer 3): Malware is blocked by community feedback to the cloud data center

File Guard (Layer 4): Unless an application is trusted and white listed it will be scrutinized in full upon launching

Behavior Guard (Layer 5): Non-whitelisted programs are kept monitored during runtime

On-Demand & Scheduled Scans (Layer 6)

'Dead system' approach using a boot CD (Layer 7)
We strongly recommend you turn on Scan Alternate Data Streams and Scan for Rootkit hidden files located in Settings –> Scan Settings.
Performance (4 out of 5)
PC Tools Spyware Doctor with Antivirus 2010 Intelli-Scan examines the following computer properties for the presence of malware: running processes, startup locations, cookies, browser settings, HOSTS file, Registry, Active X objects as well as LSPs. Please note that besides a to be defined custom scan only a scan of type Full Scan, which includes scanning the aforementioned objects, examines your disks!
You may want to un-tick Lower scan priority to reduce CPU usage if you have the impression Settings PC Tools Spyware Doctor with Antivirus 2010 takes too long to complete (Settings –> Scan Settings).
Also, really recommended, activate IntelliGuard to detect Potentially Unwanted Products in Settings –> Advanced menu.
Help and Support (5 out of 5)
PC Tools Spyware Doctor with Antivirus 2010 has an integrated Quick Start Guide found in the help menu of the GUI. Within the quick start guide there is a link to the detailed Spyware Doctor Online Help which is really recommended. Help –> Get Support Now takes you the vendors' home page with FAQs, a searchable knowledge base, dialogues, and similar means of help and support. On top of that can you contact technical support by loggin in to your account which is tied to your license.
Price to Value (3 out of 5)
PC Tools Spyware Doctor with Antivirus 2010 has a price tag of 39.95 for up to three computers including customer support for 1 year. The quoted price here is in Euros, not dollars, and PC Tools sells this software with a 30 day money back guarantee.
The Bottom Line
PC Tools, an official Windows 7 consumer security software provider, has taken a multi-layer approach to protect against threats at many entry vectors. Spyware Doctor with Antivirus' malware detection is among the highest in the industry thanks to its ThreatFire engine for example.
The software can be upgraded to PC Tools Internet Security 2010 which offers three addional layers of protection: Firewall Plus, Spam Monitor and a Browser defender toolbar.
More Reviews!
Make sure you don't miss these Bright Hub articles:
References
Writer's own experience
Screenshots provided by writer