Shadow Defender: Securing Windows and Keeping Your Privacy Private
Introduction
Shadow Defender does one thing - to secure your computer from unwanted system changes thus keeping Windows safe from malware and buggy software update or program. Find out how Shadow Defender works by reading this review.
Installation and System Requirements (5 out of 5)
You can use Shadow Defender, if you have 32-bit or 64-bit editions of Windows 7, Vista, XP, Windows 2003 and Windows 2000. The install of Shadow Defender is a quick process and you can start using the program after a system reboot. The installer will add a start-up item, defenderdaemon.exe and will use 2.18MB of hard-disk space. You can opt to have its program's icon on a desktop, quick launch bar or both. Shadow Defender supports several languages: English (default), German, Bulgarian, Chinese (Traditional and Simplified), Japanese, Arabic, Vietnamese or Spanish. You will only need to download the res.ini file and place it in C:\Program Files\Shadow Defender.
Features and Options (5 out of 5)
With Shadow Defender installed, you can configure it to put any drive (system, another partition or external) in a Shadow Mode. Shadow Mode means running the system in a virtual environment. Any changes on the system will be placed in the unused space of the hard-disk. If you decide to exit Shadow Mode, any changes during Shadow Mode session will be discarded. There is also option to commit the changes on the drive.
What is neat with Shadow Defender is the Exclusion List option, allowing you to choose a location or file in any shadowed drive to be retained. It means, you can continue to save your work in a particular folder without losing any changes to it.
Below screenshots are the available options if you decide to enter or exit Shadow Mode and also, an example of system drive that is in "Shadow Mode". You can also schedule when and which detected drive(s) to put into Shadow Mode: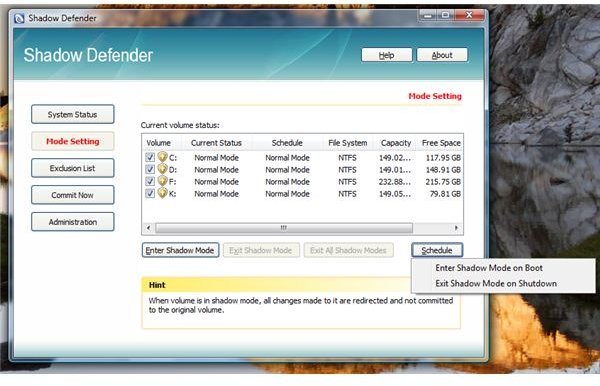 Other available options in using Shadow Defender: Password protects the program or configures to require entering the password before committing files via context menu, notification when the disk has reached a low disk space on protected drives (the default value is 200MB but you can increase or decrease the amount) and handy commands via its notification icon.
Images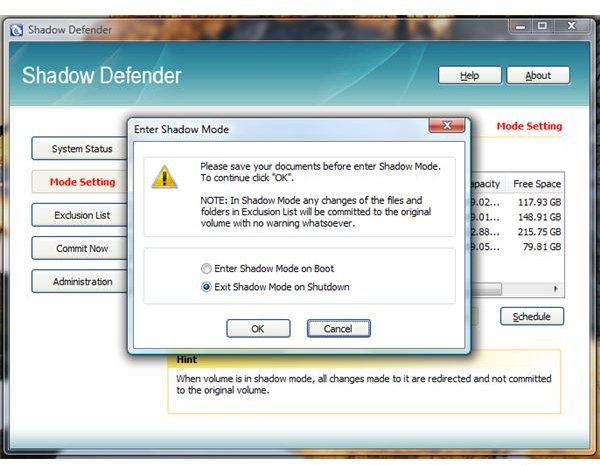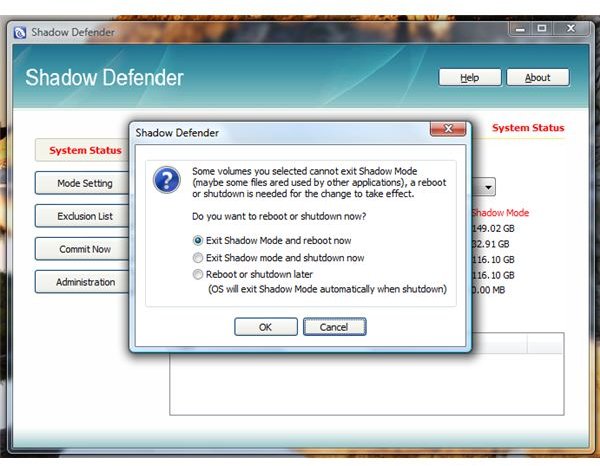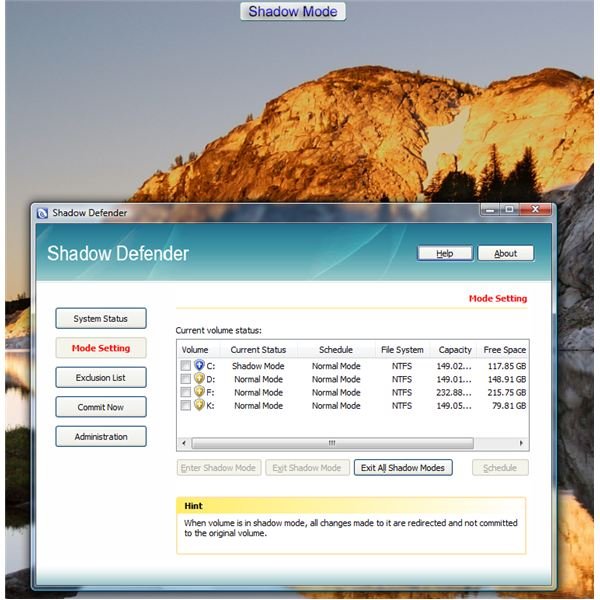 Performance (5 out of 5)
If Shadow Defender is not running in Shadow Mode, the program will only use 1.9MB of memory. If you put any drive in Shadow Mode, the application will use 2MB of memory. I test the effectiveness of Shadow Defender by putting the system (where Windows Vista is installed) and one of my external drives into a Shadow Mode. I deleted and store some files into the system. When I exit Shadow Mode on both drives, the changes I made were not committed but discarded. The same performance occurred when I test the program's option to exclude a folder in discarding the changes. Shadow Defender did not delete what I want to keep after the Shadow Mode session.
Price to Value and Support (5 out of 5)
At $35.00, Shadow Defender is worth to buy! You don't have to pay for upgrade fee when a new version is release and you can contact their support via e-mail or forums. If you would like to try Shadow Defender, a fully functional with 30 days to try is available.
Conclusion
Shadow Defender is a useful application in protecting your system from unwanted changes or malware infection and by keeping your computer usage private. Highly recommended!