Free On-Demand Malware Scanner using Norton Security Scan
Overview
If you frequent discussion and help forums, you will find many volunteers or forum participants often advise to run a free on-demand scanner by anti-virus vendors. Symantec is one of many vendors offering free consultation by scanning the system for risks. This article will review how Symantec's Norton Security Scan works.
System Requirement and Installation (5 out of 5)
Norton Security Scan (NSS) will run in Windows 7, Vista and XP. The installation of NSS is a straight-forward process. It will only use 11.2MB of hard-disk space.
User Interface, Features and Option of NSS (4 out of 5)
Black is beautiful and that's how Symantec's NSS looks. The UI of NSS is neat and elegant providing easy access on the program's key features and options:
Quick and Full System Scan
Scan Scheduler – this feature will let you choose the time and day(s) and type of scan.
Automatic Update – the program will check for updates each time NSS is opened.
The only issue I found with its UI is there's no option to go back to its main UI after a scan. You will need to close the program and open again.
The program will not only look for malware but it will check if your system has the minimum recommended level of protection by antivirus and firewall.
What's Not in Norton Security Scan? (3 out of 5)
NSS will only scan the system for trackware, adware, spyware, hack tools, viruses and Trojan horses. It will not look for rootkits. It is not a replacement of any anti-virus or anti-malware program that has real-time protection (proactive) against any malicious files or processes. NSS cannot be use to remove detected threats, if any is found. You will need to buy Symantec's Norton antivirus or security suite if you want its removal engine, proactive and behavioral based protection. There is no option to customize the files or folders to scan. A quick scan will run a fast scan of areas of the system that are most likely to be targeted by malicious software. The full system scan will scan any files in detected hard-drive (including external hard-disks), boot records and running processes. There is no option to quarantine (such feature is available in other free on-demand scanners) and there is no way to add exclusion list. Manual detection updates is not possible in using NSS.
Malware Detection and Performance (5 out of 5)
I let the program to run a full scan and it has finished in 1 hour and 13 minutes by scanning 2 partitions (150GB each) and 2 external hard-drives (with 250GB and 160GB capacity). The total number of scanned objects is 465,919. There's no false positive reports which is good thing. The quick scan has finished in 2 minutes by scanning 2,989 objects. The program will use 92MB of memory during a scan.
Detection ability: I put NSS to test by scanning a drive that has 237 samples consisting spyware, adware, rogue or misleading programs and many types of malware. Note that the system drive that it will scan does not have antivirus program installed. NSS has detected 213 malware samples and 498 infected registries and directories.
Images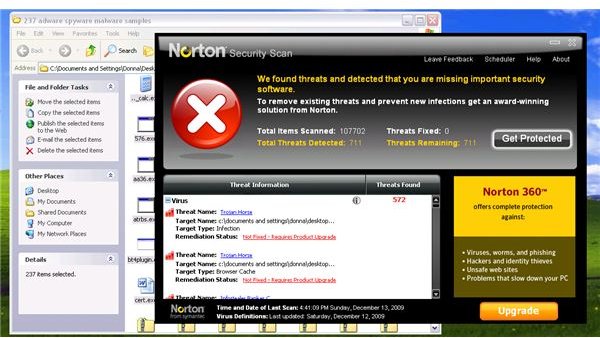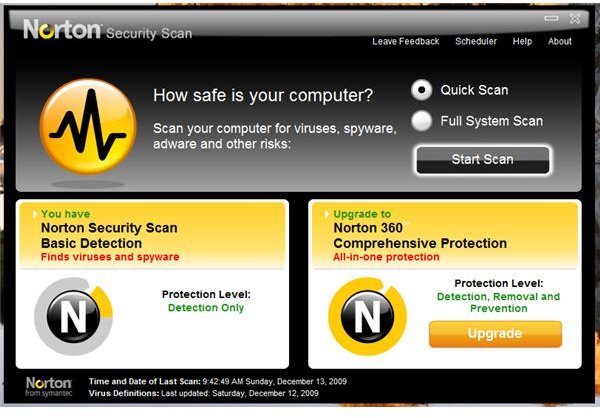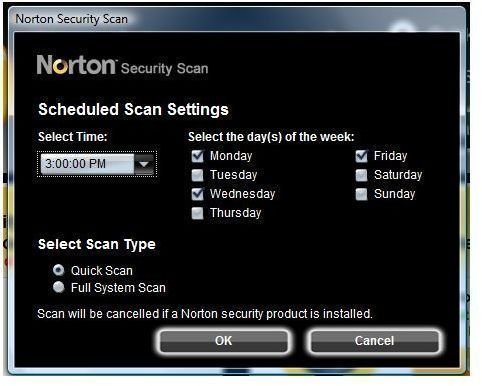 Price to Value (4 out of 5)
Free scanner with limited features. Note: Buying software by basing in detections only is not recommended. It's best to try a program with full functionality to check if removal engine works.
Conclusion
Norton Security Scan is highly recommended to use if you need to double-check your computer's security status. Use this tool to determine if your resident anti-virus program by another security vendor has missed any threats.