Email Sender Identification Review
What is eMail ID?
Email ID, by Trend Micro, is a free small plugin to your email program or webmail client to prevent message spoofing. Email ID can be helpful to authenticate legitimate senders of email quickly and easily. Many companies such as retail, travel, auctions, banking, as well as firms from other industries have enrolled with Trend Micro for that purpose. Thus, eMail ID provides an additional layer of protection against phishing, identity theft, hoaxes and similar threats and nuisances.
What's the difference between eMail ID and a Spam filter?
In contrast to anti-Spam programs which use lists of suspect words and character sequences, reputation databases and proprietary algorithms does Email ID build on sender identification.
System Requirements (3 out of 5)
eMail ID can be installed on systems running Windows XP or Windows Vista and works with following email client programs and webmail providers:
• AOL webmail
• AIM mail
• AT&T Yahoo! Mail
• Yahoo! Mail
• MSN Hotmail
• Windows Live Hotmail
• Gmail (standard and basic)
• Earthlink web mail
• Microsoft Outlook 2003 and 2007
• Microsoft Outlook Express 6.0
eMail ID webmail can be used with Microsoft Internet Explorer 6.0 - 8.0 as well as Mozilla Firefox 2.0 and 3.0. The following screenshot depicts eMail ID when used with Google's webmail service Gmail (I have successfully tested email ID on as Vista based system using Firefox 3.5.5 using Gmail):

Installation (3 out of 5)
By clicking download you accept Trend Micro' EULA and consent to the automatic update feature. The first install screen has the option Automatically Display Images for trusted emails enabled by default, whereas Trend Micro Feeback is opt-in. To get most out of eMail ID I also activated the later and hit Install.
All browser windows need to be closed in course of the install, and if you are using the best browser (Firefox) you will find an Iconix item in the extensions window when the install completes. Testing eMail ID with Gmail showed that the program can be used right away without complicated setups.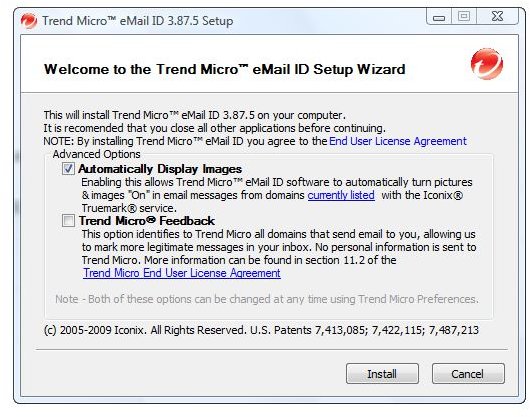 Interface
eMail ID can for instance be configured by opening Tools –> Add-ons –> Iconix. Other than that you only to see the Truemark symbol in your mail program or webmail client as eMail ID has no need for a GUI.
Features & Performance (5 out of 5)
Mails from identified senders have the Truemark symbol (ticked padlock) placed before the sender information. Hovering the mouse over the Truemark symbol displays the Truemark certificate which contains more information about the sender.
Users of webmail will additionally notice the Trend Micro Button if eMail ID is checking incoming mails for sender identification. Please note that no email message is routed trough Trend Micro, eMail ID does not introduce new problems so to speak.
Sender verification takes place in the background and when the TrueLock item is displayed you can assume that the message is genuine as it would be very difficult spoofing the eMail ID sender identification process. Messages without the ticked padlock symbol should be treated with due care as you do today without email ID.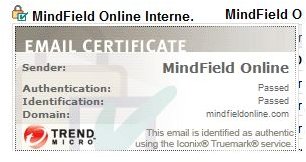 Help & Support (2 out of 5)
More about eMail ID can be found at the vendor's site on the eMail ID Feedback and FAQs tab. Trend Micro does not provide email support or phone support. Under some circumstance you may be able to get support via Iconix' support line, the company powering eMail ID sender verification.
Price to Value (3 out of 5)
eMail ID is a completely free tool, no strings attached.
The Bottom Line
eMail ID can identify Trend Micro / Iconix enrolled email senders and is helpful to prevent receiving spoofed messages claiming to be from someone else. Along the same lines are identified senders less likely to send Spam. eMail ID is not yet the silver-bullet to fight spoofed messages for it lacks the critical mass for the time being, but the Iconix technology looks very promising.
Trend Micro's Email ID does a good job protecting your electronic mail, yet as a best practice you should also use a link scanner like Comodo Verification Engine or Free AVG LinkScanner to prevent becoming the victim of a spoofed web site trough phishing or identity theft for example.
Last but not least should you perhaps think about the way you dispose sensitive paper documents as explained in Bright Hub's article Beware of Dumpster Diving!
Reference
Author's own experience
Screenshots taken by the author