SpywareBlaster: Free Security Software for Your PC
What is SpywareBlaster?
SpywareBlaster from Javacool can help keep your system spyware-free and secure, without interfering with the "good side" of the web. We sometime install software that bundles with spyware or adware and there are software that will not only spy on us but will damage or infect Windows. SpywareBlaster is a simple program and yet effective in preventing installation of spyware and unwanted programs.
Installation and Set-up (5 out of 5)
SpywareBlaster is easy to install and configure. In just few clicks, the program will protect web browsers. After installation of SpywareBlaster, all you have to do is to update the database and enable all the protection for Firefox and Internet Explorer. You can close the program and it will continue to protect the system. SpywareBlaster is compatible with popular anti-malware or anti-virus programs.
Features (5 out of 5)
One of the great features in SpywareBlaster is it does not need to be running all the time to be protected from spyware. SpywareBlaster does not require scanning to look for spyware. When you enable the protection, it sets the kill-bit of the bad or malicious CLSID as "1" to prevent installation of spyware or malicious software.
You can also use SpywareBlaster to:
Backup and restore important browser and system settings – other antispyware program will only reset your browser and system settings. With SpywareBlaster, you will have your customized settings again when you restore from the backup.
Manage Internet Explorer's Home, search and local pages of all users in Windows – If you have more than one user account, you can use SpywareBlaster to customize the pages in IE and the search page to use.
Backup or restore Windows HOSTS file – malicious software can hijack Windows HOSTS file and this tool in SpywareBlaster allows you to have a good copy of Windows HOSTS file.
Disable changes in Internet Explorer's settings – if any user in your home or home office often change the settings in IE, or if unwanted program alter IE settings, enabling this option will prevent changes.
Customize IE's title bar - this is not a protection feature but you can use this tool in SpywareBlaster to change the title in use by Internet Explorer from "Microsoft Internet Explorer" or "Windows Internet Explorer" to another title. Example: "Default Browser"
Flash Killer – there are malicious software that can take advantage of vulnerability in flash player! Also, a flash file is one of the methods by malware writers to infect computers. This tool allows you to disable Flash content. It's like NoScript for Firefox.
Custom Blocking – if you know the CLSID of a program, you can add your own blocklist.
SpywareBlaster currently protects 10,761 bad items and it is being updated often.
Screenshots of SpywareBlaster's Features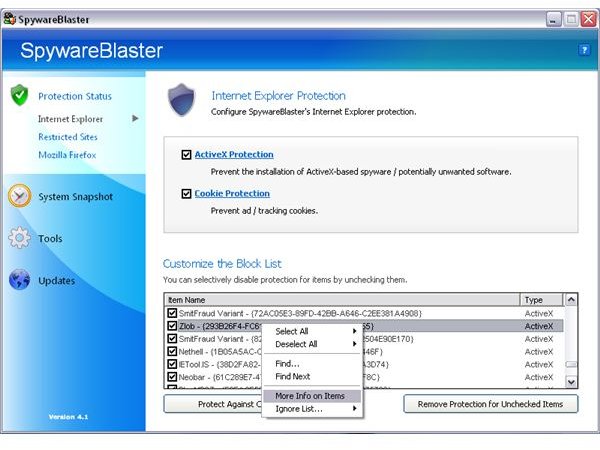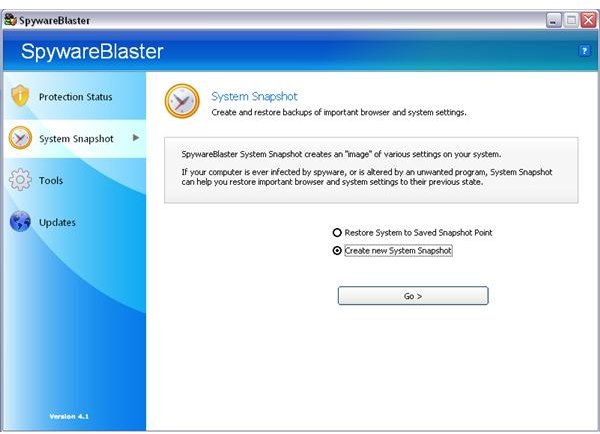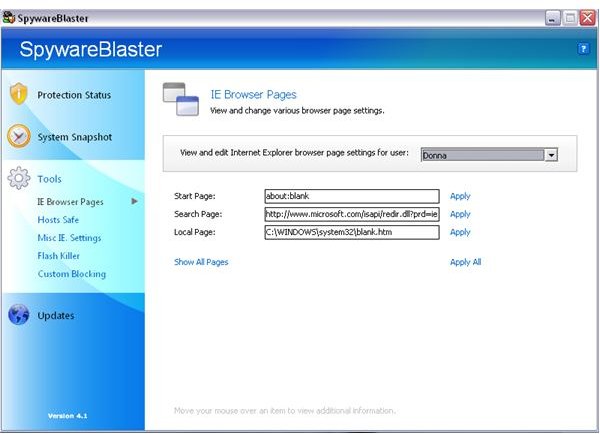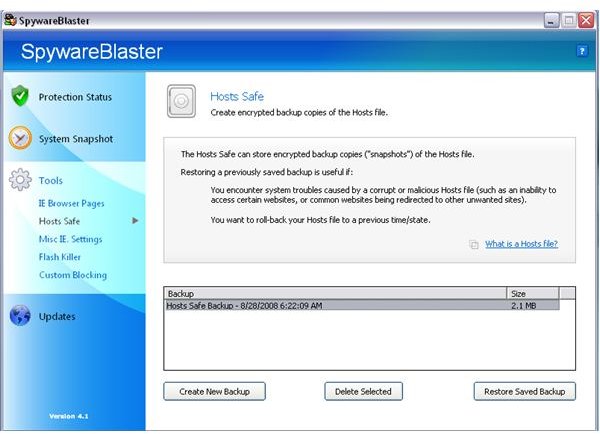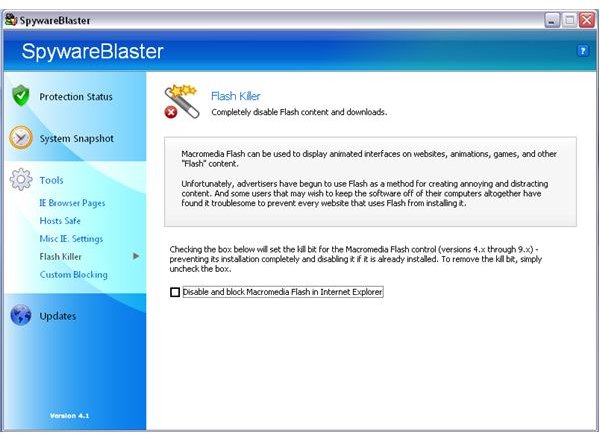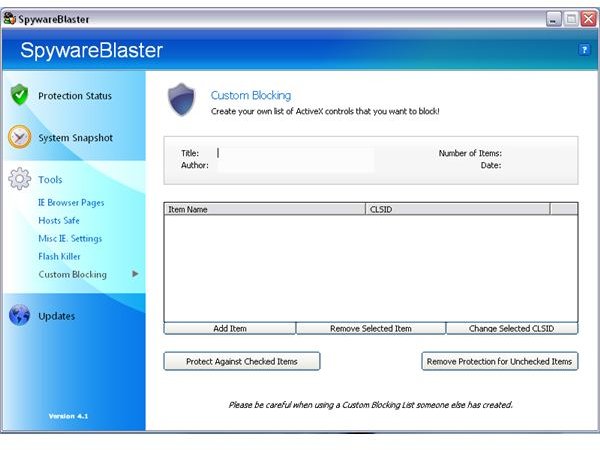 Price to Value (5 out of 5)
SpywareBlaster is free for personal use and there is also a Network version of SpywareBlaster, a low-cost protection layer that provides unparalleled flexibility and control. SpywareBlaster is easy to use and it is effective in blocking web-based threats. $9.95 per year for automatic update of its protection database? That's a great deal!
Conclusion
SpywareBlaster doesn't scan and clean for spyware, it prevents it from ever being installed and this type of protection is what everybody should have – a prevention instead of cure. SpywareBlaster is a must-have program to help prevent spyware of your home or office PCs!
Be sure to check out our review of Javacool's other free security product: EULAlyzer.
More Reviews!
Would you like to read more reviews? Look around Bright Hub and you'll find reviews of numerous other leading security solutions including Norton Internet Security, Kaspersky Internet Security, ESET Smart Security, McAfee Total Protection, Blink Professional and ZoneAlarm Internet Security Suite.