Genie Backup Manager Pro Review: A Backup Solution That Works For You
Introduction (5 out of 5)
You may currently use some program to backup your stuff, whether it is Acronis True Image or Genie Timeline.
But often, they don't have all the functionality you want. So let me introduce you to Genie Backup Manager Pro Version 8. This product by Genie-Soft has all the features you would expect, and more. Who knows…this may be what you are looking for.
Installation (4 out of 5)
The installation was a breeze. It took less than a minute on my computer (and my computer isn't that speedy). Plus, there were no small, prechecked options that installed other things, like toolbars, etc.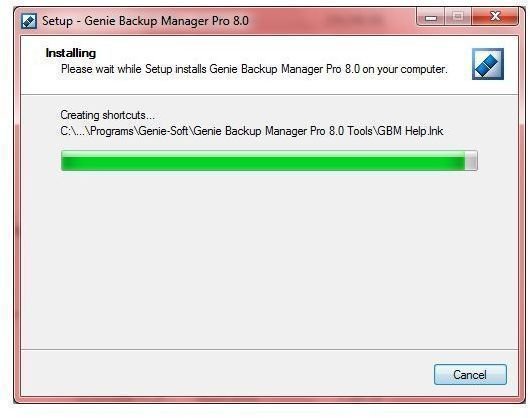 Now when you start the program for the first time, you will see this.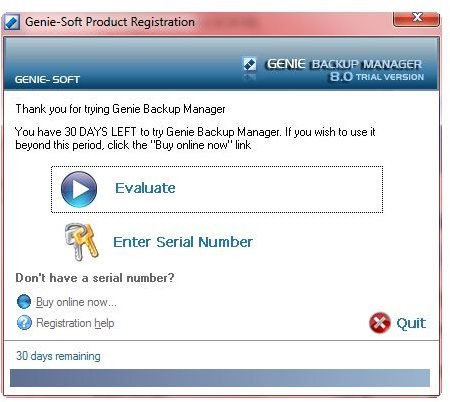 My thoughts on the price will be covered below, but for now we will either Evaluate or Enter Serial Number. If you choose to evaluate, you have 30 days to try it.
We are now ready to examine Genie Backup Manager.
Price (3 out of 5)
First, I want to quickly state my opinion on the price.
Now I love freeware. After all, I'd rather spend hardearned money on necessities. I won't die if I don't have a premium RapidShare account, or whatever.
Of course, if I think it is worth it I will buy a program, if the price is reasonable. One of the major (and maybe only) drawbacks of Genie Backup Manager Pro is its cost. At the time of writing this, it is $69.95. Unless you are dripping money, you may be reconsidering this program.
But before you stop reading, finish the rest of the article. After all, you may be convinced. Compare the different Genie Backup Managers too (remember that I'm focusing on the Pro version).
Interface and Ease-of-Use (5 out of 5)
Here is GBM's main screen: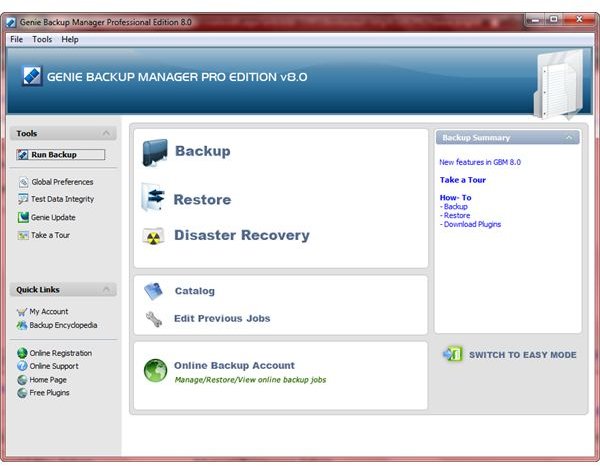 Are you "overwhelmed"? Some may. But not to worry…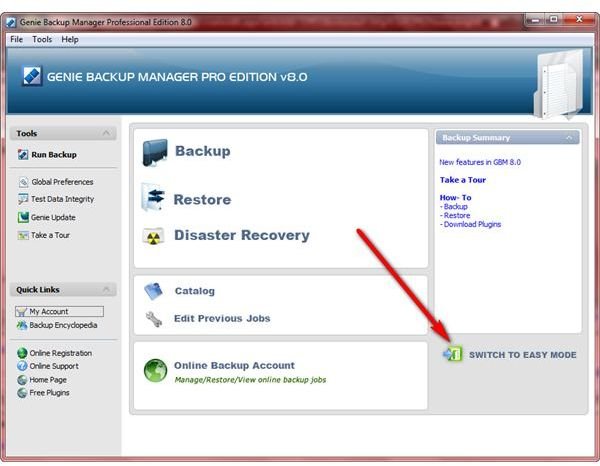 in the lower-right corner.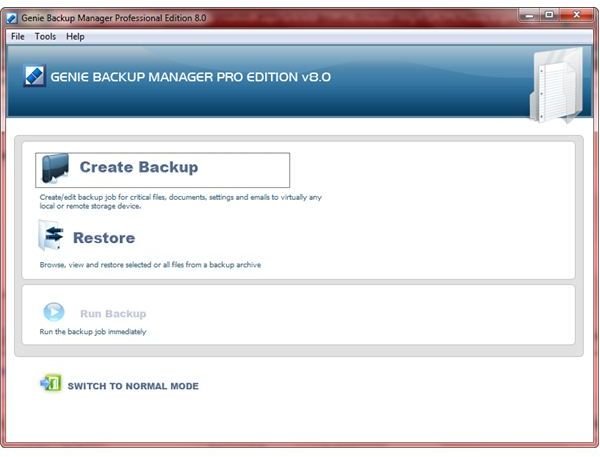 Now we just see the main components. This is a big "plus" in my view, not because I need something like this, but for others who just want to get safe.
Features — Creating a Backup (5 out of 5)
Now lets delve (what a wonderful word) into the features of Genie Backup Manager. (Note: I reverted to Normal Mode, because Easy Mode doesn't show all features.)
The first step into checking out GBM, of course, is to create a backup.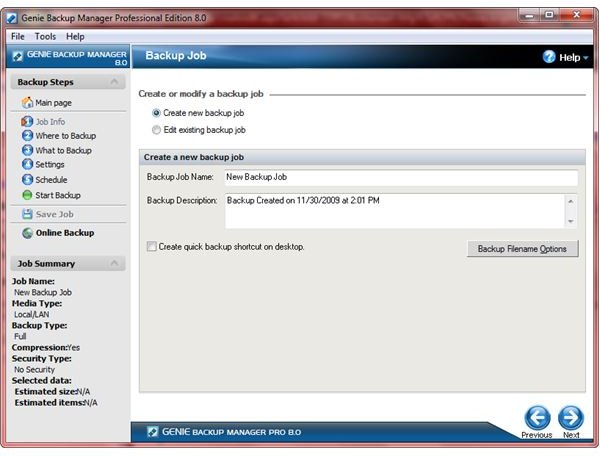 Note that you can make an icon on your desktop to start the backup. We name the backup then, continue to the next step.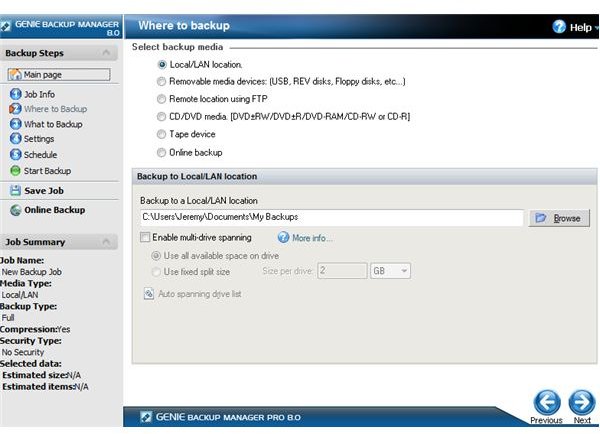 Where do you want to place your backup? Here are the choices you have:
External and Internal hard disks.
Across network (Shared network locations, SAN devices, NAS devices, etc.).
Memory Sticks (Flash memory).
CD/DVD media (all formats - DVD±RW/DVD±R/DVD-RAM/CD-R/CD-RW), including Blu-ray.
Removable media devices (REV, floppy disks, ZIP disks, JAZ etc …)
Remote locations using FTP service.
Tape devices.
Online backup.
Note the last one, Online Backup. If you get GBM, you also get 1GB online backup storage free. Useful if your house burned down and you lost all your local backups (hope that won't happen, though).
Anyway, I prefer to backup to a 1TB hard-drive I have right next to me (I also do online backups to, just in case).
Now, the next button.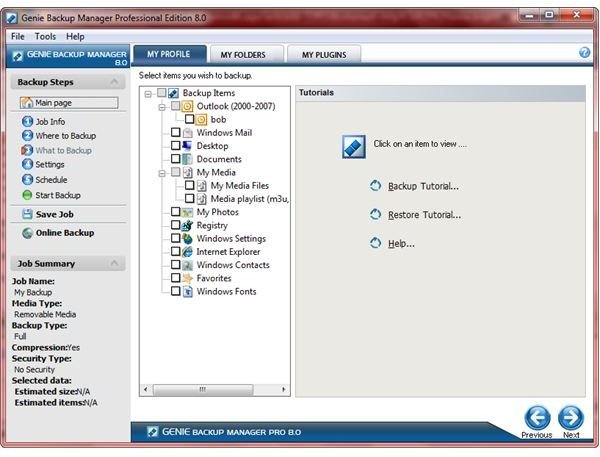 What do you want to backup? (Note if you looked at the picture: I don't use Outlook.)
It currently has a handy selection of population items to backup, but the other two taps let you choose more. Click the next button.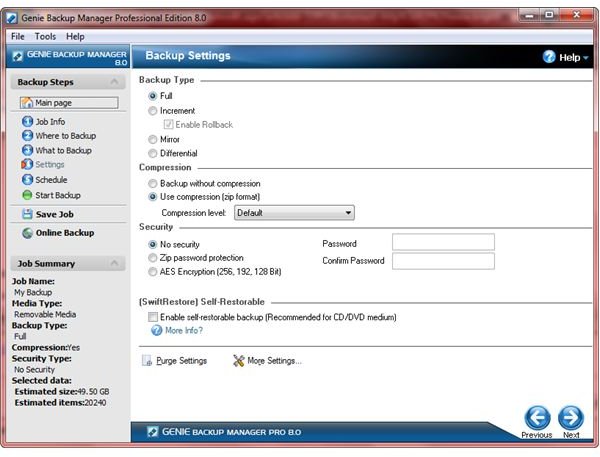 Here you can set some advanced options, including:
backup type,
compression,
security,
self-restorable backups,
purging,
email notifications,
pre and post job commands,
and more.
The help file explains the self-restorable backups:
Choosing Enable Self-Restorable backup option creates a standalone self-executable .exe file on the storage media, which can be used to browse backed up data and restore it on any machine, even if GBM is not installed on it.
Cool, eh?
After clicking the next button, we get this screen: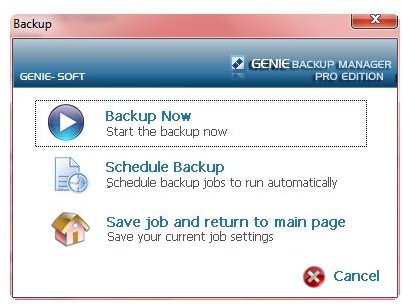 I want to go ahead and schedule.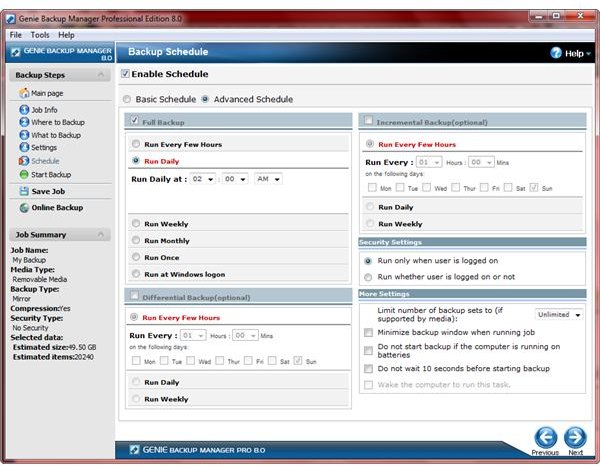 Quite an array of options. After clicking next, I choose Save job and return to main page. From here we can run our backup.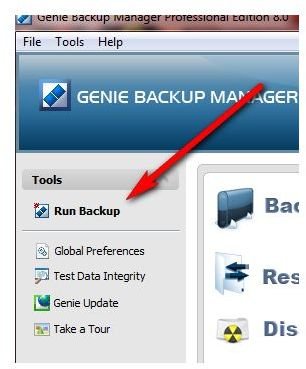 And here we go: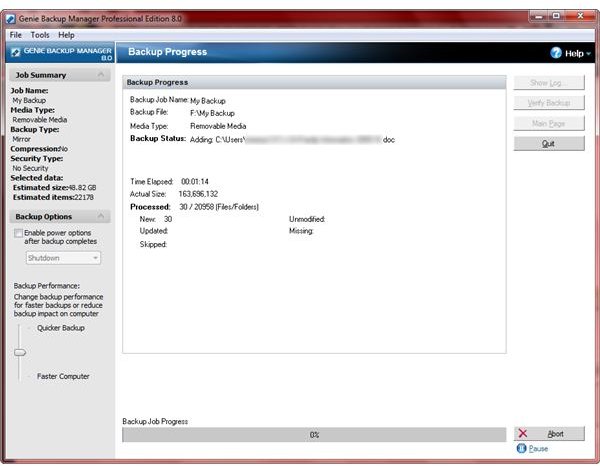 Another nice feature is that it can process files that are open. My older backup program couldn't do that.
Conclusion
With Genie Backup Manager, you no longer have to worry about losing your data, and you have plenty of options to fit your needs.
While you are into this topic, you may want to check out Genie Timeline—go back in time!