Genie Timeline Review: Secure Your Data With Genie Timeline
How It Helps (4 out of 5)
Almost everyone who has used computers for a while will have experienced losing important data (unless you are super-lucky or something). Sometimes it is no biggie, because you had it backed-up. But other times it can cause a lot of stress.
Traditional backup programs are sometimes a pain, because you have to set it up manually, and often when it runs your computer grinds to a halt.
You can solve that problem with Genie Timeline. Accidentally deleted a file? Just right-click your desktop, click View all deleted files, and restore the file that was lost.
It also supports Microsoft's new operating system, Windows 7.
Installation (5 out of 5)
The installation was quick and easy. I only had to watch the bar move across the window for a minute, and since I used VMware Workstation to test this, it will probably go faster in the "real world."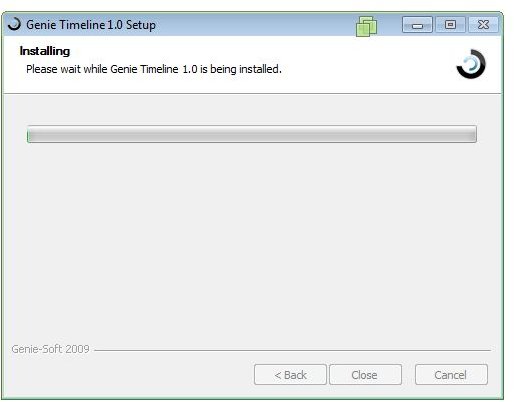 I was then presented with a simple screen showing how to set up the backup.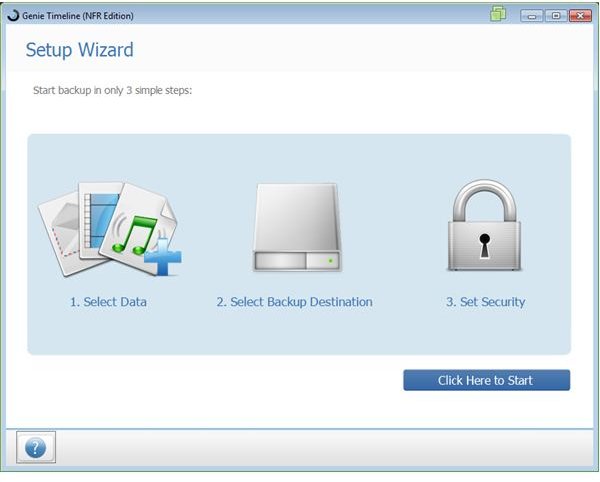 Genie Timeline, by default, will backup these files: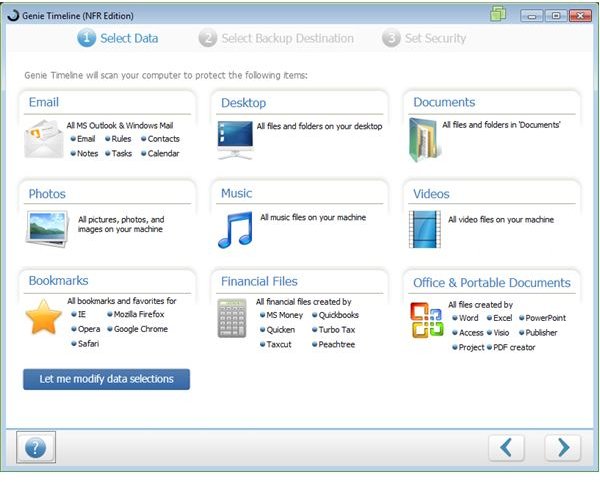 You can also change this by clicking Let me modify data selections.
I will now continue by clicking the right-arrow (>).
Here you choose where you want the backup to go.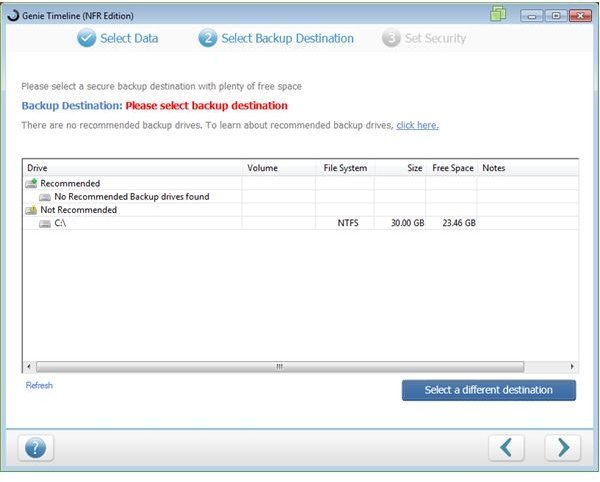 As you see, I only have one drive, and that is the one which the OS (operating system) is installed on. (Click here to see why it isn't a recommended drive, and what is.) After selecting my "C:/" drive, I click the next button (">").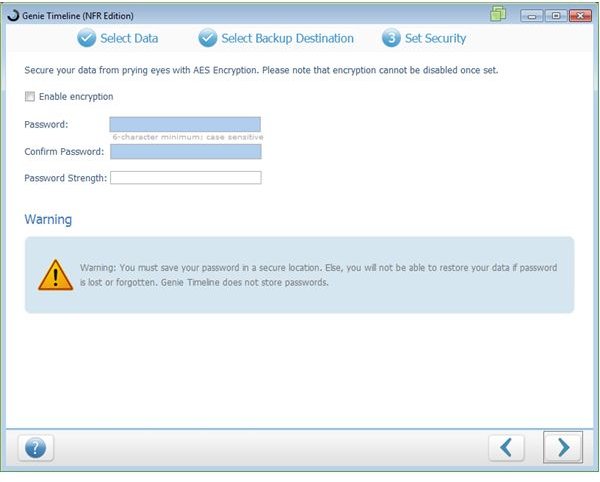 Do you not want others to look at what you have backed-up? Then you can set a password.
But be careful - if you forget the password…to bad. You can't get it back.
I chose to not set any password, then clicked the next button.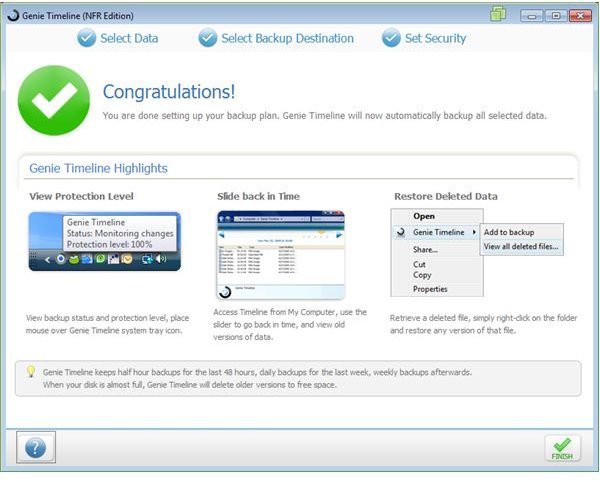 There we go! So simple a cave-man could do it! (If he had a computer, of course.)
There is also a note on that screen that may be important.
Genie Timeline keeps half hour backups for the last 48 hours, daily backups for the last week, weekly backups afterwards.
When your disk is almost full, Genie Timeline will delete older versions to free space.
Just click the Finish button, and we are all set.
Features and Ease Of Use (5 out of 5)
Now that we have went through the simple set-up, Genie Timeline is sitting quietly in the corner, monitoring and backing-up every half-hour.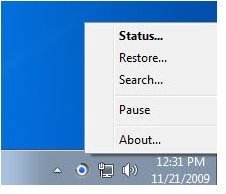 This screen comes up when we double click on the icon.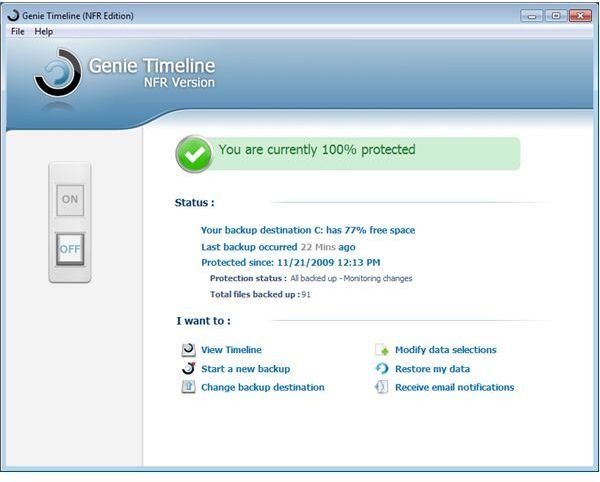 One feature I like is the Protection Status. The Genie-soft website explains this best:
Genie Timeline calculates the protection level of files selected for back up to notify users on the health of their backups. If all files are successfully backed up, the protection level is at 100%. If any modifications occur and files are not yet backed up, the protection level will be lowered.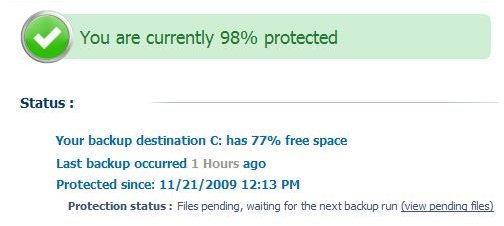 Do you want to see the files that have been "timelined"? First, you click View Timeline.

Then double-click My Backup. I only have a Smart Selections folder, because I did not chose to backup anything else. Notice the bar at near the top of the window. Using this, you can "go back in time" and view files from previous backups.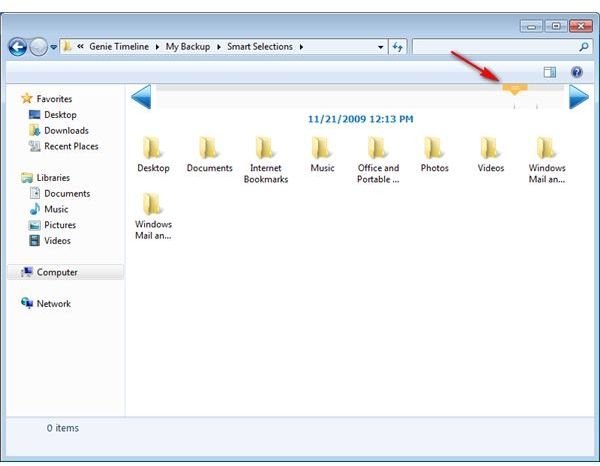 What should you do if you want to "mass restore"? That is simple too. First click Restore my data (that option is located in the main screen).

Then this screen comes up: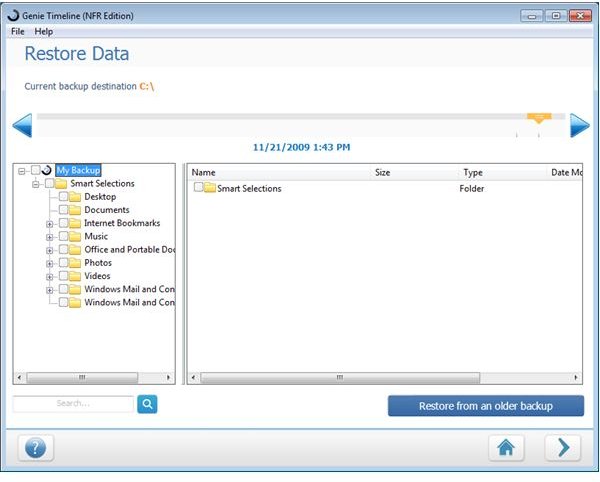 Select what data you want to restore, and then click the next button (looks like a >). Now you see the Restore Settings screen.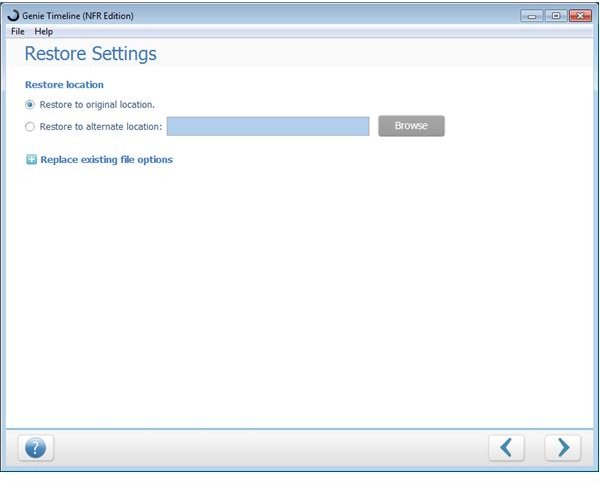 I'll leave it the default way, and click next.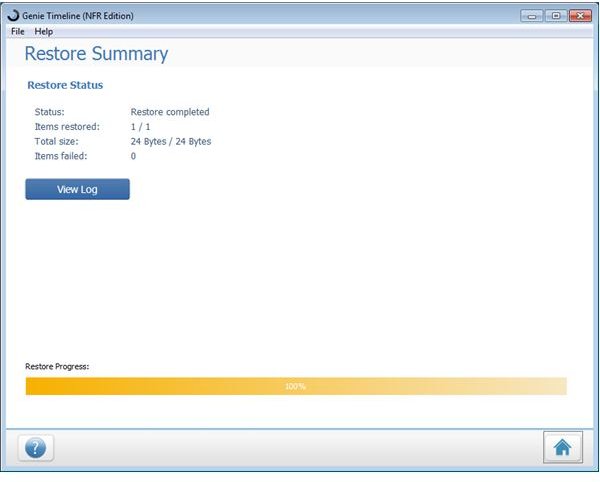 And there we go. Those are all the main features, but there are more you can play with.
What Is Good For You
We have seen what Genie Timeline can do. I recommend it for people who want their personal files to be safe, and who don't want disturbances.
Genie Timeline currently costs $34.95. (Buy it here.)
But there are other backup solutions to check out. If you love freeware, you can check out these free backup programs for Windows 7 (will probably work with previous windows versions too).
Comodo has a product that is still in beta, called Comodo Time Machine. Although Time Machine can "go back in time" like Genie Timeline, it is a bit different. It actually restores everything, incase of a disaster.
Genie Timeline can't restore the whole system (at the time of writing this), so if your system won't start…you will get your files back (if the destination was a safe place), but you will have to start over.
Conclusion
I hope you enjoyed this review of Genie Timeline.
If you love to watch videos, Genie-soft has a video for you here.