Panda Global Protection 2010: A Complete Security Suite for Windows
Introduction
Panda Security's Global Protection 2010 (Panda GP 2010) is offering complete protection: From anti-malware, firewall, anti-spam, web content control (Parental Control), vulnerability scanner, identity protection and backup. The program also includes optimization and clean-up utilities and USB Vaccine (located in its program's directory).
Installation and System Requirements (4 out of 5)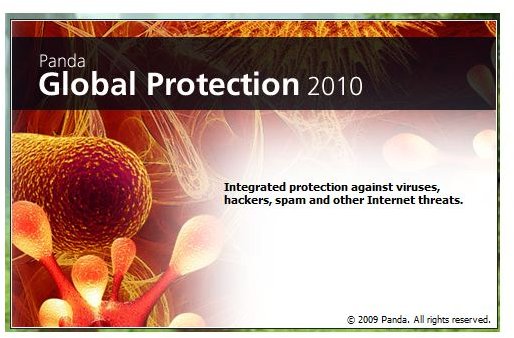 The entire process of installing Panda GP 2010 took 9 minutes (including 1 minute of memory scan during installation). There are three methods to install the program: Minimum, Typical or Custom installation. The recommended installation by Panda Security is the typical method but this will not install a parental control feature. Fear not because you can always install the said feature even after you've installed Panda GP 2010.
A reboot is required before you can start using its protection or configuring the program and it will use 299MB of hard-disk space after installation. Panda GP 2010 supports the new operating system by Microsoft – Windows 7 and the earlier edition: Vista and XP.
UI and Setting-up Panda Global Security 2010 (3 out of 5)
The User Interface of Panda GP 2010 is really neat and simple: Status, Scan, Report, Quarantine and Services are the available tabs in using the program. The only default settings in Panda GP 2010 that I will recommend is to change the anti-virus action when a threat is found from "automatically disinfect" to "ask for action" because Panda GP 2010 will not put a copy of any detected threat in quarantine unless it cannot disinfect a detected risk. Note that during installation of Panda GP 2010, I allowed it to run a scan. It detected a spyware in appsetup.exe that is located in System32 directory of Windows. This is false positive because it's a legitimate Creative Technology installer. The file was automatically disinfected (deleted and no copy in quarantine!).
Panda GP 2010 features includes also a self-diagnostic (to ensure that program is operating correctly and up-to-date).
Performance: Scan, Malware Detection and Memory Usage (5 out of 5)
Panda GP 2010 will use 956KB of memory while it's busy doing its job: To protect the system. During a full system scan, the scanner will use 36MB of memory. What I do not like with its scanner window is there is no way to minimize it.
The full system scan of Panda is good in detecting malware attachments in e-mail. I have 15 malware attachments in my sent box and Panda found 14 threats.
The real-time protection of Panda is poor. I tried transferring 50 malware samples from external drive to the system drive but it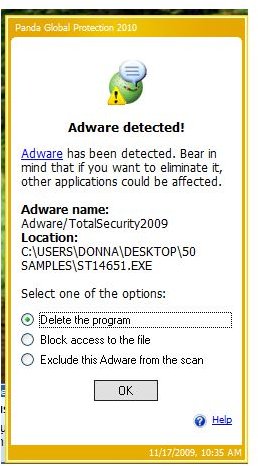 8 malware files only and let the remaining 42 samples to be save in the desktop. The good news is, its on-demand scanner is able to detect more.
On-demand scan on remaining 42 malware samples: Panda is able to detect another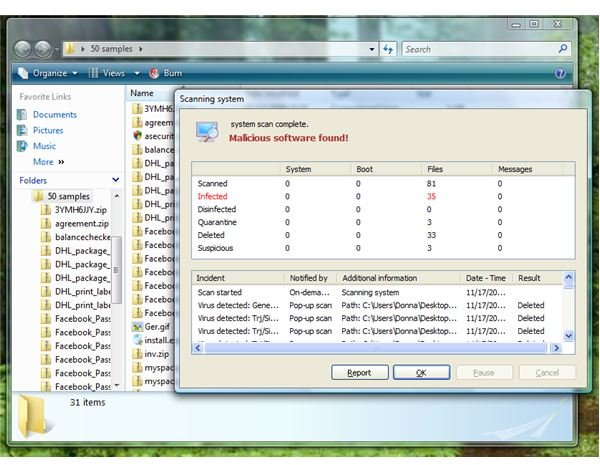 . This leave the system unprotected against 3 malware files only. This is why a regular scan using anti-virus is important. You'll never know if the on-access scanner is really doing its job until you've done a thorough scan on the system. Over all, the real-time protection and detection ability of Panda is considered as Advanced protection for detecting 47 out of 50 malware sample.
Images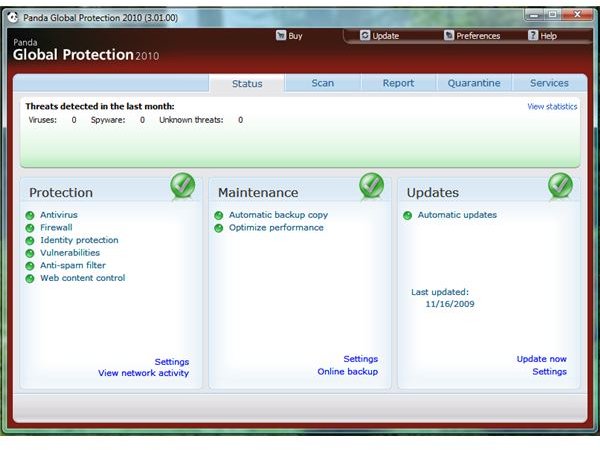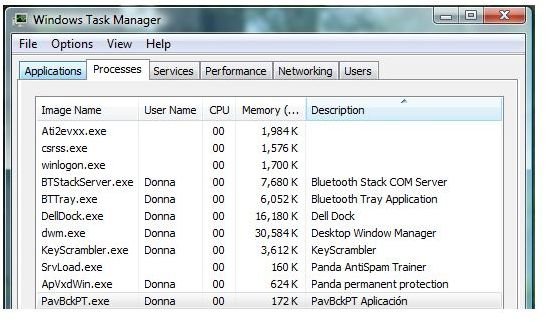 Price to Value (4 out of 5)
Panda Global Protection 2010's price is $69.95 for single PC or $89.95 for 3 PCs. A good deal for anti-malware with backup, vulnerability scanner, USB Vaccine and more! A 30 days trial with e-mail support is available.
Conclusion
Panda Global Protection 2010 is not obtrusive and quite easy to manage. It's packed with useful features! Highly recommended if you want a complete protection against malware and maintenance for your system drive.