FoxyProxy Review: An Open Source Proxy Switcher for Firefox
What is FoxyProxy?
FoxyProxy is a free browser add-on for Firefox, Thunderbird, Seamonkey and Songbird which lets you manage proxies to be used by location/IP and visited URL for example. Optionally, but for a fee, does FoxyProxy offer SOCKS proxies for use with the FoxyProxy proxy switcher browser add-on.
System Requirements (5 out of 5)
FoxyProxy runs on major browsers except Microsoft Internet Explorer. Bright Hub has tested FoxyProxy 2.14 with the latest Firefox browser, version 3.5.5. After the install and setup, during testing of FoxyProxy we received a system message that version 2.15 is available, and FoxyProxy was upgraded on the fly.
Install (3 out of 5)
We have tested FoxyProxy on the latest Firefox browser, version 3.5.5. After the install nothing happened, and no FoxyProxy menu could be found anywhere. Judging by the FoxyProxy download page on Mozilla.org foxy proxy install problems are quite common, and it was only when we figured out and turned off Kaspersky 2010, and then repeated the FoxyProxy 2.14 install on the Windows 7 based computer did the installation go smoothly. The antivirus software was then immediately turned on again.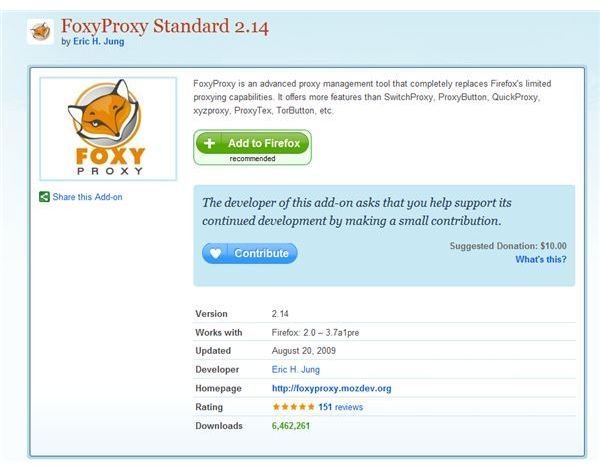 Setup, Interface, Help & Support (2 out of 5)
The FoxyProxy GUI, and, in fact, the whole Firefox add-on setup cannot be called straight-forward. Rather, you will likely have ProxyFoxy up and running through some trial-and error configuration as well as reading of the quick start guide which isn't raising first time user overall experience either. On the positive side we note that there is also a forum, FAQ's and additional guides which may be helpful despite the fact that they are not all kept up-to date.
The way we did configure FoxyProxy: We googled for free SOCKS proxy and found many lists (alternatively check the vendor's miscellaneous page and then click free proxy lists and services ).
We then selected a proxy in the United States; you may want to choose the country closest to you. We noted the proxy's IP address and port number, opened the Tools menu of Firefox and selected Foxyproxy –> Options. There we clicked on Add New Proxy and entered the previously noted information. We then ticked SOCKS proxy? and hit OK. In the Mode drop-down bar we finally switched to Use proxy "New Proxy" for all URLs.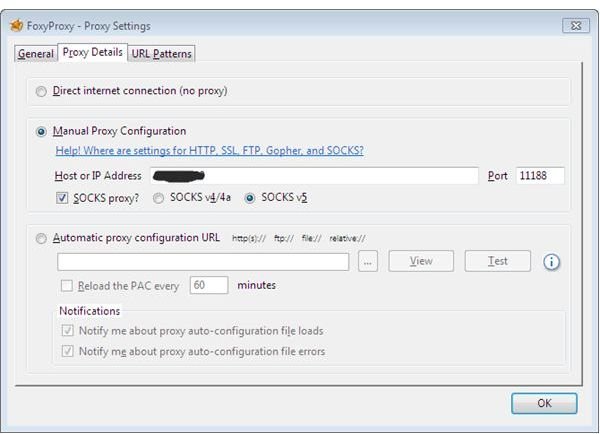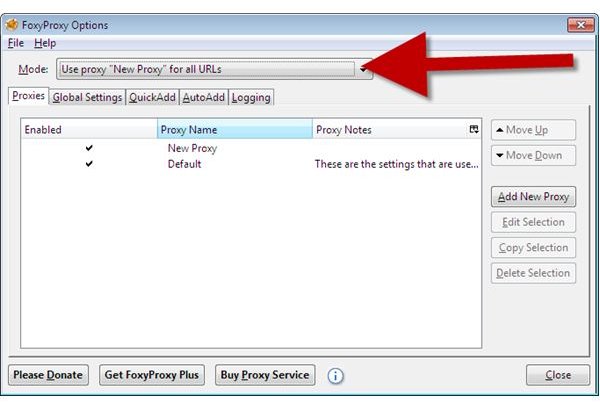 Features (4 out of 5)
FoxyProxy lets you manage and add Socks protocol (*) based proxies to your Firefox browser without touching the native Firefox browser settings. Moreover, you can define a list of proxies to be used which accounts for the fact that proxies often get blocked. You can set FoxyProxy to use any proxy w.x.y.z globally, for all URLS, or define URL string patterns for use with a particular proxy. URL white lists as well as blacklists are also available. Last but not least can FoxyProxy switch the proxies used depending on the local IP address, for instance: proxy w.x.y.z. at the office, none at the home.
(*) Please find SOCKS and Web based proxies explained in detail on page three of Bright Hub's article How to Browse the Web Anonymously for Free.
Performance (3 out of 5)
FoxyProxy lets you manage your proxy connections. As such it is not responsible for the quality of service of a free Socks proxy which likely slows down your Internet connection speed. I haven't tried ProxyFoxy's paid proxy service for 8 $ a month as the free trial requires a credit card or PayPal subscription which needs to be cancelled within three days for fear I will forget cancellation, yet one could expect that the Firefox browser experience is much better than by using a free proxy in terms of page loading speed.
However, some web sites using advanced scripts may not display correctly or may not display at all using a SOCKS based proxy, which is not Proxy Foxy's fault. Still, script and video performance of SOCKS based proxies is usually better compared to proxies found on web proxy lists such as proxies4u.com.
Images

The good news is that FoxyProxy provides an additional Video Utility to watch Adobe Flash, Adobe AIR, RealPlayer, or Microsoft Silverlight streams over a proxy. The Proxy Foxy Video Utility must be downloaded and configured independently because, according to the vendor, the software isn't Open Source in contrast to FoxyProxy. While I have been able to test the Proxy Foxy Video Utility with some success I have to deduct one point from our setup rating.
Please note if you do not watch videos you may want to turn-off the Proxy Foxy Video Utility using the icon found in the task bar. Also, in order for the Proxy Foxy Video Utility to work correctly set proxy w.x.y.z for all URLs.
Price to Value (4 out of 5)
FoxyProxy Basic is free, yet the author of the software suggests a donation. The same is true for FoxyProxy Standard. FoxyProxy Plus then carries a price tag of 14.99 $ a year. Please see the screenshot taken from https://foxyproxy.mozdev.org/index.html for a feature comparison. You can, for instance, start with the Standard edition and buy the Plus upgrade any time later if you want.
However, taking into account FoxyProxy's commercial competitors prices and, for instance, their GUI quality, I find 8 $ a month subscription hefty for SOCKS proxy use despite huge bandwidth requirements for proxies. Moreover, the FoxyProxy service cannot be tested without giving out payment information.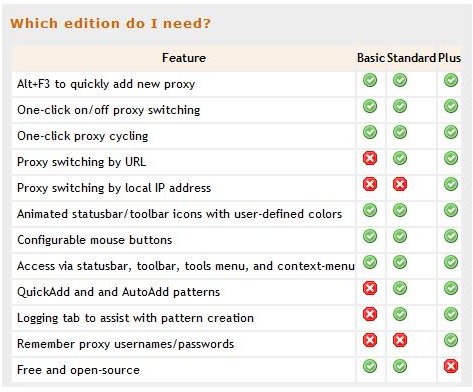 The Bottom Line
Both, the FoxyProxy Basic proxy switcher as well as FoxyProxy Standard can be seen as a free or cheap alternative to better known, fully commercial proxy software (usually coined anonymizer software or similar, briefly discussed on the last page of Bright Hub's Guide To Anonymous Web Surfing) particularly when used in conjunction with free SOCKS proxies. The FoxyProxy proxy switcher on the other hand needs more effort to make browsing the Internet over proxies work.
References