Agnitum Outpost Security Suite 2009 Review
Overview
Outpost firewall has been known as one of the best firewall software in the world and often listed as top firewall in leak testing by several security researchers. Earlier this month, the product receives a 100% certification from Virus Bulletin. Agnitum decided to release a new product line last year and this is called Outpost Security Suite. The 2008 edition was released last year and this year's current edition is named as 2009 edition. It will cover the security protection that most users will need because it is not just a firewall.
What you get in Outpost Security Suite 2009:
Advanced firewall for secure connections
Combined antivirus and antispyware for all-in-one malware defense
Host protection to block zero-day threats
Web control to protect your PC from web-borne threats
Antispam to automatically keep your inbox junk-free
Installation and Set-up (5 out of 5)
Installation of Outpost Security Suite 2009 (OSS 2009) is straight-forward. What I like most are the ability to update itself during installation and the option to not to restart the system after the installation. It is required to restart the computer but if a user wants to configure the settings to use by Outpost Security Suite 2009, you do not have to restart soon.
Screenshot to configure the program before a restart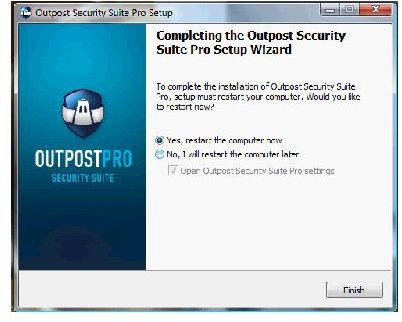 Features and Performance (5 out of 5)
The firewall software in Outpost Security Suite is not just a firewall because it is rule-based firewall software with two-way protection. It has the ability to protect itself from malicious software that is programmed to shutdown the protection by a user. The must have function in a firewall software also exist in OSS 2009 and that is the policy controls – to block or allow traffics without turning off any network connections. This is quite useful if you have a home network because you can stop the internet traffic in a computer that have Outpost product while allowing other computers in your network to enjoy the connection.
Outpost Security Suite's antimalware protection is updated more than once a day and you can configure the program to check for updates daily, hourly or weekly. The malware scanner is able to run in the background to allow a user to continue working with the computer while doing a scan and not using too much computer resource.
Malicious software (aka malware) do not only spread thru downloads or instant messenger file transfer but it is now distributed thru email (often called "malware SPAM") and web pages. This method by malware writers often put many users machine into its knees but Outpost Security Suite will help prevent because the product will not only protect the machine from hackers (using its firewall and Host protection module) and malware (using its antivirus and antispyware protections) but will also provide protection on emails and web pages using its' antispam, Site Blacklist and web control protection.
The Web Control in Outpost Security Suite has the ability to block many web-based threats ActiveX, Java applets, Referrers, Flash, Cookies, Hidden frames, Animated GIF, External active content, JavaScript, VBscript, Scripting activeX, Pop-up windows, advertisement by keywords or image size and spyware embedded in web pages.
The antispam protection by Outpost is using Bayesian anti-spam engine and it supports the popular email clients, Outlook, Outlook Express, Windows Mail, and The Bat!
The Site Blacklist function in Outpost Security Suite will help protect a computer from drive-by malware infection or phishing attacks. This site blacklist is updated often by Agnitum.
Another feature of Outpost Security Suite that I like is the IP Blocklist. This function allows a user to add their own custom HOSTS file by blocking bad domains. The program will resolve the domain to block the malicious domain's IP address. What is cool blocking by IP addresses is you are protected to new malicious host names that will use the same IP addresses that in your blocklist. If you are using a third party HOSTS file protection that is blocking by domain/URL address, IP Blocklist in Outpost is an extra layer of security.
Screenshots of Outpost Security Suite features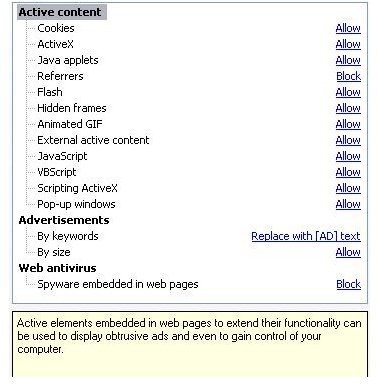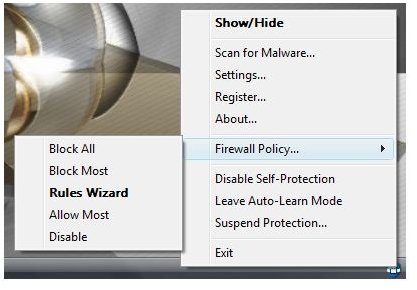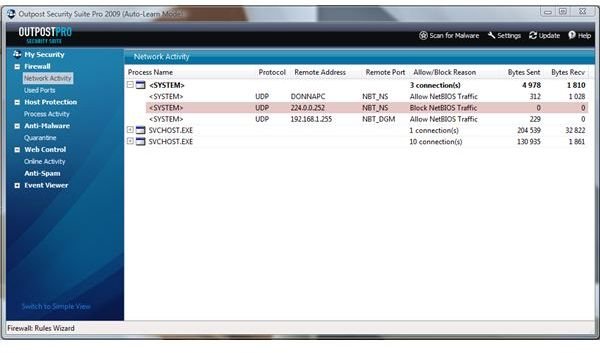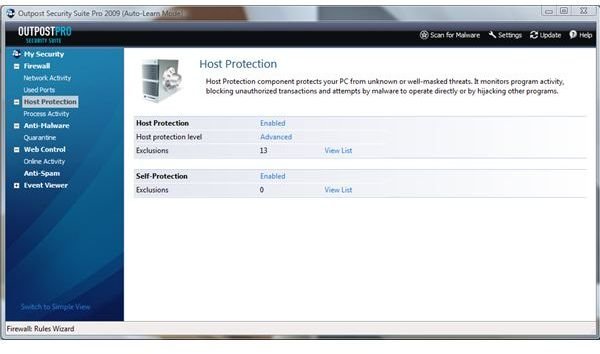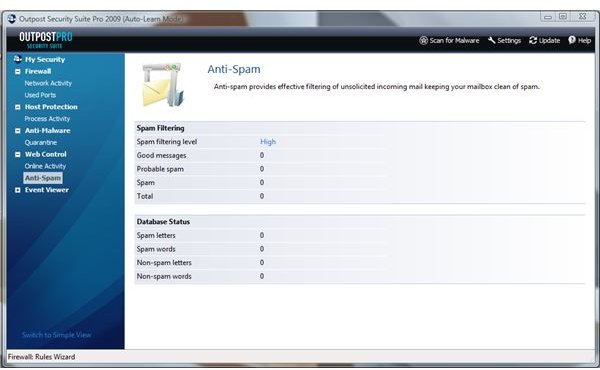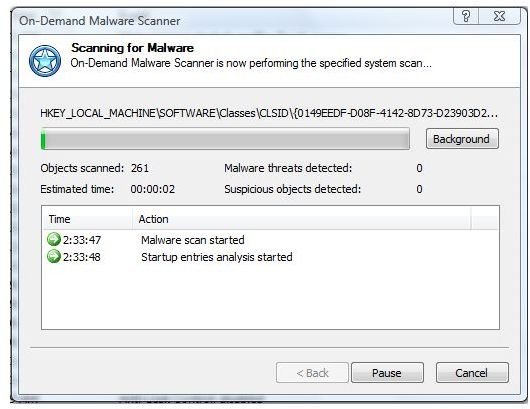 Price to Value (5 out of 5)
Outpost Security Suite is complete security solution for home PCs and enterprise users. I find the price a great value compared to rival with similar features and functions, $49.95 for 3 PCs in your home or $99.95 for 5 PCs in your home or family member's computer.
Conclusion
You don't have to be advanced user to start using the product, the option to use Outpost Security Suite in learning mode is a good start for new users. Agnitum offers 30-days trial and if you plan to purchase, take a look at their packages. You can get it as personal, family, business or educational license.
A complete security and customizable protection, affordable price and good performance, Outpost Security Suite is a tremendous value.
More Reviews!
Would you like to read more reviews? Look around Bright Hub and you'll find reviews of numerous other leading security solutions including Norton Internet Security, Kaspersky Internet Security, ESET Smart Security, McAfee Total Protection, Blink Professional and ZoneAlarm Internet Security Suite.