Comodo Disk Encryption Review
What is Comodo Disk Encryption?
Comodo Disk Encryption (CDE) is free software to secure files, folders, partitions or the entire computer hard disk by applying strong encryption. This stops preying eyes if you share a computer with someone else and protects your data if you laptop or external hard disk gets lost or stolen.
System Requirements and Interface (3 out of 5)
Comodo Disk Encryption 1.2 has very little RAM and free hard disk requirements. The encryption software can be installed on Windows 2000 as well as on 32 and 64-bit editions of Windows XP, Vista and Microsoft Windows Server 2003.The CDE 1.2 interface is logically organized and easy to use. Yet, the GUI, as is the software, is not the latest generation. I wouldn't be surprised if Comodo released a new Windows 7 compatible version of Comodo Disk Encryption with a more appealing interface in the near future.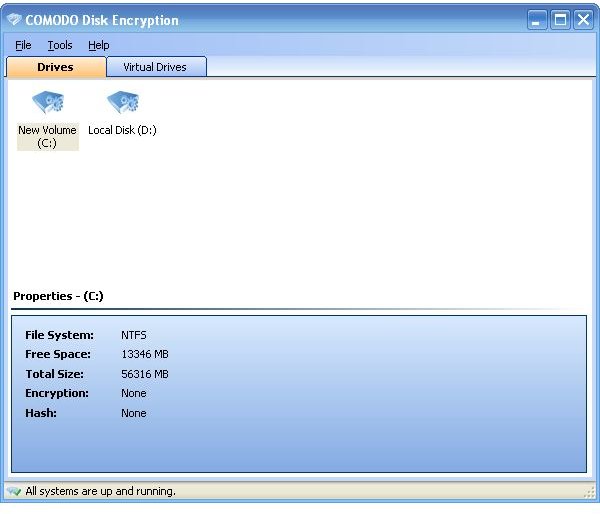 Installation (4 out of 5)
As a best practice consider taking an unencrypted backup before touching encryption software. The install of Comodo Disk Encryption is easy and follows standard steps. After the welcome screen will you be presented the EULA which then leads over to the installation path, followed by the CDE ready-to-install summary. When the install has completed can you optionally subscribe to Comodo's newsletter; clicking Next does in any case activate the free license of Comodo Disk Encryption. Finally, you have to restart your computer.
Features (3 out of 5)
Comodo lets you encrypt entire partition or drives with a right-click on the item in the Drives view. To make use virtual disk encryption change to the Virtual Drives view, right-click the empty pane and select Mount to create a new virtual drive or to mount an existing virtual drive.
When you create a new virtual drive you have to specify the size in MB. On the next screen you have to select as password as well as a hash algorithm such as MD5. Then you must choose an encryption algorithm. In case you are not familiar with them use AES or Twofish. You have then to answer the question whether you want File Drive or Memory Drive encryption. As the later is volatile File Drive, which creates an encrypted container on your disk, is probably the right choice in almost any circumstances.
Then, on the Save location screen indicate a path and specify a file name. The next step demands that you choose a drive letter. Clicking Finish prepares and mounts your virtual drive which might take some time depending on the size of the container. To make use of your newly created virtual disk use the format command located in the CDE context menu.
You can now finally use the virtual drive like any other storage with the objects being written to or read from (encrypted / decrypted)on the fly. To work with an already existing virtual drive select Mount Existing Virtual Drive, navigate to the container and enter the password to unlock it. After assigning a drive letter and hitting the next button the virtual disk is ready to use - It would obviously be an asset if these steps could be streamlined in future editions of CDE.
The CDE Drives tab lets you secure hard drives and partitions using encryption including the C:/ partition where Windows is installed. The steps and settings are essentially those outlined above for Virtual Drives. The disk encryption process can really take time, and the computer cannot be powered off until the process completes. So, again, it is crucial having a backup which also protects against power outages.
Make sure you don't forget the password, and use the CDE GUI to make a copy of your USB stick certificate if you want to have something you know and something you have to start your CDE encrypted computer (two-factor authentication); CDE USB Memory Key Authentication can also be used on its own if you want. Additionally, you should use the wizard to create a Rescue Boot CD in case the Comodo Disk Encryption boot loader fails for some reason or another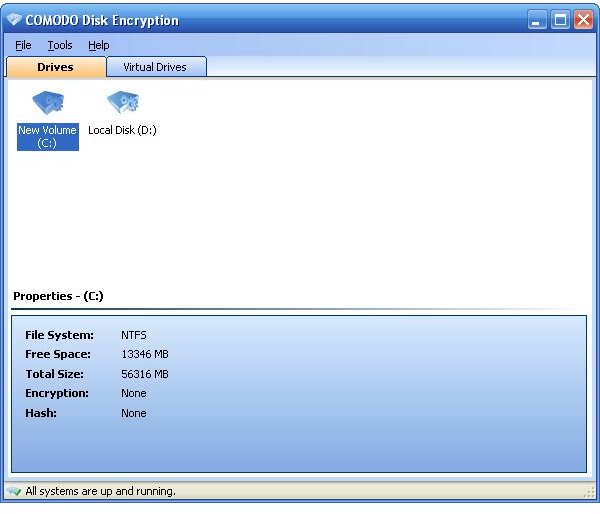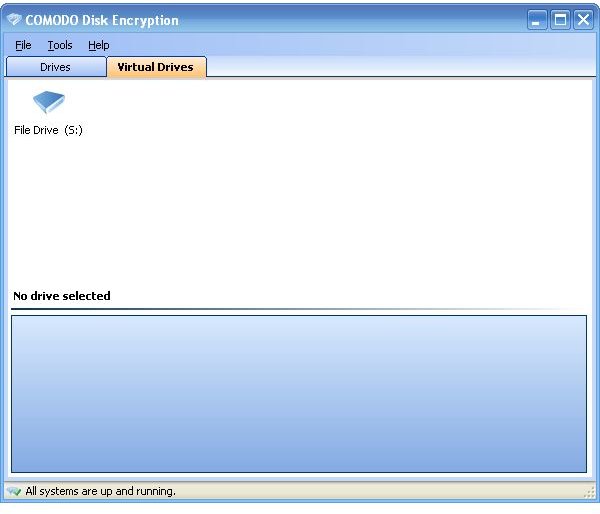 Performance (4 out of 5)
Comodo Disk Encryption 1.2 performs as any other drive encryption software - the time it takes to prepare a disk or virtual disk for storing encrypted objects is proportional to your storage capacity, a fast computer is an asset. After drive encryption or virtual drive encryption has been set up files and folders can be encrypted/decrypted on the fly with little performance overhead.
Help and Support (5 out of 5)
Comodo Disk Encryption comes with a fairly explanatory user guide which can be found in the GUI's Help menu or be downloaded from the vendor's website. Frequently asked question can also be found in Comodo's forums, further assistance can be obtained writing an email to support.
Price to Value (5 out of 5)
Comodo Disk Encryption 1.2 is absolutely free without any catch.
The Bottom Line
Comodo Disk Encryption 1.2 offers basic drive and virtual drive encryption from a top vendor at no cost. Similar products such as BestCrypt with slightly more features cost as much as 60$ or more. The good news for users of Window Vista and later is that they can make use of BitLocker Drive Encryption. New integrated in Windows 7, but limited to the OS flagship editions, there is the free BitLocker to Go utility with which you additionally can encrypt removable drives such as USB pen sticks for example.
References
Author's own experience

Screenshots by the writer