Doc Scrubber: Analyze and Scrub Data of Word Documents
Overview
Doc Scrubber can analyze and clean the data about a data (metadata) that people might not know they are sharing when sending or allowing access to Microsoft Word document (.doc) files. Find out what are the features of Doc Scrubber and if you need to use it.
System Requirements and Installation (5 out of 5)
You can have Doc Scrubber for personal, educational, and business use on systems: Windows 98, ME, NT, 2000, XP. I've tried to install the program in Vista without issue and I able to use it when analyzing and scrubbing for metadata. The installation is quite easy that any type of users can easily handle.
Doc Scrubber supports any document that is using .doc format (Word 97, 2000, XP, 2003). You can also analyze or scrub documents with .docx format by Word 2007 but there's not much metadata on newer Word format which is good news.
Features of Doc Scrubber (5 out of 5)
The main task of Doc Scrubber is to analyze documents by exposing metadata a word document contain, and clean documents of that metadata. You can scrub documents before sharing to people! You can use the program to scrub one .doc file or all document files in a folder. There's option to save the cleaned document to its original filename or let the program create a new file. Note: The new file will contain SCRUBBED in its filename e.g. mydoc-SCRUBBED.doc
You can use Doc Scrubber to scrub/clean the following:
Clear the subject, keywords, comments, last edited by, last saved date, last print date and creation date of a document.
Reset template used to normal.dot, revision count to 1, total editing time to 0, author and specified company information in a document.
Remove hidden revision log, unique identifier (GUID) and recent hyperlink lists.
When Doc Scrubber analyzes a Word document, the program will display the metadata so you can decide which document to scrub or if it requires scrubbing before sharing the document to anyone. You can save the analysis in a text file as log/record.
Images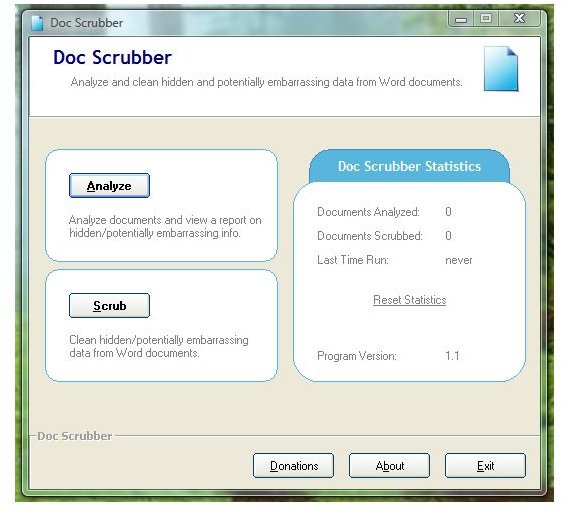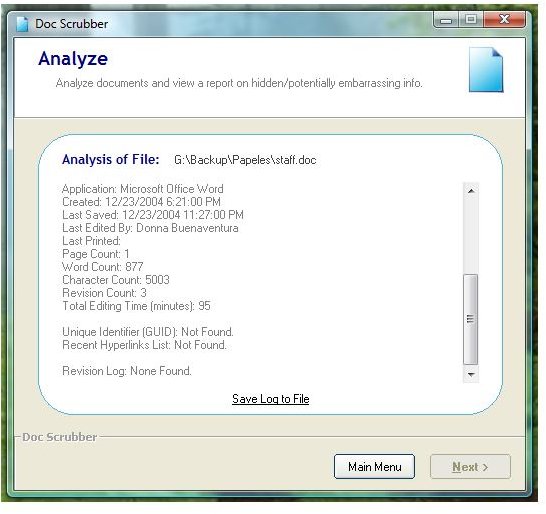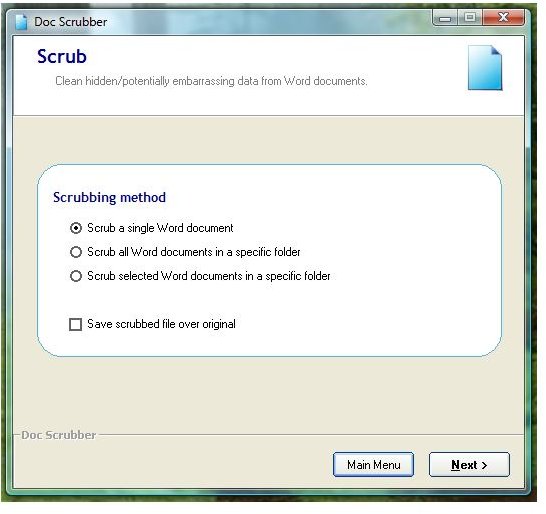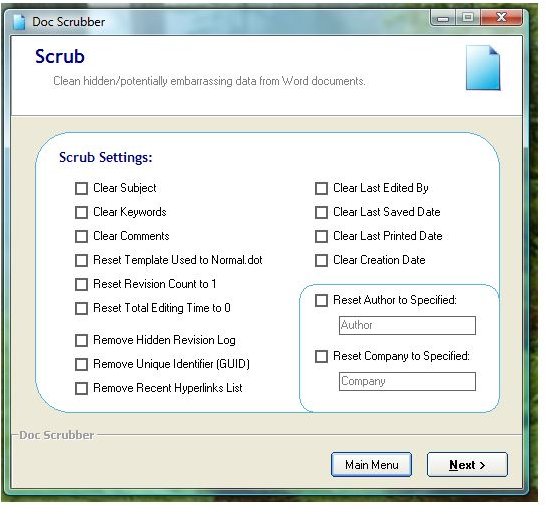 Conclusion
Doc Scrubber is free (donation is welcome by the author) and useful privacy tool. Recommended to use before sending or sharing important Word documents!