Comodo Backup 2.0 - Free Top Backup Software for Windows 7
What is Comodo Backup 2.0?
Comodo Backup 2.0 is a free Windows 7 compatible backup software from Comodo, an award-winning top vendor of backup and IT security software. Here's why the software has been given our full recommendation and Bright Hub's top rating:
System Requirements (5 out of 5)
Comodo Backup 2.0 runs on 32 and 64-bit editions of the Microsoft desktop operating systems Windows XP, Windows Vista Windows 7 as well as on the Server OS Windows 2003 and Windows 2008. RAM, CPU are free hard disk space requirements are minimal.
Installation (5 out of 5)
The installation of Comodo Backup 2.0 starts with selecting the installation language, followed by a welcome screen, EULA, and destination path which leads over to a ready-to-install summary. You can then sign up for vendor's newsletter or just click Next to activate your free lifetime license of the software. After the install restart your computer.
Interface (5 out of 5)
The Comodo Backup 2.0 has a very nice, easy-to-use interface which you find depicted below: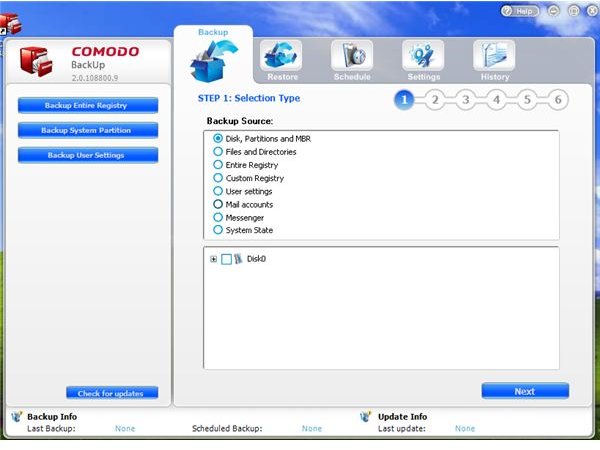 Please note that Help and Home as well as "Minimize" are located above the top right corner of the innovative GUI, in the sky of the Windows XP default desktop here on the test system.
Features and Performance (5 out of 5)
The Comodo Backup 2.0 backup software can be used to make copies or compressed backups of disks, partitions, the master boot record (MBR) files, directories, the Windows Registry, user settings and data. Additionally, Comodo Backup 2.0 is able to save emails and instant messages from a variety of email client and IM software including Windows Live Messenger, Skype, Yahoo!. Last but not least, does its system state backup let you restore the entire computer including Windows and its configuration, the installed applications as well as all your data stored in the default user profile path to a previous point in time, like a time machine.
Your backup can be saved on your local computer including removable drives and DVD by means of splitting, a network drive or even to an FTP Server if you want. If you backup to an FTP server of for security purposes can you configure the Comodo backup software to encrypt the data using strong AES encryption, further options include filters, a number of compressions levels, log settings as well as scheduling options. Comodo Backup 2.0 can optionally be configured to send an email to you or the administrator upon completion of a backup or when a failure occurs.
The available restore options allow you append or overwrite existing data, but of course are you also given the freedom to select the restore destination for example.
Despite that recent Windows OS including Windows 7 and Vista have an integrated Backup and Restore Center networked backups and restores, included in the free Comodo Backup 2.0, are limited to the premium editions of Windows 7; please see Bright Hub's article Backup: What's New in Windows 7? for more information. Moreover, Comodo Backup 2.0 has much more to offer than Windows 7 Backup and Restore Center including higher flexibility with an easier learning curve.
The software performed greatly on the test system when we backed up and restored the entire registry during a reboot as well as when we conducted a clean restore of a user's folder using a compressed and encrypted backup.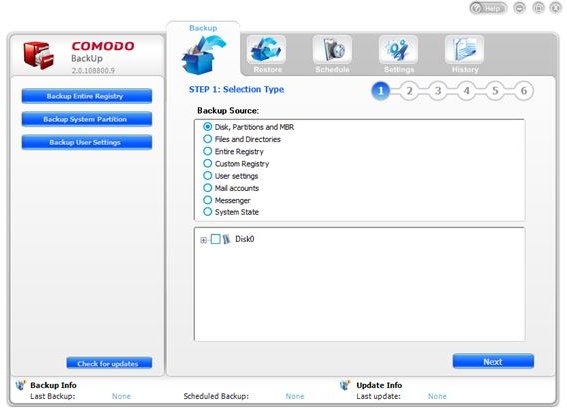 Help and Support (5 out of 5)
The Comodo Backup 2.0 is relatively easy to use, yet on the Comodo's product page you find quit a lot of useful information on the overview, features and frequent questions tabs. From the vendor's website you can also download a state-of-the art 108 page manual. Additional means for getting help and support include the Comodo backup forum and free email support.
Price to Value (5 out of 5)
Comodo Backup 2.0 is completely free, no catch! Whereas some vendors only give out free programs which have to be upgraded to be really useful does Comodo Backup 2.0 not have a premium edition or the like. You can upgrade to Comodo Online Backup if you want to have your data backup to Comodo's datacenter.
The Bottom Line
Comodo Backup 2.0 is great backup program from Comodo and fully recommended. And the best thing it's 100% free! Alternatively, for more choice, you may want to check out Bright Hub's Top Free Backup Programs for Windows 7.
Reference
All screenshots and product information refer to Comodo Backup 2.0
Official product page https://www.comodo.com/home/data-storage-encryption/comodo-backup.php
Screenshots taken by the author