A full-depth Review of AVG LinkScanner including Tips & Tricks
Setup and Installation (4 out of 5)
The AVG LinkScanner installation is straightforward and requires an Internet connection. It is recommended not changing standard installation which provides the best protection for most users as it includes the AVG toolbar so that your computer will have both, LinkScanner® Active Surf-Shield as well as (passive) LinkScanner® Search-Shield installed. When the install wizard completes setup starts. To benefit the AVG community you should leave the option on page 2 ticked (image 1), but on setup screen number three do not activate the tick box to make Yahoo your default Search Engine unless you really want that (image 2 below).
[inlineImage|sectionimages|1D3335A44C010107B571C4776D21F989D9D434D7|[1]|][inlineImage|sectionimages|E47762174FBA4A70B84E3BE4DE83F6E62F24BC31|[2]|]
Features and Performance (5 out of 5)
If your anti-virus program raises an alert when surfing or downloading a file from the Internet then your computer has already been infected or was about to be infected when your anti-virus software intercepted the online threat. As you may know you should always run a full system scan after any reported infection attempts as best practice; Webroot anti-virus for example reminds advises its user automatically to so.
To reduce the risks of so called drive-by downloads when browsing the Web Webroot Antivirus with Antispyware, Norton 360, Norton Internet Security 2010 as well as AVG Anti-Virus 9.0 Free Edition for example have an integrated URL or Link Scanner which prevents users from visiting sites containing malware and phishing sites. Computers having only traditional anti-virus capabilities which lack a real-time link scan feature such as AVG LinkScanner Active Surf-Shield can have their security beefed up by downloading and installing AVG LinkScanner at absolutely no cost or obligation.
Yet, the AVG LinkScanner has more to protect you: AVG LinkScanner Search-Shield technology adds a security rating to the result of your favourite Search Engine (Yahoo, Google, Bing) results so that you probably won't even click dangerous links, and which point Active Surf-Shield would kick in anyway. Conversely, it possible running AVG LinkScanner only with passive protection by selecting custom selection as install option and deactivating LinkScanner® Active Surf-Shield.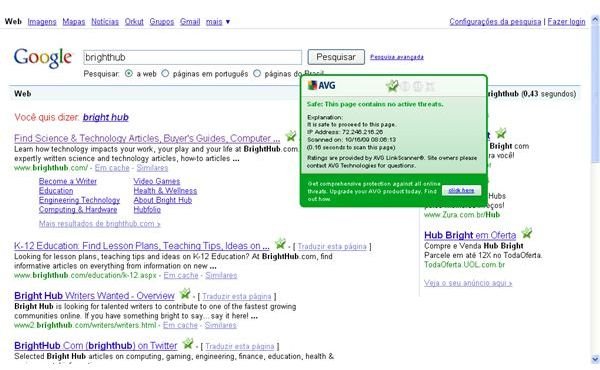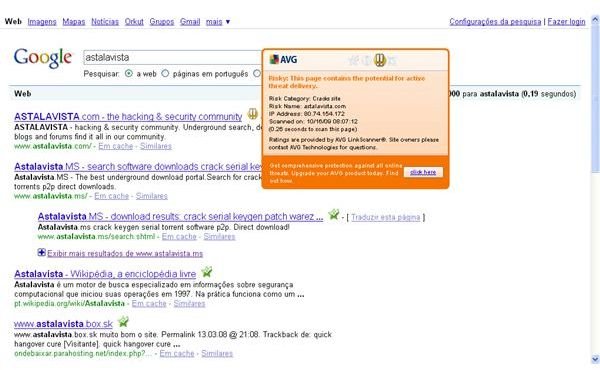 System Requirements and Interface (3 out of 5)
AVG LinkScanner is compatible with Windows 2000, XP, 32 as well as 64-bit editions of Vista. The URL Scanner from AVG fully supports Internet Explorer 6.0 or later, as well as Firefox 2.0 or later Mozilla browsers. Other browsers Search Engine results ratings are limited to those not green/ok.
Help and Support (3 out of 5)
AVG LinkScanner doesn't have a help file or similar, but the AVG's anti-virus is fairly self-explanatory. No support information is included either, but AVG is a top vendor which won't let you down so you can look for help and information in the forums, FAQs and knowledge base of AVG's Free Services section.
Price to Value (5 out of 5)
AVG LinkScanner is absolutely free without any obligation. If you interested in AVG LinkScanner why not download and install free AVG Antivirus 9.0 which includes AVG LinkScanner to reduce software management overhead?
The Bottom Line
According to the vendor AVG LinkScanner is compatible with all major antivirus software, so if your computer is not already 360° protected, or has at the least an antivirus-software with integrated link scanner installed it is really recommend making use of AVG LinkScanner to beef up protection against websites known to be infected with malware and phishing sites. AVG claims to see up to 150,000 web-based threats a day, 30,000 of which are new each day [1]. This number, by definition, does not include the numerous 0-day attacks for which there is no anti-virus signature available at the time the threat emerges, so AVG LinkScanner can be very helpful by stopping you from visiting websites known to host malware.
However, please note that Free AVG LinkScanner does not provide protection against pharming attacks, a more sophisticated attacks similar to phishing explained in Bright Hub's article What is Pharming? How to protect from Pharming and Phishing? As further explained in our article Do I Really Need to Buy an Antivirus Program? Are Paid Products Really Better than Free Products? there is no free lunch for optimal computer and online identity protection, but money spent for the premium anti-virus products is an excellent investment in your computer and identity protection.
References