Ad Annihilator Review: Annihilate Pesky Ads!
What is Ad Annihilator?
Ad Annihilator used to be a piece of software users attempting to suppress ads shown by browsers were considering buying. However, www.adannihilator.com seems not to have been able to keep pace with operating system and browser evolution. A working adblocker can be found in our article about Adblock Plus.
System Requirements & Interface (1 out of 5)
Ad Annihilator only runs on Microsoft Windows earlier than Vista and Windows 7. The vendor did not forget to list the newer Microsoft operating systems, tests on a Vista based computer have shown that Ad Annihilator 2.5, the latest version as of the time of this writing in October 2009, really is incompatible with Windows Vista and therefore outdated. It is absolutely not recommended installing the software on a Vista based systems as this will produce error messages. Moreover, Ad Annihilator cannot be properly uninstalled.
The interface is as the rest of the software – completely outdated!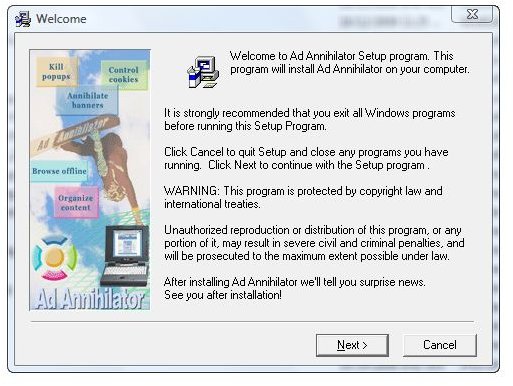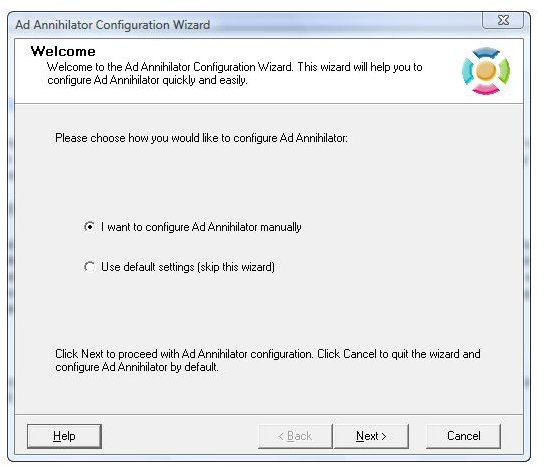 Install & Setup (1 out of 5)
The install of Ad Annihilator 2.5 is easy and comprises the following steps: Welcome screen, Read me file, EULA and privacy policy, destination location and a ready-to-install summary. If you leave Run Ad Annihilator Now! checked the software starts setup upon completion of the install. Setup defaults to manual configuration which lets you choose Simple Mode or Advanced Mode explained in the features section below, however neither changing to default settings ("skip this wizard") nor simple mode did allow opening a configuration menu after the install of Ad Annihilator 2.5 on a Windows XP /SP2 based test system with IE 6! Instead, Run Ad Annihilator starts Internet Explorer.
Features & Performance (1 out of 5)
In simple mode Ad Annihilator has been programmed to block banner ads, popups and cookies. Advanced Mode additionally includes options for offline browsing, web doc management as well search functions for example.
Ad Annihilator has been able to block some ads but failed in other cases using Internet Explorer 6. The software has not been tested with later Internet Explorer versions or different browsers for the insight gained so far indicates a high chance that this would be a waste of time.
Help & Support (2 out of 5)
Ad Annihilator's simple help file can be found in the program folders, and I remember vaguely having seen a help menu item in the GUI at the time of setup. Support for Ad Annihilator's is available by means of email or using the contact form on the vendor's web site.
Price to Value (1 out of 5)
Ad Annihilator carries a price tag of 29.97 USD, which probably was good value for your money at the time the software was recent. Avoid buying Ad Annihilator 2.5. Users of Firefox browsers, for instance, know that Adblock Plus add-on blocks more ads and zero cost!
References
Screenshots by the writer

Author's own experience