Super Ad Blocker Review :Blocking Ads and Spyware in Real-time
Introduction
Super Ad Blocker is a real-time protection tool that will not only block common advertisements but will also block sponsored ads, pop-ups, advertisements in instant messengers, fly-in and slide-in ads and many types of ads. The program also includes the popular SUPERAntiSpyware and privacy utility.
Features and System Requirements (4 out of 5)
Super Ad Blocker supports Internet Explorer, Firefox, AOL and MSN browsers. However, it does not support the new version of Firefox and IE (v3.x/v8). You can install the program in Windows 98, 98SE, ME, 2000, XP, Windows Server 2003, and Vista.
There are several ways for websites to show and display ads when you are browsing or using installed software, Super Ad Blocker will block many types of ads being served whenever you are online: fly-in and slide-in ads, floating ads, sponsored ads in search engines, messenger ads, flash ads, rich media ads and GAIN/Gator ads.
Super Ad Blocker now includes the widely-use anti-spyware, SUPERAntiSpyware that will prevent, scan and remove for malware. The obvious difference of the scanner in Super Ad Blocker is there are few scanning options which SUPERAntiSpyware have.
You can also use Super Ad Blocker to clean-up cookies, URL history and cache. There is also Cookie Manager so you can keep the cookies you want it to keep then delete the rest. The program has options to manage allowed/trusted sites so ads or pop-ups will not be blocked and you have the option to manage the list of sites it has blocked.
Performance and Effectiveness (5 out of 5)
Super Ad Blocker will really block ads from sponsored sites and other type of ads. However, you must have the supported browsers. Note that Opera browser is not supported which means, you will continue to see ads (e.g. sponsored ads) even if Super Ad Blocker is running.
The memory usage of Super Ad Blocker is huge - 68MB (program is idle) but it did not slow the system or while browsing. The real-time protection against spyware is good and will automatically offer to scan the system to proceed in cleaning the system from malware/spyware.
Images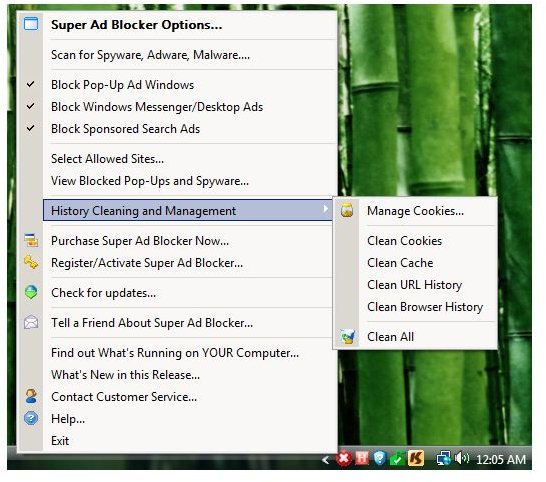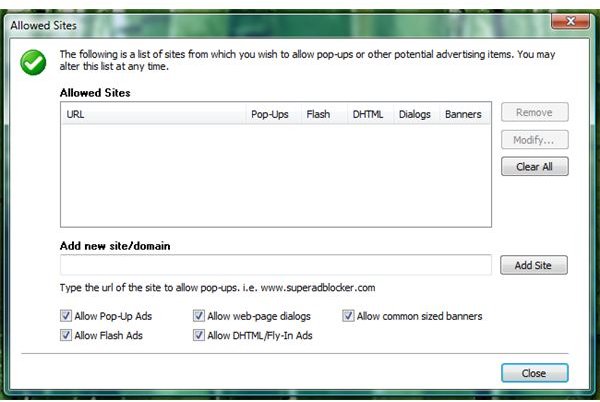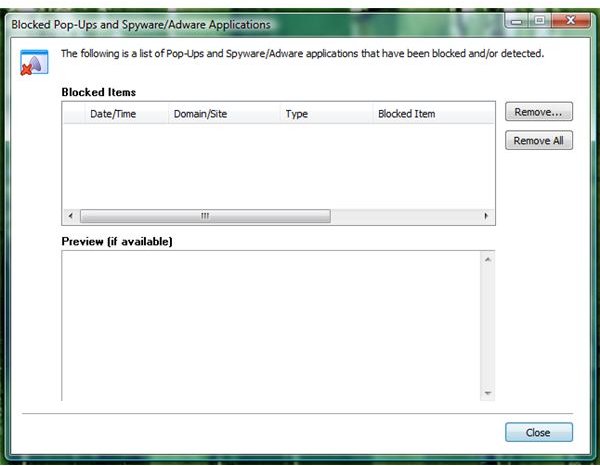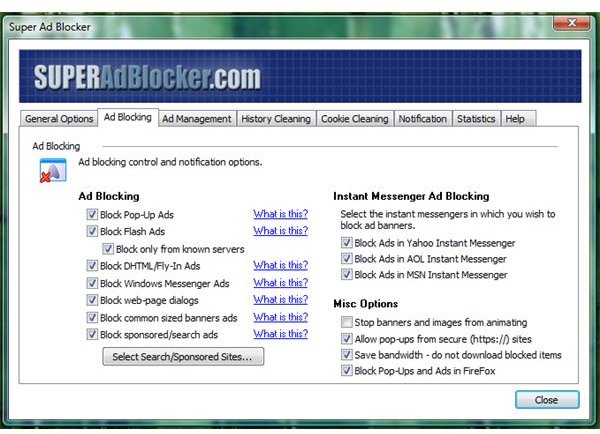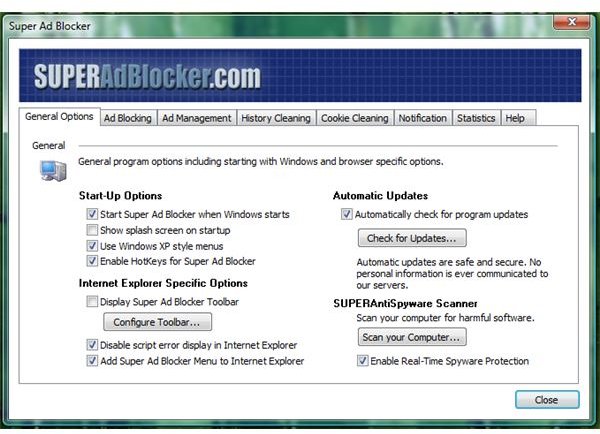 Price to Value (4 out of 5)
At $29.95 for single PC, Super Ad Blocker is worth it. Yearly renewal to continue receiving program, ad-blocking and spyware definitions updates is $14.95. The vendor is now offering a lifetime subscription by adding $9.95.
Conclusion
I recommend using Super Ad Blocker to block ads and malware in real-time but you might want to demand support for new version of browsers to enjoy what you'll be paying for.