FreeUndelete Review: Recover Deleted Files in Windows for Free!
Overview
Recoveronix's FreeUndelete is a program to scan and recover deleted files and folders. It let you view if the files you have deleted are still available so you can recover them when needed. It's not easy to hide your activity even if you've deleted a file or folder so check this article to see what FreeUndelete will uncover and can recover.
System Requirements and Installation (4 out of 5)
You can install FreeUndelete into most file system (FAT12/16/32 and NTFS 1/2) and in Windows Vista, Windows Server 2008, XP, Windows Server 2003 and Windows 2000. Earlier edition of Windows is not supported. The installer is a self-extracting file which is easy to install by simply executing the file. I noticed that after installation, there is option to launch the program but it did not automatically run the program. I manually launch the program instead and it displayed the neat UI of FreeUndelete.
Features and Performance (5 out of 5)
FreeUndelete let you scan any drive that is plug-in in your computer. The UI and program has little commands but it works. When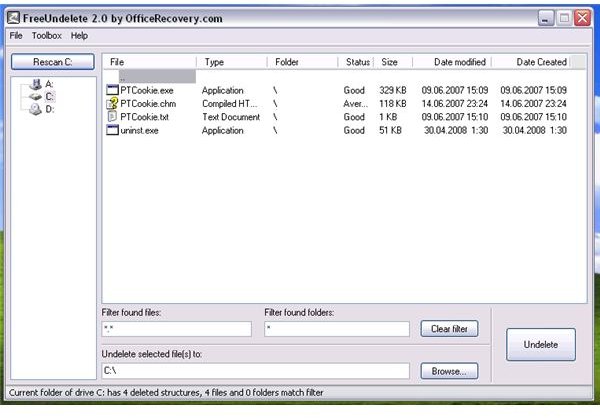 FreeUndelete has finished scanning your PC for deleted files so you can view what is on the drive and which items you can delete. You have the option to recover them. The issue only is it won't let you recover it in same drive where the file originates or deleted from so it is best to recover any items in another location or install FreeUndelete in another location (e.g. another partition, if you plan to recover the files in system drive). I test it in Vista and XP system. I was surprised on what it uncovered and can recover. In XP system that is often cleaned with CCleaner and Windows Disk Cleanup Utility, FreeUndelete able to display the items that I deleted since 2007! (see image at the left). In Vista system, FreeUndelete is also able to find deleted files and I able to recover those files in XP and Vista system.
The program will scan any drive in a minute or two only. It does not slow down the system or conflicts with other applications, especially anti-malware's real-time protection. The program allows you to filter the result by file type or by folder. The User Interface is simple and do not require to dig to start using. The status of the deleted files is also displayed: good, average or poor which means there is good chance, little or no chance to recover the files.
Images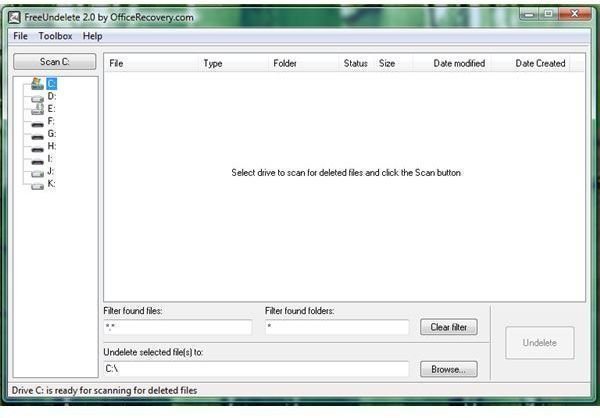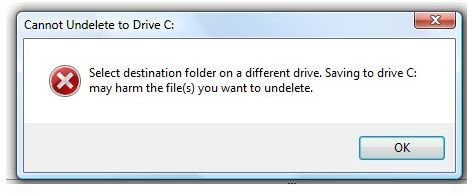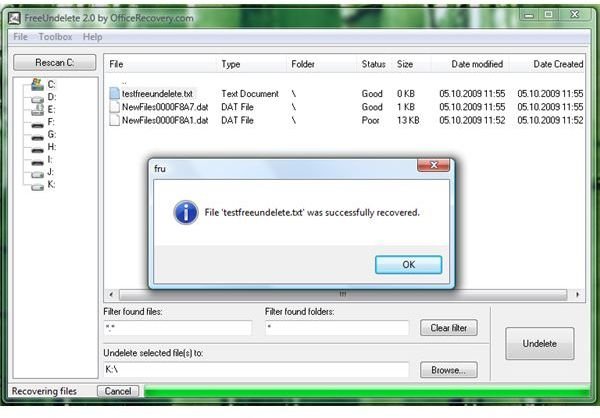 Price to Value (5 out of 5)
Free of charge for personal use! Do I have to say more? For business environment, check the licensing option and pricing.
Conclusion
FreeUndelete is an easy to use data recovery tool and it simply works to recover what you want without throwing cash. Highly recommended!
Read more reviews
There is other data-recovery tool that you might want to know: Undelete by Diskeeper.