G Data AntiVirus 2010 Review
Overview and Features
G Data Antivirus 2010 is G Data's entry level consumer antivirus package and offers the following features:
Virus scanning with two different engines – one optimized for detection, the other optimized for performance with basics such as scheduled scans, automatic definition updates and real-time file scans
Heuristic virus and malware detection
Microsoft Messenger and Trillian virus protection
Web virus detection and scanning
Email based virus detection and scanning
Boot CD creator – allows for scanning prior to booting into Windows
Installation and Usage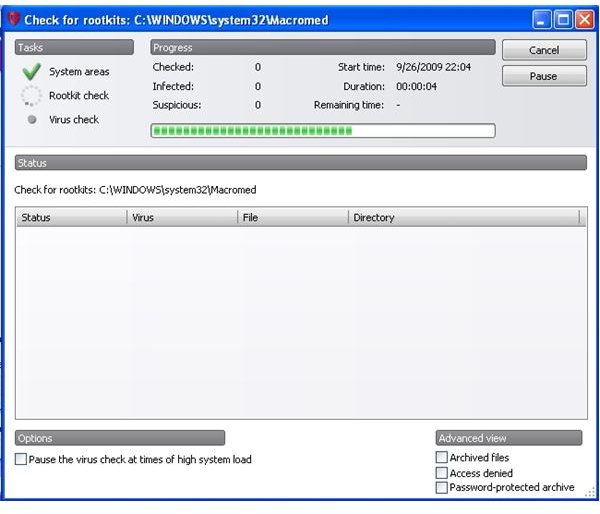 Installation is simple, asking you to accept the license agreement, determine whether or not you want to share malware information and the common step of picking your installation location. Once nice thing is that G Data asks up front if you want to do hourly definition updates and weekly virus scans – both of these are good best practices. After a quick reboot, G Data Antivirus was running.
The first thing it does is looks for updates and then requests you to run a quick scan. The quick scan was extremely fast on my test system – only taking about 30 seconds to complete.
CPU Performance was good on my test system, only using about 10-15% of my CPU after the scan got under way. Memory was average for antivirus applications – utilizing about 20MB during a scan. Another nice performance based option is the ability to have the scan pause when CPU utilization gets high. Real time monitoring CPU and memory usage was quite low – with little to no CPU usage.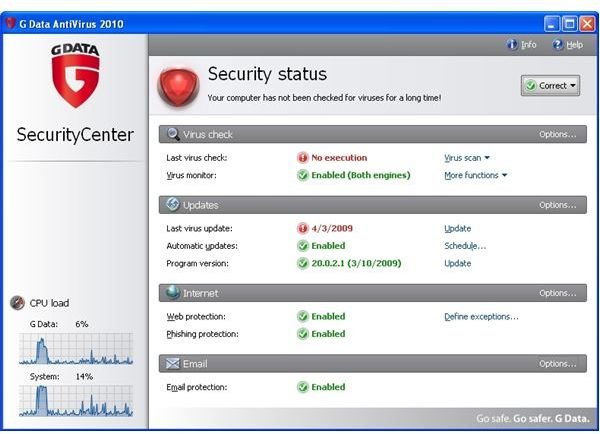 One potential issue is the length of time required to do a scan – the scan on my test system took just over an hour to complete the thorough scan.
The user interface is especially nice with most functions available from the main screen – there are no multi-layered menus and screens to dig through when looking for a setting. It's a clean, responsive and easy to understand interface that anyone can appreciate.
Pricing, and Overall Score (4 out of 5)
G Data Antivirus can be purchased for a single PC for $24.95 or for three PCs for $34.95 online at the G Data website. The features, performance and price make G Data Antivirus 2010 an attractive purchase for consumers needing comprehensive and well- rounded anti-malware protection.