Fight Against Viruses and Trojans With Dr. Web CureIt
An Overview of Dr. Web CureIt (5 out of 5)
Dr. Web CureIt is a Doctor Web, Ltd. product that can scan a computer in a short amount of time to detect Trojans, Spyware, Adware, and Viruses. Like other security software in this category, it compares files on the computer to known virus definitions in a database. The software will also detect unknown Malware with suspicious code.
The program is able to successfully scan the hard drive, e-mail attachments, and browser settings. This software can quickly remove keyloggers, rootkits, and backdoor programs that may not be detected by standard Anti-virus programs. Therefore, in the fight against viruses and Trojans, Dr.Web CureIt is fairly straightforward to use and it contains all of the simple components needed to scan and detect any foreign intruders lurking on your computer.
The Setup (5 out of 5)
As an Antivirus program, the setup of Dr. Web CureIt V5.0 was very simple. It can be downloaded from various links on the main Web site at: https://www.freedrweb.com/. The file is available as freeware, and requires no installation. It runs on the backbone of the popular Dr. Web Anti-virus program.
After it is downloaded, double click the downloaded file to run the software. The program does need at least 30 MB of hard disk space to install. It has three modes of scans – express, complete, and custom scanning. For example, in Express Mode, it will scan the random access memory, boot sectors of disks, and the windows system folder. In a complete scan, it will also scan all removable media.
Images of Dr. Web CureIt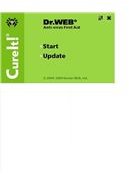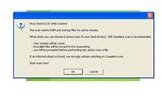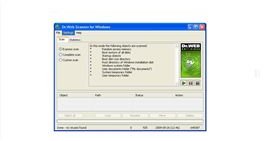 Overall Recommendation (5 out of 5)
In the fight against viruses, the software is easy for beginners to understand to use and it contains all of the necessary tools needed to scan and detect any malware or spyware that might have become resident on your computer.
This was one of the easiest Antivirus programs to use! It is a slow program that does not slow down the computer, and requires no installation of files to the hard drive. It was quite surprising how easy it was to use this program. The only negative to using this software is that it does not offer real-time protection, and detects while scanning after the computer has become infected.