Should You Protect Your Data From Disaster with MediaVault?
Overview
The FireKing MediaVault MVHD-500 provides UL-rated fire protection for your local, on-site data backups and storage with 500 GB capacity. If a fire damages your office or work location, personal computers and servers are likely to be destroyed. Media backups also will not survive high temperatures. Most hard drives are rated for external temperatures not to exceed 158 degrees Fahrenheit. The MVHD was created to protect drives from fire damage with temperatures up to 1700 degrees Fahrenheit for durations of up to one hour. Let's see how the MVHD-500's features measure up.
Features (3 out of 5)
The MediaVault MVHD-500 comprises an enclosure with a UL Class 125 fire rating and dual Seagate Momentous 5400.4, 2.5", 250 GB SATA-300 hard drives. The Seagate drives arrive in their own NexStar 3 SATA/USB enclosures, which was a pleasant surprise for me as I have used the NexStar enclosures in the past and think they are great. The 5400 RPM drives have 8 MB buffers, <12 ms average seek times, 5.6 ms latency, and a transfer rate of 300 MBps. The external transfer rate, however, is limited by the USB bus to 58 Mbps.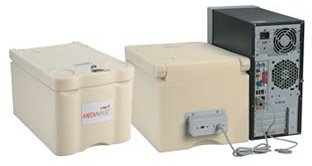 Interestingly, I found that the separate internal drive enclosures connected to separate USB cables, and from there to two separate external USB ports. This, of course, required two USB cables to connect to the PC and two USB ports as well–unless you have a USB hub. Also, since the drives use power from the USB connection, you may find that some systems with low USB power have problems, and FireKing strongly suggests the use of their provided cables. I do have a powered USB hub, and that neatly solves the problems of sufficient power and tying up a 2nd USB port.I would recommend for you to use a powered USB hub as well.
I suppose I expected either a 500 GB drive or some RAID interface presenting the storage as a single drive, but that's not the case. If you're using backup software such as the software provided by MediaVault, there should not be an issue with storage transparently spanning two drives, but I do find that a potential concern. The pro's are, you can have two separate backup destinations and don't rely on a software interface, whether backup or RAID to access your data, the con's are that you really have two 250 GB destinations and not a 500 GB volume.
Install and Ease of Use (5 out of 5)
The setup of the MVHD-500 was as painless as you could hope for. Since the drives are delivered already in USB 2.0 enclosures, it's a simple matter to plug in the USB cables to each one, seat them in the styrofoam slots in the interior of the case. Then, using the USB cables provided, connect each of the external ports to your computer. The cables provided have auxiliary USB power pass-through connectors, so if your computer does have low USB power output, you can use the pass-through to get the additional power needed for the drives. The drives are pre-formatted, and should be recognized immediately by your OS as they were for mine. It's that easy. Next you begin using the backup software and process of your choice. The enclosure can be locked for further protection against theft. One note: the enclosure is bulky and weighs in at a hefty 55 lbs, so if you're not particularly strong you may want or need to get help unpacking and placing the enclosure where you're going to want it.
Price and Value (2 out of 5)
I found prices online for the MVHD-500 as low as $875, with an average price right around $899. The question all of us have to ask is: what's our data, our documents, our media, and our time and effort worth to us? Can you afford to lose all your data in a fire? What's your peace of mind worth?
Overall (3 out of 5)
I had mixed emotions about the MVHD-500 initially. My experience in the enterprise may have jaded me; I guess before I looked at the specs I expected an ethernet interface, a RAID interface, and so forth. On further consideration the simplicity and effectiveness of the design impressed and appealed to me. For a small business that doesn't have a dedicated data center, or even a server room, this is a possible solution to an ever-present problem.
The Competition
How does MVHD-500 stack up against the competition? Read my article ioSafe Solo vs FireKing MediaVault 500 to find out!