IObit Security 360 Review: Free Malware Scanner and Remover
Introduction
IObit Security 360 is a freeware (with limitation) real-time protection against malware. It also offers free removal on detected threats. The program complements your existing antivirus application. IObit launched Security 360 earlier this month and I'm sure many would like to know if it will do what it says. Read below to check out the features and performance by IObit's new product – Security 360.
System Requirements and Installation (5 out of 5)
32-bit and 64-bit editions of Windows 7, Vista, XP and Windows 2000 are the supported OS by IObit Security 360. The installer's file size less than 9MB only which is good and the installation process is straight-forward. You do not need to reboot the PC to start using IObit Security 360.
UI and Features (5 out of 5)
The User Interface of IObit Security 360 is not only neat but easy to use. Anything you want to view or manage is presented nicely. The following features are available when using the free edition of IObit Security 360:
Malware scanner and remover
Real-time protection against known malware using signature and behavioral-based protection
Heuristic malware detection called "Digital Original Gene" (DOG) – this is for 0-day threat detection
Unlock and Delete function – to delete malware files or any files that normal deletion in Windows could not (due to permission)
Quarantine Manager
Ignore List
Scan using its quick, single (via context menu), full and custom scan
History or Log of scan and update
Security Holes scanner – this will check if you have missing security updates in Windows
Built-in Hijack scanner – this is the same as HijackThis diagnostic utility
Passive Defense for installation of ActiveX-based spyware and other hijackers and Cookies protection– this supports IE only but the cookies protection is for Firefox and IE browsers.
Privacy Sweeper
Updater when the program launches during Windows startup
Limitation of free IObit Security 360: You cannot change scan and update scheduler. This is available in paid edition. When a definition update is installed, a notification will appear in its

.
Performance and Effectiveness (1 out of 5)
IObit Security 360 will use 14MB of memory when it is idle. Running a scan will used more memory – 79MB.
The quick scanner of IObit Security 360 finished scanning in 4 minutes and 33 seconds and it able to scan 58,990 objects. What is interesting is when I let it scan the system drive, it finished in 16 minutes and 55 seconds but it only reported to scan 14,403 objects. I proceed to change the default settings by un-checking the box before "scan executable files only". The program is able to scan 102,760 in 34 minutes and 58 seconds.
Real-time Protection: The real-time protection of the program failed to stop any of the malware files while transferring and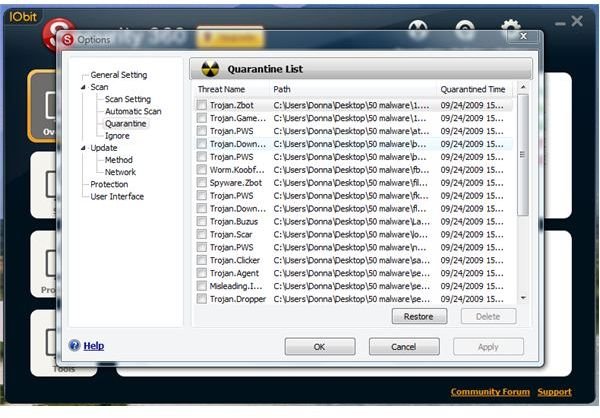 storing from removable drive to the system drive. This means the real-time protection of IObit Security 360 is very poor.
On-Demand Scanner: I test the malware scanner of the program but it only detected 24 out of 50 positive malware samples. IObit Security 360 successfully quarantined the 24 malware. I changed the scanner settings to scan all files (by un-checking the box before "scan executable files only") but the program continue to not to detect the remaining 26 malware files.
Note that the samples in the test is exactly the same malware samples I tested against AntiVir and Microsoft Security Essentials.
Images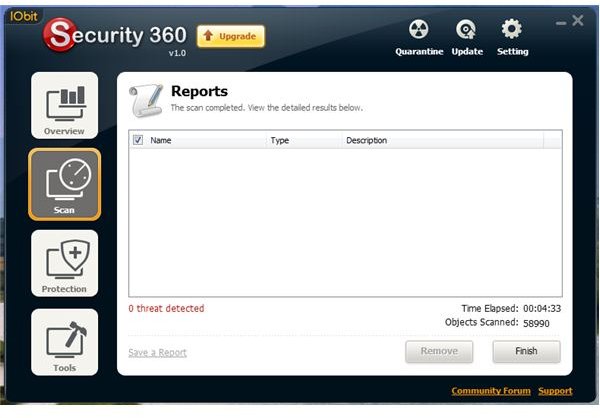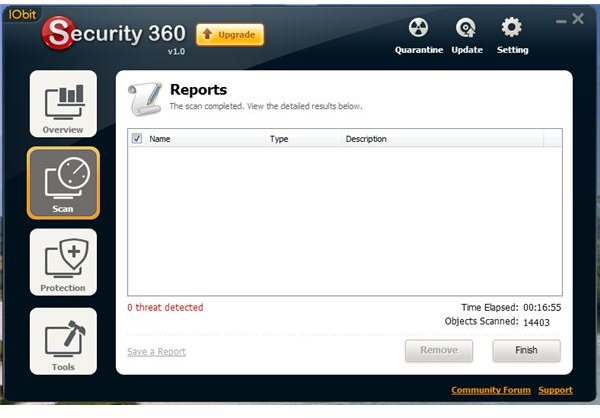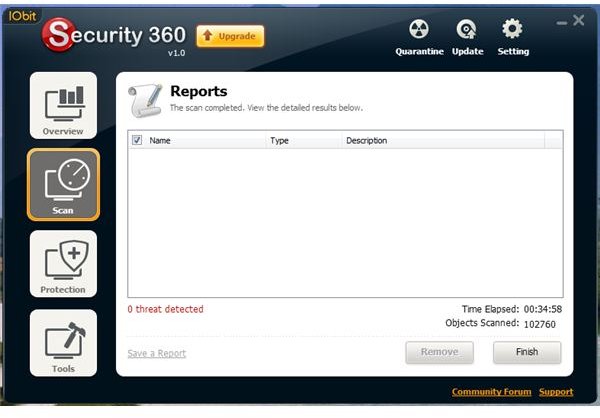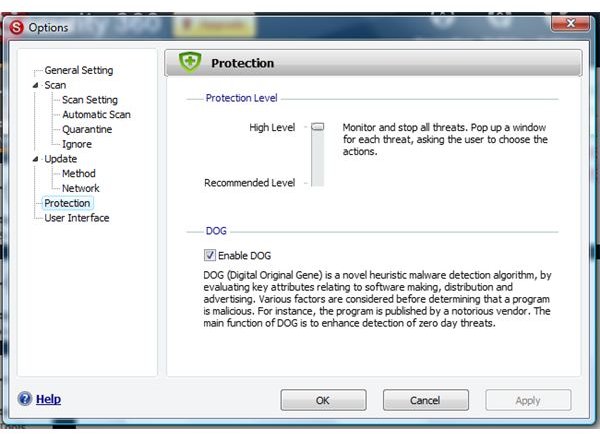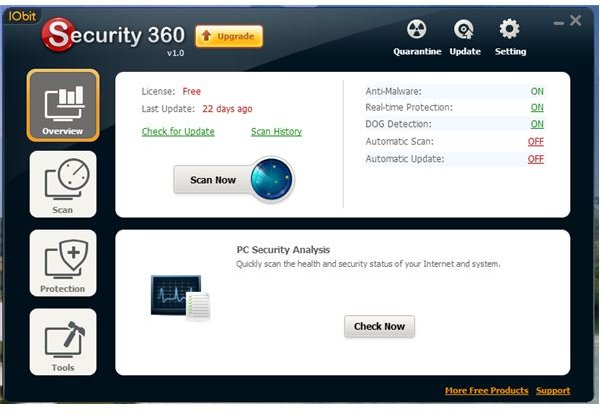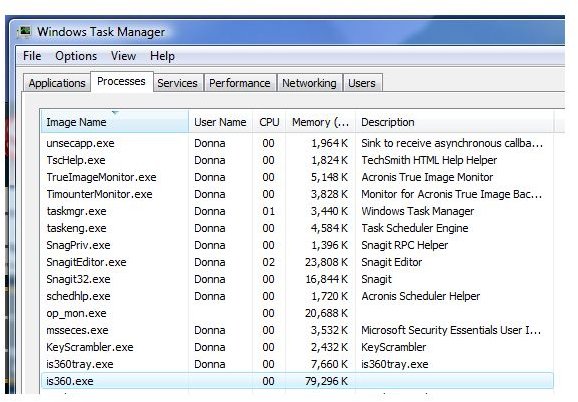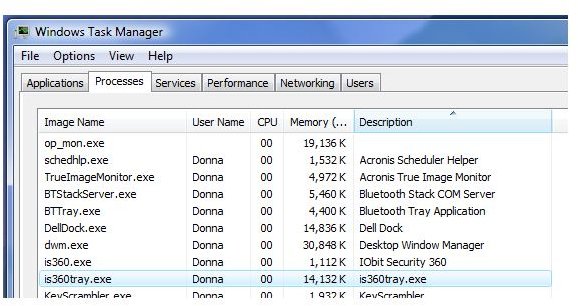 Price to Value (4 out of 5)
Free but with limitations.
Conclusion
IObit Security 360 have lots of useful features but the main feature - to protect and detect malware is quite poor. There are much better solutions on the market! Try A-squared Free, Malwarebytes' Anti-Malware and SUPERAntiSpyware instead.