Immunet Protect, a Collective Community and Cloud-based Antivirus software
Introduction
Immunet Protect, a free anti-virus program that will work with your traditional anti-virus protection. The program is using Collective Immunity and Cloud-based protection. It's currently in beta which you should try only in non-production system. Take a look at this review to learn more about Immunet Protect.
Installation and System Requirements (5 out of 5)
Immunet Protect supports 32-bit editions of Windows 7, Vista and XP. It also officially tested to work with Norton Anti-virus 2008/2009/2010, AVG 8.5 and McAfee 2009. I've installed it together with FortiClient Endpoint Security and also with AntiVir and Microsoft Security Essentials and I find no issues.
The installation is quite quick. No reboot is required and does not require customizing much because the default is a ready-to-use protection setting!
Options, UI and Performance (4 out of 5)
With Immunet Protect can opt to allow it monitor application installation and the application that will start. You also have the option to be notified on events (cloud notifications). The active protection of Immunet will prevent you to install any software unless it is determined as safe. This is useful nowadays because many are victim of Trojan downloader that automatically installs files and there are many rogue programs pushed aggressively.
The program let you run a Flashscan to check if any malware exists as running process or in the registry. It's a very quick scanning by Immunet. The UI provides easy access to Summary, History, Scan and Settings. There is also an option sending Invites to your friend to start using Immunet. You will need to create a free registration though to start sending an invitation.
Its protection is visible in system tray and will notify you of any files have been installed and if any application has started. When I let Immunet Protect to run the Flashscan, it uses 12MB of memory while 10MB memory usage when it is idle. I find this a lot of memory usage for a cloud-based antivirus protection that does not offer full system scanning.
Images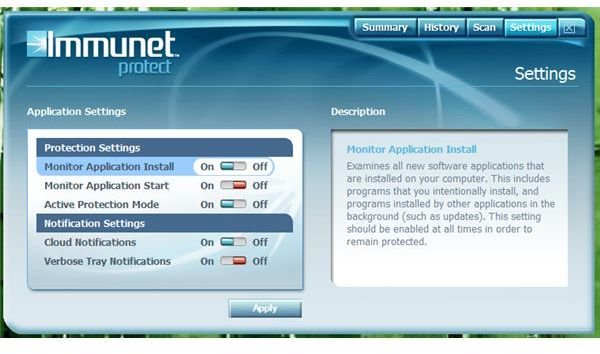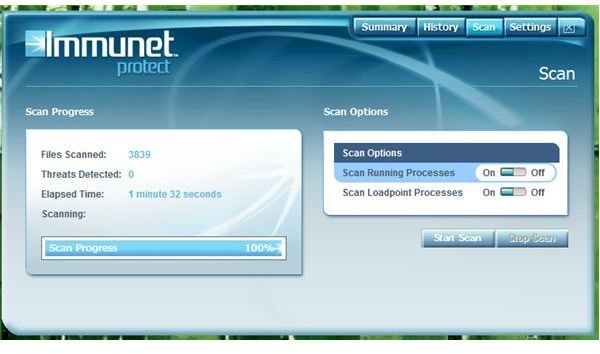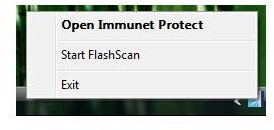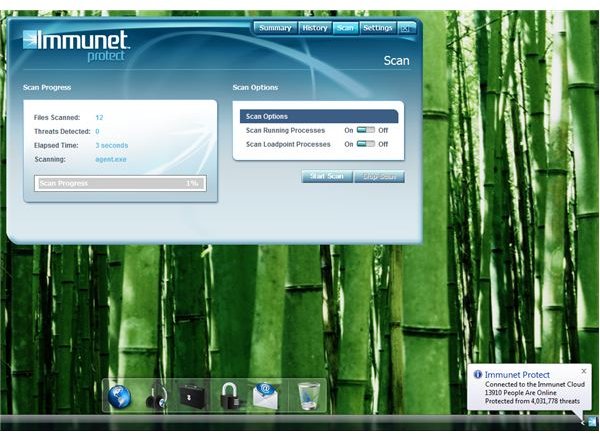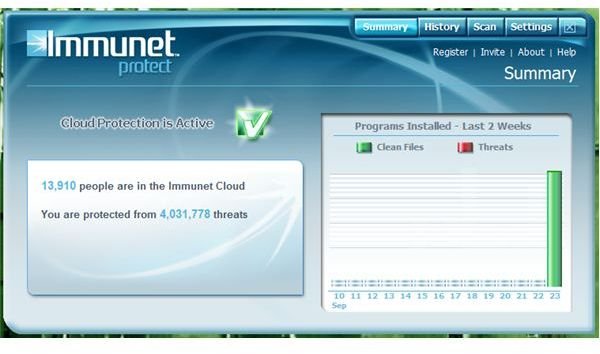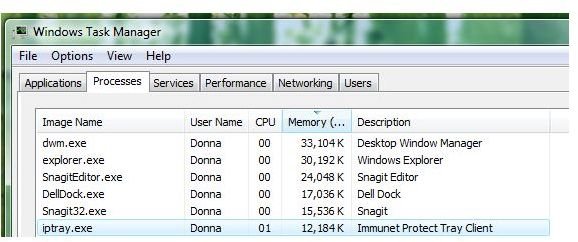 Price to Value (5 out of 5)
Free but it's still in Beta stage!
Conclusion
Being link to every other Immunet user results in fast protection. Highly recommended if your current anti-malware solution does not offer such protection!
Read more reviews
Norton Anti-Virus 2010 and A-squared Anti-Malware is offering community-based protection. Learn more about these products by reading the reviews.