An Essential Application for USB Security: USB Secure Review
Installation (5 out of 5)
Your USB security guard, USB Secure, installs very easily; just in three steps to be precise. The first step is the welcome screen, the second one is the license agreement and the third one is the installation. In the third step, the program asks you to select the external drive where you want the USB Secure to be installed to. Here, you have to insert your external disk and wait for the program to identify it. The external drives that are attached to your computer and properly recognized are listed in the left pane. You can select which ones you want to password protect in this screen. When you make selections and click the "Next" button, the installer drops the "USB Secure.exe" file to the external drive. You can then run this file and set a password to protect your external drive.
USB Secure Installation Steps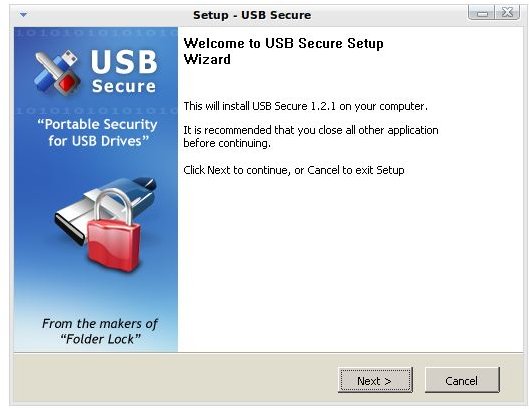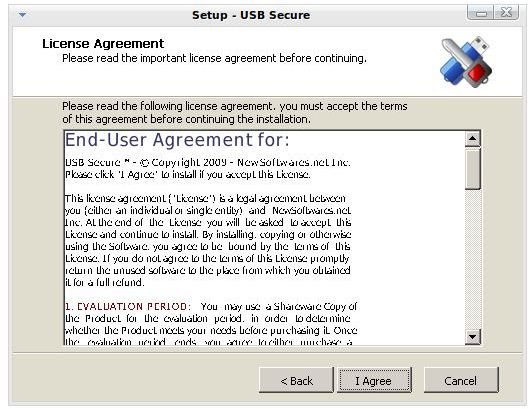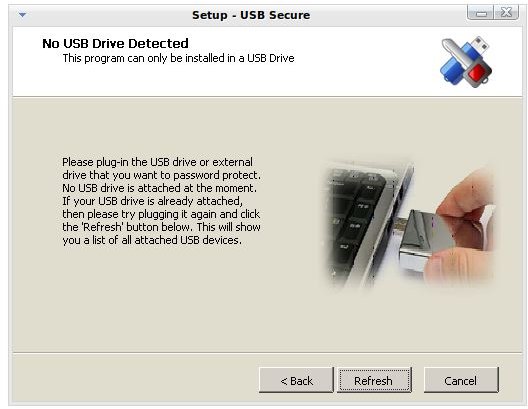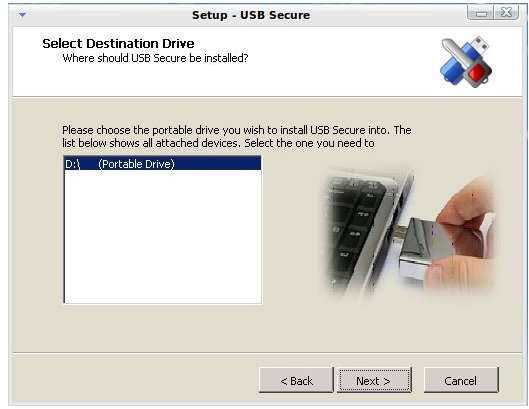 Usage (5 out of 5)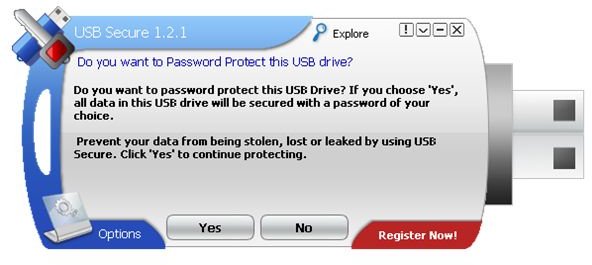 After setting the password and encrypting your external disk, the program's usage is as simple as it can be: you plug in your external drive and you are asked to enter your password to decrypt the contents. Your USB disk security has begun! There is an important note here: when you password protect your external disk, it does not matter if you delete "USB Secure.exe" file from the drive. The contents will still be protected. If you have, in any case, deleted the "USB Secure.exe" file from your drive, simply download the program from the website and reinstall it. You will see the "USB Secure.exe" in your drive again. Other than that, there is no special use about this USB disk security program.
Features (4 out of 5)
There are a couple of things I especially liked in USB Secure:
It does not install any kernel/filter drivers; only itself,
It does not require special software on the computer side,
It does not have a cluttered user interface; everything is simple and intuitive,
It can run with WINE emulation on Linux.
In fact, these are all that is to this simple USB disk security program. It claims to password protect your external drives and it does not do anything else. That's why I give a big plus to the application. I personally do not like the programs that try to make everything but end up with doing less than they should. In no case USB Secure is such a program.
Price to Performance (1 out of 5)
Considering the competition in drive locking/encrypting, USB Secure has a very steep price of USD 29.95. There are many free alternatives, such as the powerful TrueCrypt, which offers AES, TwoFish and Serpent encryption algorithms (and their combinations like AES-TwoFish, TwoFish-Serpent etc.) USB Secure is well behind the price/performance comparison in the USB security arena. In addition, USB Secure, for its price is used only for external disks, where TrueCrypt can be used for any type of disks.
Conclusion (4 out of 5)
You may not want to bother yourself with the various encryption algorithms or volume-locking issues and this will take you to purchase USB Secure. Compared to the other commercial disk-encryption and USB security programs, USB Secure is cheaper and easier. Registered users are entitled to lifetime upgrades and support, unlimited data encryption for an unlimited time and many other benefits. I believe it will be a set-and-forget solution for your USB security needs.