Protect Your PC with Norton AntiVirus 2010's Cloud-based Technology
Introduction
It has been proven last year that Norton AntiVirus 2009 is easy to use and does not use too many resources. Symantec says the new Norton AV 2010 is not only light and fast protection but has earned the lightest and fastest protection among the rest. They also offer new features that will reduce the task in scanning and removing of malware.
System Requirements and Installation (5 out of 5)
Norton AV 2010 is for Windows XP, Vista and Windows 7 systems only. The installer is bigger than the previous version of NAV – 73.2MB. I am impressed with the installation speed of NAV 2010. In less than 1 minute, NAV 2010 is ready to use. A system restart is not required at all to start using the program.
The installer of NAV 2010 is clean from any third-party add-on or services. There is no toolbar or search assistant in NAV 2010. An option to Norton Community Watch is displayed before you will proceed installing the program.
Features of Norton AV 2010 (5 out of 5)
Norton AntiVirus is offering real-time protection against malware and the option to run a quick, full and custom scan. There is also a neat "Idle scan" feature. NAV 2010 also features vulnerability and bot protections. It can also detect rootkits and will provide pushed and pulse updates.
NAV 2010 is not the same as previous version because there are new features: Norton File Insight, Download Insight, System Insight, Threat Insight, Insight Network and SONAR 2 (behavioral protection).
Norton Download Insight will monitor your downloads and uses Insight Network, Norton's cloud-based reputation system, to protect you. An example notification window of Norton Download Insight is below: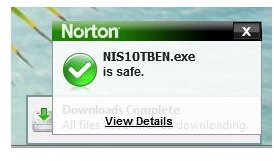 File Insight will provide details of the file so you don't have to spend a long time to check whether the file is unknown or found in many systems as "safe":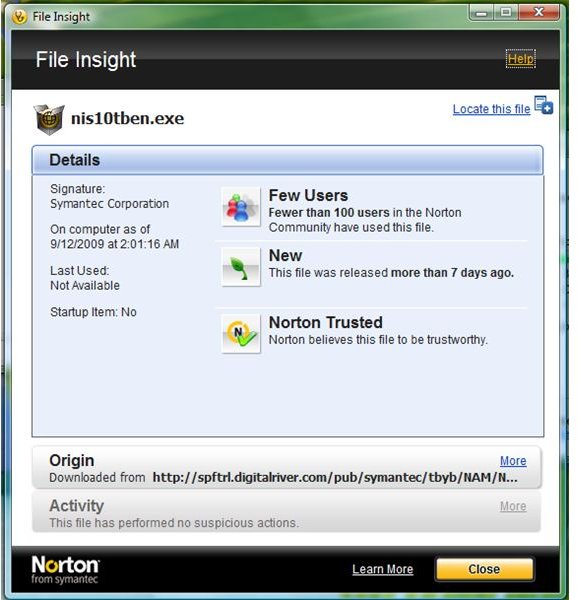 System Insight is a graphical user interface that will show the recent activity in your PC while Norton Insight Network is taking advantage of Norton Community Watch that will help determine the sources of threats and to find new threats: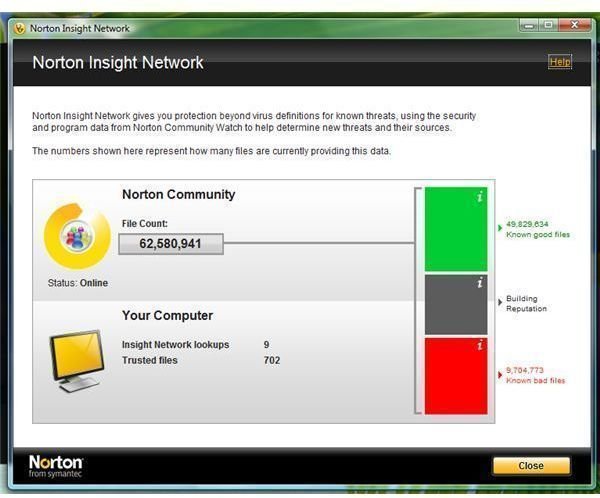 User Interface (4 out of 5)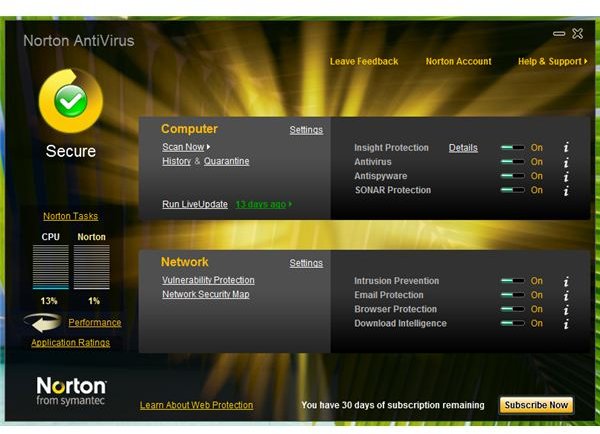 Norton AV 2010 is using new UI with easy access to its settings, security history, quarantine, updater, and protection information. There is also handy menu in its icon that is located in the notification area in Windows.
The only issue that I noticed with its UI is when you are using the product as trial version. The Norton Account window will open each time you will launch the UI of Norton AV 2010. I'm not sure why Symantec continue to display the Account window if a person already decides to close it instead of "remind later". Not all people who want to try the product would like to register for Norton Account until they are decided to buy a subscription.
Performance (4 out of 5)
I have to install Norton AV 2010 twice so I can test whether it will work fine with other security tools. On my first install of Norton AV, I have Outpost Firewall already as firewall protection. The installation went fine but using NAV 2010 together with Outpost Firewall Pro put the system to its knees. The system is not responding and the taskbar froze. I have to do a force reboot to try again. After the reboot, the same incident occurred. This incident is known issue whenever we install new software and if other vendors of security tools have not adjusted their program. However, Symantec should have tested their program together with different standalone security tools especially by a firewall program (knowing there are people who prefer to use standalone firewall and anti-virus protection)
On the second installation test, the test system does not have third-party firewall. Norton AV 2010 was running fine and the system did not freeze or there is no response issue.
I run a full and quick scan using NAV 2010 and it gave an impressive scan speed. It took only 43 seconds to finish the quick scan while full system scan (2 Hard-disk: 120GB and 320GB) finished in 18 minutes. The memory usage of Norton AV when running a full system scan is 16MB. When it is idle, the memory usage is 2.5MB only.
Images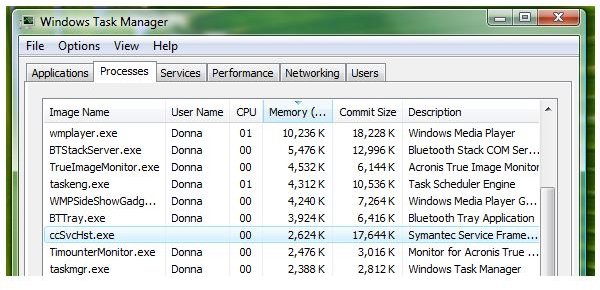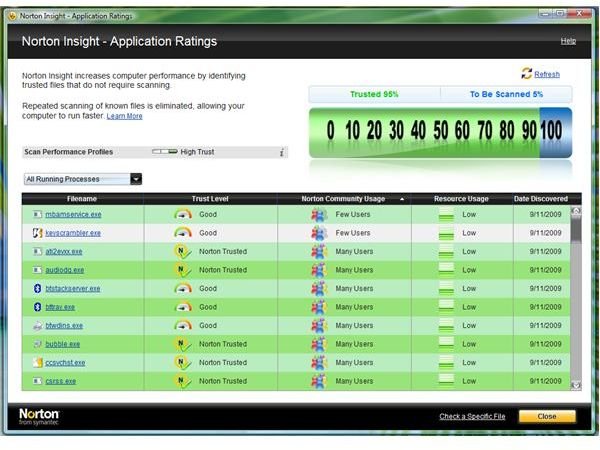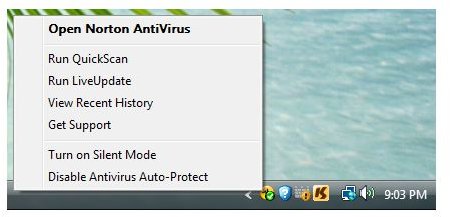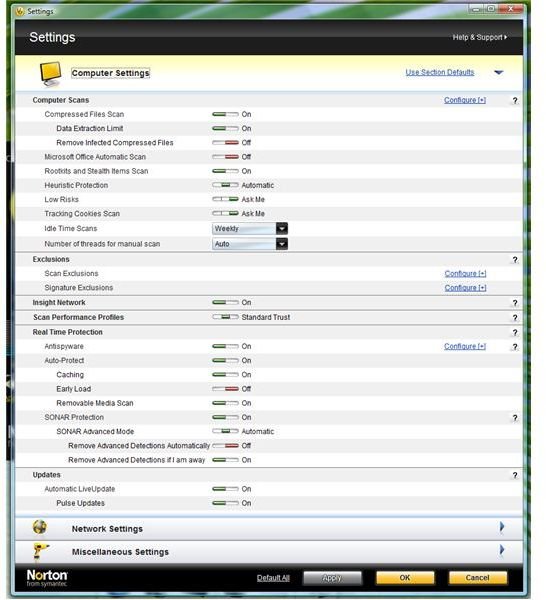 Malware Detection (4 out of 5)
AV-Comparatives.org gave Symantec's Norton AntiVirus 2009 the advanced rating. Norton failed to beat Microsoft, ESET and Kaspersky because there are few false positives on the Retrospective/Proactive Test. VB100 did not award Symantec with its VB100 logo for it failed to pass the August 2009 comparative review. The tested product is the old version of Norton AV which is until now in used by many of Symantec customers. Whether the cloud-based reputation system will help Symantec to provide fast detection and protection signatures is still unknown. We will have to wait for the independent anti-malware testing bodies to use NAV 2010 on their next comparative testing.
Availability, Price to Value and Support (4 out of 5)
The price of Norton AntiVirus has not changed. It is still $39.99 for 1 PC. The upgrade price is good though – it's free upgrade to existing Norton AntiVirus customers as long as your subscription is still active. A 30-days trial is available for download, but I recommend downloading the trial version from CNET.com so you don't need to enter your credit card information when downloading the trial version from Symantec website. Note that when you download Norton AV 2010 from Symantec's Download website, you are prompted to enter a credit card number. This will allow Symantec to automatically charge your credit card if you do not cancel the 30 days trialware so if you are to try only and decide to buy later, get the installer from CNET.com (well all have forgetful moments, right!).
Symantec's free support for Norton is available at Norton Community Forum, Live Chat and Email. Norton AntiVirus 2010 is now available at Norton Symantec Store. Note that to-date there is no option to order NAV 2010 in box.
Conclusion
Fast scan, light to use and easy to set-up. Norton AntiVirus 2010 gets a big thumbs-up from me! Highly recommended!