Recover Office Data Files Using Advanced Office Repair
Introduction
Recovering corrupted or damaged Microsoft Office files and Outlook Express is easily done using DataNumen's Advanced Office Repair utility. Find out what the options are and how you can use this program to recover your important emails and documents created by Microsoft Office Suite.
System Requirements and Installation (4 out of 5)
You can install and use Advanced Office Repair (AOR) in Windows 7 and earlier version of Windows. It can repair corrupted and damaged files of Office Suite 2007 and earlier versions. Outlook Express 4, 5 and 6 is also supported.
Installing AOR is quite easy and you can quickly use the program as soon as it finished with installation. No EULA is displayed or included in the installer of AOR. You might want to read the Terms of Use at the vendor's website prior trying or buying the product.
Features of Advanced Office Repair (5 out of 5)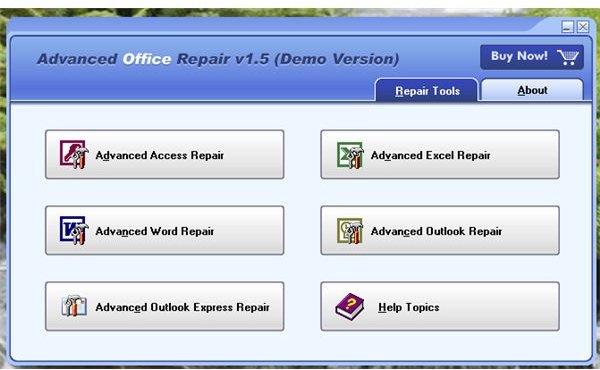 Advanced Office Repair will scan for Outlook Express' Dbx and Mbx files that needs to repaired or recovered. It will also do the same for data files by Excel, Outlook and Access.
The program is designed to work not only to newer version but even with the older versions of Microsoft Office and Outlook Express.
There are several options in running each repair utility. For example: Saving the recovered Outlook Express messages into a new folder if the messages in a current folder have reached the set numbers of messages. If you are using Microsoft Outlook, AOR can recover unattached attachments and root folder heuristically.
AOR is able to recover Excel and Access data files with additional options: recover deleted tables and records in Access files or recovered array-entered and shared formulas of Excel data files.
For Microsoft Word data files, AOR can be configured to convert all pictures into bitmap format during the repair or recovery.
Performance (4 out of 5)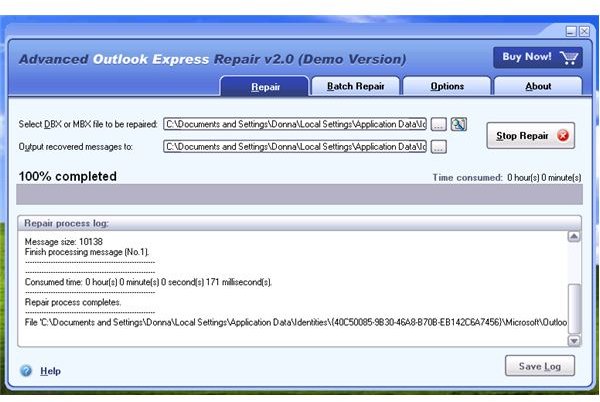 When I tried Advanced Office Repair to scan for data files of Outlook Express v6 (in XP), it able to find items that can be repaired. It also able to repair and recovered the message and automatically opened the folder where the recovered message is stored. Note that I am using a demo version which is limited to 10 messages to repair and recover.
Price to Value (3 out of 5)
A single license of Advanced Office Repair costs $699.95. A demo version is available for download. Limitation is 10 messages only to repair and recover.
Conclusion
Advanced Office Repair is quite easy to use and it is very useful utility (especially if you have data files in your large corporation that you cannot afford to lose). This is recommended to use for corporate customers because you will be paying only $100 if you want 500 or more licenses.
Small business and end-users should look for alternative solution because I find the pricing as too expensive especially as a free repair utility from Microsoft is available (included in Microsoft Office installation is scanpst.exe or scanost.exe for Outlook data files and the simple command to "Open and Repair". Also, compacting messages in Outlook Express usually allow you to recover messages).