Review of Trend Micro Smart Surfing for Mac 2009 - ARCHIVED
Editor's Note: This article was written in 2009 and has been placed in our archive. The review reflects the author's opinions at that time. Trend Micro has recently updated their project so the statements in this article may be outdated.
In 2009, Trend Micro released Smart Surfing for Mac. Will it prove a useful piece of software to protect you from the looming online dangers, or be cast aside as an unnecessary addition to the already beefy Mac security?
Product Page (1 out of 5)
Our first stop is the SSM product page at TrendMicro.com. According to the description, it offers protection against phishing, email and IM links, malicious websites and spyware. It also comes bundled with parental controls and Smart Surfing Diagnostic Toolkit. Some of it's claim-to-fame is a long list of features not offered by "Other Products", whose names they refuse to allude to. This list is non-conclusive and contains some disputable evidence when compared with competitor websites. The only legitimately distinctive feature from it's competitors seems to be the parental controls.
Product Page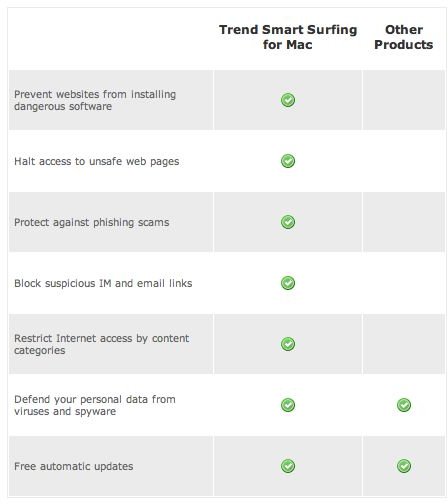 Installing (4 out of 5)
The app is approximately twenty-five megabytes in size and is quick to download on a high-speed connection. However, much to the discontent of many Mac users, it utilizes a package installer. This is not as quick and easy as the much loved "drag n' drop" installing that is much adored in the Mac community, but it is not unexpected for this type of application. Unlike "drag n' drop" installations, when a package installer is used, an unwanted application cannot merely be dropped in the trash can. Despite this apparent drawback, the install process is fast and painless with minimal user interaction needed. The whole process was done in about five minutes with no errors. Another highlight of this installer package situation is the inclusion of an uninstaller. Although this would seem like a obvious pair, there are many popular Mac apps that do not include this feature and therefore require a third-party uninstaller.
User Interface (3 out of 5)
The user interface is fairly easy to navigate and is not bad looking either. A user can gain access to scans, settings, updates and parental controls in just a few steps by clicking the TM icon installed to the menu bar and selecting an option from the drop-down menu. There are, however, several drawbacks to the UI. The first is the inclusion of a separate preference menu exclusive to auto-update and select scan settings. These could have easily been included with the rest of the controls and would have made navigation much easier. To further complicate the issue, there are several different ways to navigate to this renegade menu and neither are labeled correctly. From the drop down menu a user can click on "Open Prefrences" which seems to hint falsely that all preferences can be managed there. The other method is clicking on the "change settings" button in the Scan pane of the main application window. Neither way alludes to the fact that the auto-update settings can also be managed here. The third and final UI drawback is the Dock icon which appears during preference changes, scans and updates. Not only is it annoying to have two TM icons polluting my screen, but I also have to quit the application to remedy the problem.
User Interface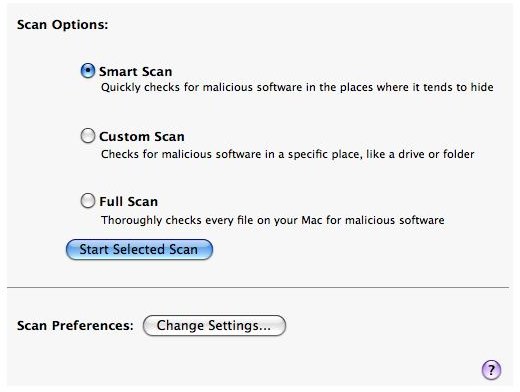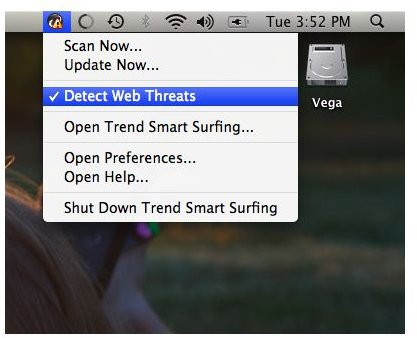 Scanning for Threats (2 out of 5)
The scanning function seems to be very sluggish, especially for the short list of malware afflicting OS X. Even the Smart Scan took nearly three hours to complete with zero detected threats. It took up between 4-10% of the processing power, and roughly 35 megabytes of RAM. This is not terrible when compared to programs like web-browsers which can spike to much higher levels. But, the constant processor usage normal to these types of scans will make other applications slower to respond. Overall the performance for the application is lacking. If a user feels like their system has been infected and requires a scan it should not take up half of their work day to do so.
Parental Controls (3 out of 5)
The parental controls uses an extensive list of categories and strength settings to filter out unwanted web-content. This is well above the ability of the built in OS X parental control pane located in the System Preferences. Users may also block or approve specific sites by clicking on the corresponding button in the Web pane. Although the protection level is pretty standard for the technology, other available Mac antivirus applications are not bundled with parental control software. It should also be noted that the TM website refers to these settings as parental controls, however there is no actual mention of this term within the application. To access these settings the user needs to click on the Website Filter tab located in the Web pane. Although this is not a usability issue, the lack of corresponding terms can create unnecessary confusion for the user.
Parental Controls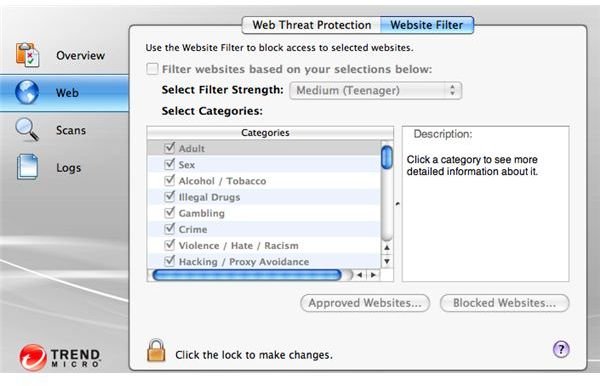 Conclusion (2 out of 5)
Although this program may prove useful in very rare situations, there is still little to worry about when it comes to Macs and malware. The fact is that most of these infections come from pirated software, hacking applications and other misc sources that normal users will not run into. Following simple rules such as; not downloading illegal software, not opening suspicious emails and not clicking on advertisements offering free products; will give you a near equal protection with out the use of your system's vital resources. Were a user to accidentally download a virus or malware, OS X will require the user to enter the admin password to agree to the install, and even then the worst case scenario might be reinstalling a corrupted program. If all you are looking for is a good set of parental controls, there are a wide array of programs out there designed specifically for this purpose. They offer better controls and are cheaper than this bundle. I cannot recommend this product as it does not offer a significant increase in security compared to the additional cost.
OS X adminstrator access request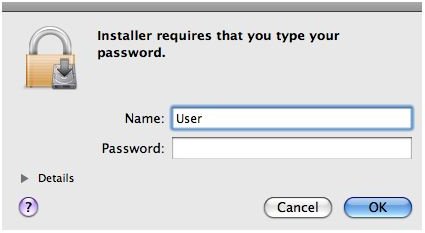 This article has been placed in our archives.