Cucku Social Backup Review: No Longer Running As of Sep 2010
*Editor's Note: This review was originally published August 2009 and has been republished for archival purposes. Cucku back up was shut down Sep 15 2010. Below is a copy of the original review in it's entirety.
Cucku Backup's New Approach
Cucku takes an interesting hybrid (and novel) approach to backing up data. Remote backup is part of the solution, but Cucku also initially makes a local backup of your data which you can use for quick restores. Cucku also encrypts the data and sends a copy of it to your "backup partner" (or partners if you use Cucku Backup Pro). This provides remote, online backup's strengths to the table. You pick your backup partner, so you know who's got your data and where it is (generally). The best part of all this is that it's free! If you have the need for more throughput, more space, and more distribution of your backups makes you feel better, you can get more simultaneous backups and backup partners with Cucku Backup Pro.
Features (5 out of 5)
Cucku has a feature set you wouldn't expect from a free service. Unlimited backup size, automatic local and online backup, file version support and restore, deleted file restore, as well as locked file backup are all included. Backup of external and network drives is a welcome feature as well. Some free online backup solutions are only free until you need to restore. Cucku allows you to restore without paying. Along with this impressive feature set, Cucku notes that you will also be a "Backup Hero for a Friend".
Cucku Backup Pro offers up to 5 Simultaneous Partner Backups along with command line support.
Setup and Ease of Use (4 out of 5)
I have tried out several online backup solutions for reviews, research, and for personal use. The only surprise I found in the setup was the manual requirement to set up Skype first. Cucku uses Skype to send your backup data to your friend. Cucku can be used without Skype, but only to back up and restore locally. Well, the Skype install is easy, I suppose. After that, I discovered that the Cucku install was simple as well. The online registration is about as painless as you could hope for. .NET 2.0 is required, and Cucku will install it if needed.
The email confirming your sign up for Cucku is full of information, including links to become a fan on Facebook, following on Twitter, and more. Plenty of links for help online, in forums, and so forth.
Running and using Cucku is definitely easy.
Cucku Backup Setup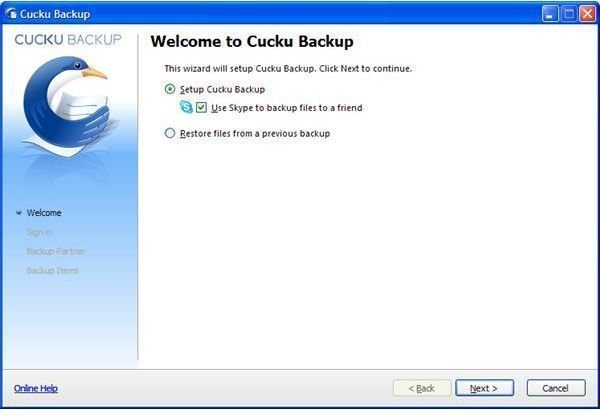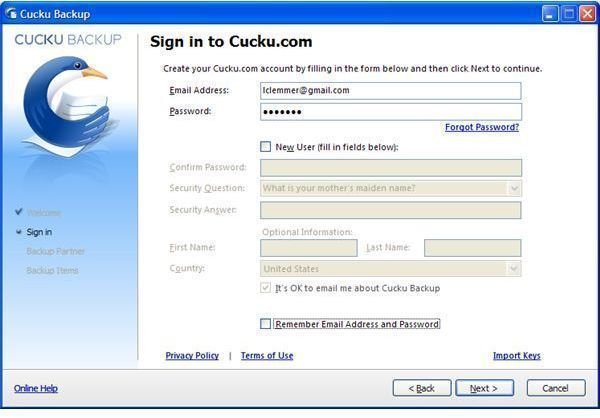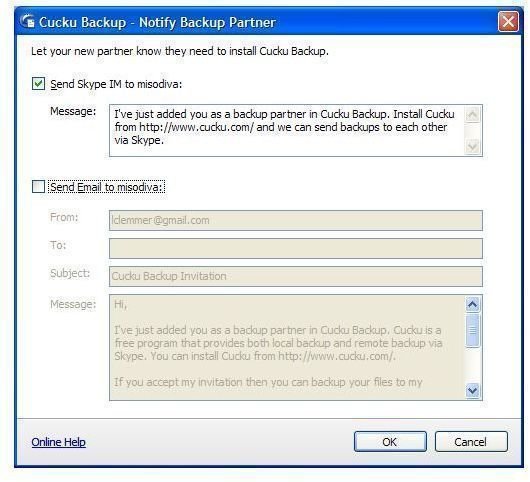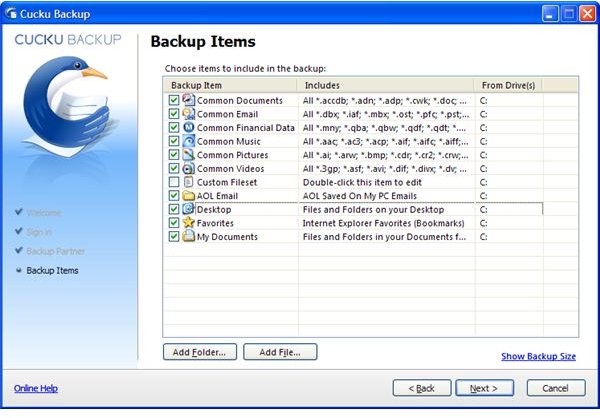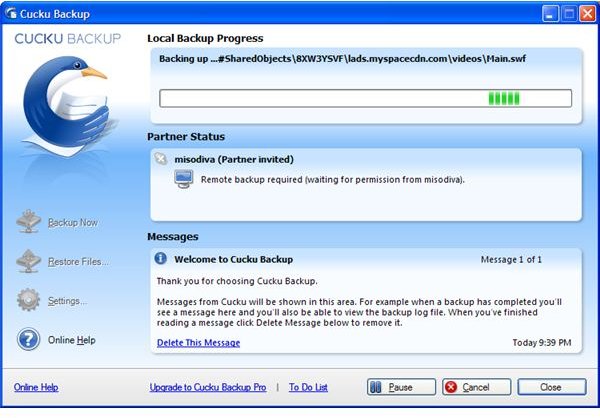 Pricing (5 out of 5)
Hey, it's free! And Cucku Backup Pro is currently offered at $29.95 for three installs. Since you're saving your data on storage space that your friends have graciously allocated for you, there's no additonal cost from Cucku in the future for use of excessive space.
Overall (5 out of 5)
Given the opportunity to interview Robert Ellison, CEO of Cucku, I asked him where he saw his company in three years. He replied:
"We want to support more operating systems and transports in the short term. Many of our customers are running the online backup service for their family or group of friends – we want to provide more tools to make it easier for the technically savvy to lend a helping hand to their parents, friends and businesses."
I had trouble deciding whether to give Cucku an "excellent" overall rating or not. There is so much competition in the free backup and online backup space that it can become difficult to distinguish any difference in the programs other than the company logo or perhaps slight differences in the interface. For Cucku, there are a few very distinct differences that make the product stand out. So, I decided to give it the "excellent" overall rating.
*Editor's Update: Unfortunately, it is currently no longer available.