USB Threat Defender - Complete Solution to all Threats
Have you ever wondered why even your best antivirus software is unable to shield your system against deadly viruses, malwares and other threats? Do you really think that your system always remains protected from all kind of threats? Let me answer on your behalf. If you really think that you are protected from any kind of threat, then you are WRONG. Antivirus software's are not able to detect all kinds of threats like viruses, malwares, USB threats, etc.
Today, usage of USB drives has increased drastically because of their portability and as such, hackers, exploiters and eavesdroppers have found a way to infect any PC they want. When plugged into the system, your system gets infected and all your personal or financial information is either transferred back to the intruder or destroyed. USB Threat Defender is the only available solution to all kinds of USB threats. With its advanced scanning technology, all kinds of known and unknown USB threats can be detected. Its proactive monitoring technology unleashes a new level of security to protect your system against any USB threat including "Autorun/INF" viruses that constitute only a small portion of USB threats.
Installation and Setup (5 out of 5)
With just 1.2 MB in size, USB Threat Defender is very easy to install, and it took me less than 10 seconds to install the software. It supports every window based operating system like Windows XP, Windows 2000, Windows 2003, Windows NT, Windows Vista and Windows 7. The latest version available is 1.0, and you don't need to update the software after installation.
Effectiveness (4 out of 5)
USB Threat Defender is very effective against all kinds of threats and is better than any best anti-virus software available in the market. It is effective against both known and unknown threats. It was able to uncover some unknown threats from my system which my antivirus never detected.
Performance (4 out of 5)
USB Threat Defender is really performance software that requires low CPU usage to scan and heal the system. Within few minutes, it was able to detect several threats present in my system.
User Interface (5 out of 5)
USB Threat Defender has a very nice user interface with all the options available on the software screen like Main Info, Threat Scan, Threat Shield, Heal System and Settings.
Main Info gives you an overview of what USB Threat Defender is and how to heal your system. On the right side of the Main Info screen, It displays the definitions' database version, program version, License info, threats removed and resident shield status.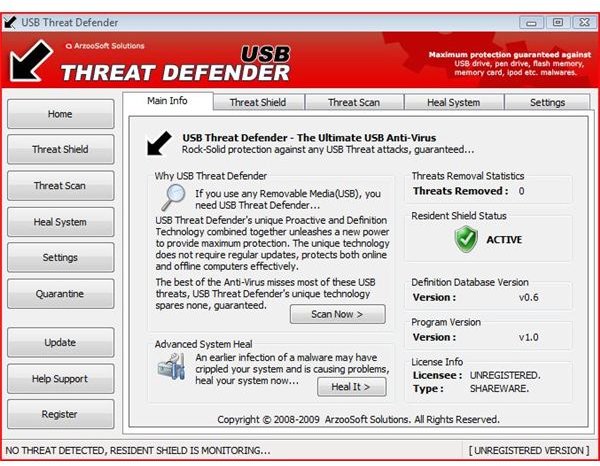 Threat Scan allows you to scan USB drives for threats like viruses, malwares, etc. both known and unknown.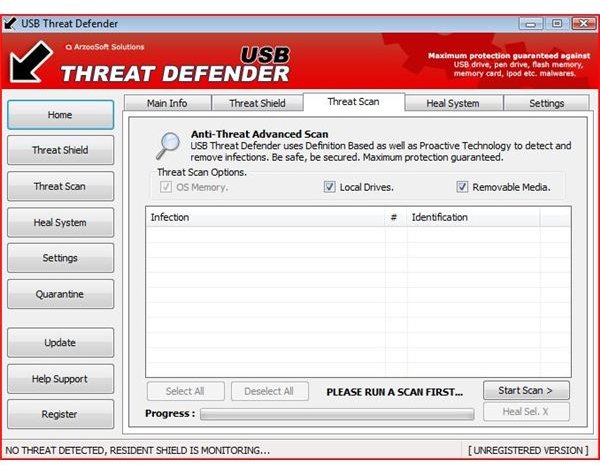 Threat Shield allows you to heal the threats detected by the threat scan.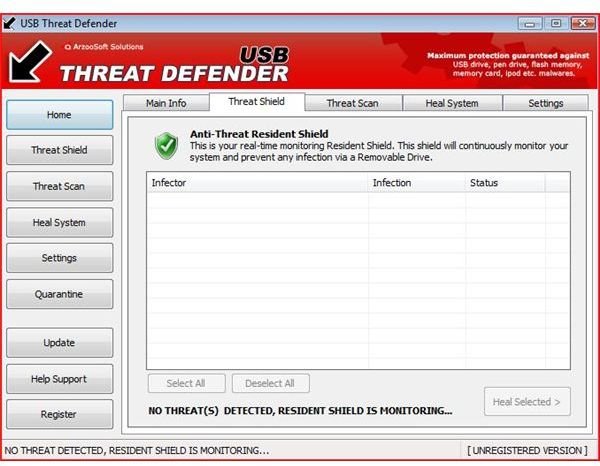 Heal System allows you to heal system settings that are often changed by threats like changing the home page of internet browser, disabling the task manager, etc.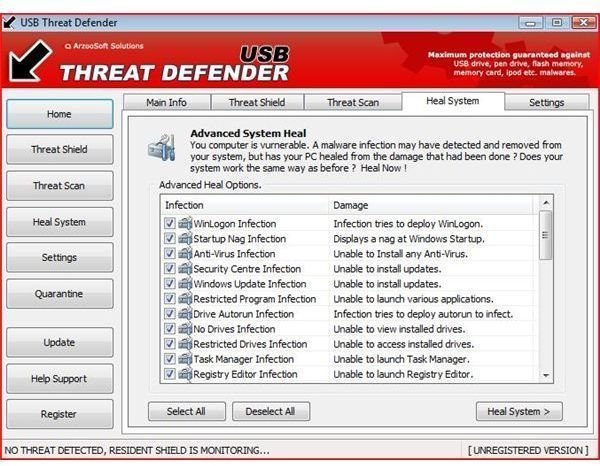 Settings screen allows you to set general settings like starting USB threat defender with windows, threat removal settings, etc.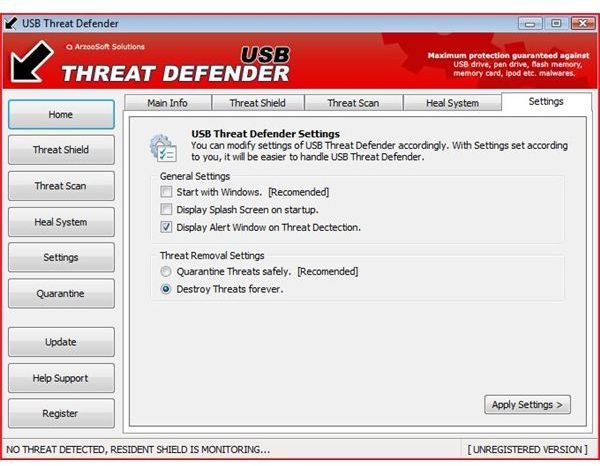 Features (5 out of 5)
USB Threat Defender is a featured pack software that comes with the following features.
· Advanced detection of both known and unknown threats.
· Proactive scanning technology
· Uses definition scan technology to uncover any kind of threat.
· It removes preinstalled malwares that are hard to remove by any anti-virus software.
· Real time protection and monitoring to protect your system against different threats.
· Option to remove the threat or send it to quarantine for analysis by USB Threat Defender team.
· Automatic updates
· No conflict with preinstalled antivirus software's or other malware removal software.
· Easy installation and set up with user friendly interface.
Purchase once and get free upgrades for a lifetime.
Price (4 out of 5)
The software is available at a very nominal price of 39.95$ in comparison to other antivirus software's that are not able to detect unknown threats present in my system.
Conclusion (4 out of 5)
Finally, I can say that this is the best software I have ever encountered. With its amazing features and performance, it truly delivers what it says. You can blindly trust USB Threat Defender for all your problems related to PC infection.