Optimize Your Hard-Disk and Secure Delete Files Using SDelete
Introduction
SDelete is a free command line utility to securely delete files or folders. It can also wipe the free disk space in any partition or hard-drive. SDelete will make deleted files unrecoverable to protect your privacy.
Installation and System Requirements (5 out of 5)
SDelete requires no installation because it's a simple command line utility. The file size of this free utility is less than 50KB. You can place sdelete.exe in any location in your hard-drive (whether it's a system drive or not).
You can run SDelete in Windows NT and later operating systems e.g. Windows 2000, XP, Vista and Windows 7. The EULA is displayed on the first run of SDelete.
Features and Options in SDelete (5 out of 5)
The main two features of SDelete are to securely delete files on any specified location and to wipe the free disk space of particular path.
The following command lines are the available options in running SDelete:
-c Zero free space (good for virtual disk optimization)
-p passes Specifies number of overwrite passes (default is 1)
-q Don't print errors (Quiet)
-s Recurse subdirectories
-z Cleanse free space
Performance: Wiping Free Disk Space and Secure Deletion of Files (4 out of 5)
When I run SDelete to wipe the free disk space using the default number of overwrite passes, it took 34 minutes for the utility to finish the job. Note that the free space in a 60BG partition is 42,878MB. It took less than 10 minutes (9 minutes and 9 seconds to be exact) when I tried the popular CCleaner to only wipe the free space in the same hard-drive.
SDelete's method in wiping the free disk space does not securely delete files at the same time. The reason behind it makes sense. Mark Russinovich wrote:
The reason that SDelete does not securely delete file names when cleaning disk free space is that deleting them would require direct manipulation of directory structures. Directory structures can have free space containing deleted file names, but the free directory space is not available for allocation to other files. Hence, SDelete has no way of allocating this free space so that it can securely overwrite it.
SDelete can securely delete files that you asked it to. The above mentioned command lines should help you in deleting the already deleted and encrypted files that you want to be gone permanently and no way can be recovered. This will help protecting your privacy. You can enter the number of passes you want SDelete to overwrite the file. SDelete will rename 26 times the file to be overwritten.
Images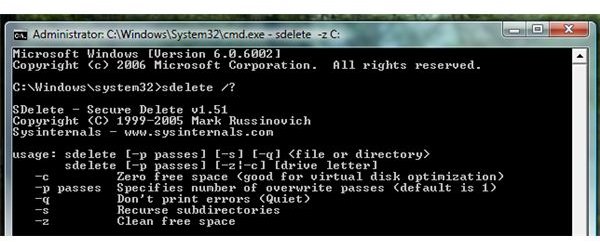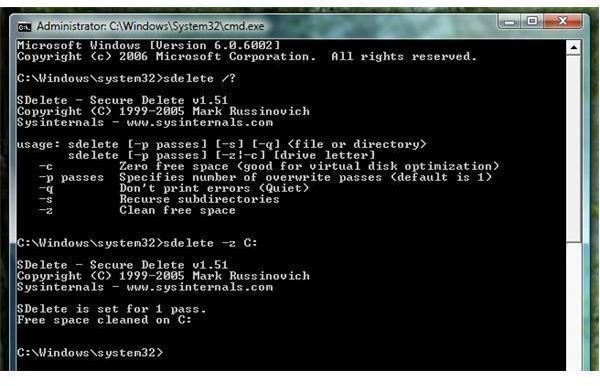 Price to Value (5 out of 5)
Free command line utility to delete private information and does not require installation. No one can beat this!
Conclusion
SDelete is one of the must-have programs if you are looking for simple utility that will not only optimize your hard-drive by wiping the free disk space but will also shred the files securely. Highly recommended!