Network USB Sentry Reviewed
What is Network USB Sentry?
Network USB Sentry is a piece of software intended to centrally monitor and lock down any medium which can be used as a storage device such as, for instance, USB sticks, removable drives as well as cameras and MP3 players.
System Requirements & Installation (2 out of 5)
According to USB Sentry's help file does the software run on Windows 2000 and above. Computers need 1 GB of RAM, 30 MB free hard disk capacity as well as a Pentium 4, or better, CPU.
The installation of USB Sentry comprises the following steps: welcome screen, EULA, destination location, ready to install and click Finish to complete the install.
The software didn't fully work as planned on the Vista host computer, and the answer from vendor support was friendly but insufficient to solve the problem. When the deployment (install) of the agent on a remote computer also failed I gave up.
Interface (4 out of 5)
The USB Sentry GUI is a typical management console interface which allows viewing and managing monitored computers easily. The software is able to enumerate the entire workgroup in the left pane for batch mode or individual agent install. Details, alerts and options are found on the right side of the standard interface.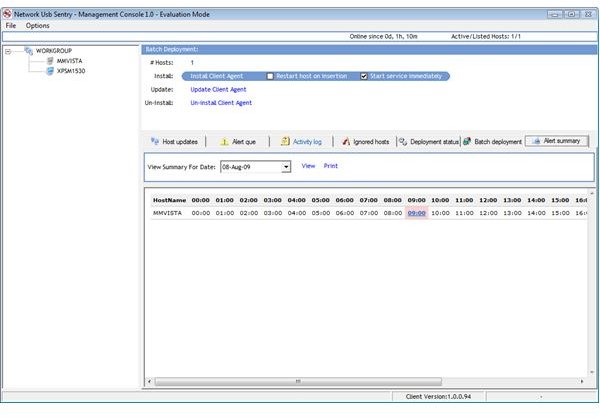 Features & Performance (2 out of 5)
Network USB Sentry monitors or blocks removable storage devices such as USB sticks and electronic equipment with memory such as cameras for example. Tests have been conducted with a USB drive whose use was successfully monitored in stealth mode.
However, it was not possible to set the software to enforcing mode (blocking file transfer) despite the efforts. If, on the other hand, USB Sentry would work as intended then the software would probably have much success in the market and a five star Features & Performance rating from Bright Hub.
Help & Support (2 out of 5)
The vendor's website information is sparse, and the software's help file is completely inadequate. SteelSonic's Network USB Sentry can be reached by email or using their website's form. Their support responded friendly and quickly but failed to give enough information for solving the problem described to them.
Price to Value (3 out of 5)
A license of Network USB Sentry 1.0 without limitations costs $50.00. The software is extremely cheap; I dare to say too cheap. If the software was a 100% working supporting the latest Windows operating systems then $50.00 would be justified for one single license in my opinion.
The Bottom Line
It would consider alternatives solutions to Network USB Sentry, but you may also consider pushing SteelSonic, the Mumbai based makers of Network USB Sentry, for costs considerations.
References
Author's own experience

Screenshots by the writer