Review of Silver Key Encryption
What is Silver Key?
Silver Key is a program for Windows users which encrypts files and folders so that they can be sent over the Internet in secured parcels as archives or self-executable files.
System Requirements (3 out of 5)
INV Softwork's lists the following operating systems as system requirements: Windows 95, 98, M, NT 4.0, 2000, XP, Vista as well as Windows 7. For the purpose of this review Silver Key has been installed and tested on Windows Vista.
Installation (3 out of 5)
The Silver Key install steps are welcome screen, EULA and then a Read me screen with Vista compatibility information and install destination advice for users of Kryptel, a more general file & folder encryption software of the vendor under consideration.
The next screen lets you choose the destination folder, followed by Start Menu program group and a Ready to install-summary. Click Finish to close the wizard when the install has completed and start using Silver Key without reboot.
Interface (2 out of 5)
Silver Key's GUIs mainly are the Control Center which is a mix of information, configuration and tasks without clear structure, plus the Silver Key shell, which is the interface depicted in the second screenshot below.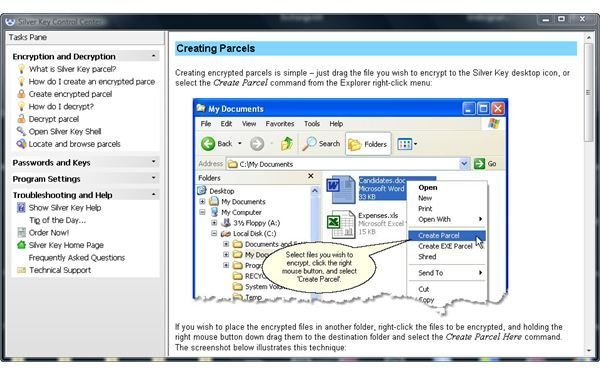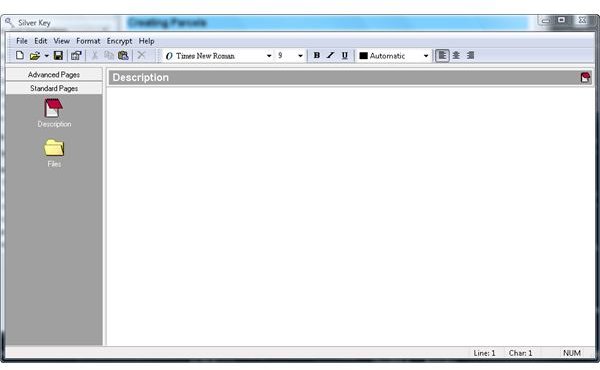 Features (2 out of 5)
To encrypt file and folders as parcels just drag & drop files and folders onto the Silver Key shell icon on your desktop, and enter any encryption password of your choosing. Silver Key, by default, uses the AES encryption algorithm, but you can change these and other settings by invoking the Crypto Settings utility from your Silver Key program folder.
If you don't want to use Silver Key in quick mode open the shell to get the full options at your fingertips. There, If you switch from standard to advanced pages, you can choose from a number of installer features to control your parcel's decryption on the recipient's computer.
Silver Key, again by default, creates standard parcels, for which the recipient has to download the free Silver Key decrypter, but you can change that during parcel creation in Properties, Parcel Type to Executable.
Performance (2 out of 5)
Silver Key does at the most provide the features seen in free installers in terms of Silver Key advanced pages, and the de-facto standard and much easier compressions WinRAR utility also offers strong encryption and self-extracting archives as discussed in method 1 of Bright Hub's article How to Password Protect a DVD. On top of that does WinRAR allow for easy splitting of large objects.
Help & Support (3 out of 5)
The help file has proven to be useful for this review of Silver Key. On the vendor's homepage you can find additional FAQs, a support form as well as Silver Key email support details.
(3 out of 5)
The Silver Key single user license costs US $29.95 and doesn't offer too much value in my opinion. Competing products cost less or are free. Should you nonetheless opt for Silver Key then I suggest you also look at the Kryptel Suite which combines Kryptel, INV Softwork's better performing file and folder encryption discussed in Bright Hub's review Kryptel Folder and File Encryption, and Silver Key for $39.95.
The Bottom Line
The Silver Key software has been given thumbs up recommendation, but as this review clearly shows you may want to look for alternative solutions, and/or try Silver Key before you buy.
References
Author's own experience
Screenshots by the writer