Identity Finder Revew: Identity Theft Protection Software to Help Protect Passwords, Credit Card, and other Personal Data
What is Identity Finder?
Identity Finder is a piece of software helpful for finding sensitive information such as health data, credit card numbers or passwords stored on your computer so that you can protect them against identity theft. On top of that does Identity Finder comply with a number of Unites States federal legislations for data protection such as HIPAA and PHI for example.
System Requirements (5 out of 5)
Identity Finder Home runs on Windows XP with Service Pack 1 or later as well as on Windows Vista. The software needs 50 MB free hard disk capacity; there are no minimum requirements in terms of RAM and CPU.
Ease of Installation (5 out of 5)
The installation is easy and standardized leading over to activation where you will be given the opportunity to register with the vendor. Then you are being asked to join the customer experience program to help making the program better.
I opted in for testing purposes, but then I thought I would advise the readers of this article not to do so as a best practice from an IT security specialist point of view because the software is specialized in (finding and protecting) sensitive data.
The next screen concludes the activation process, and Identity Finder is ready to use. Before the first scan of your computer you will create a password protected Identity Finder profile.
Interface (5 out of 5)
The Identity Finder GUI has a nice look and is logically organized. This is very helpful for anyone without former experience in anti-identity theft software. What's more is that the software provides wizards until you are familiar with Identity Finder when you can switch to advanced mode.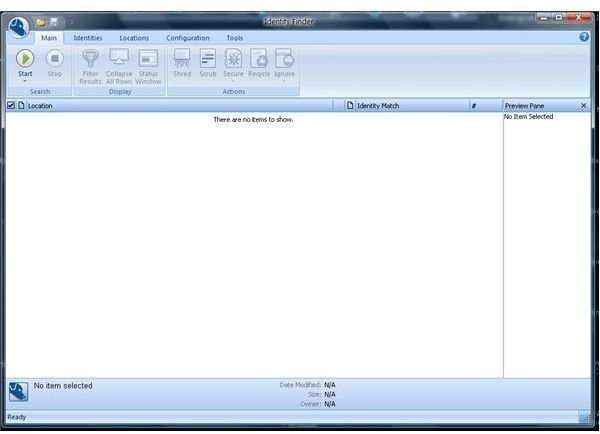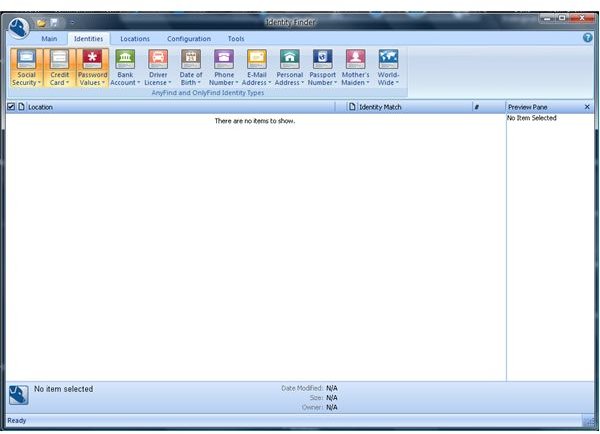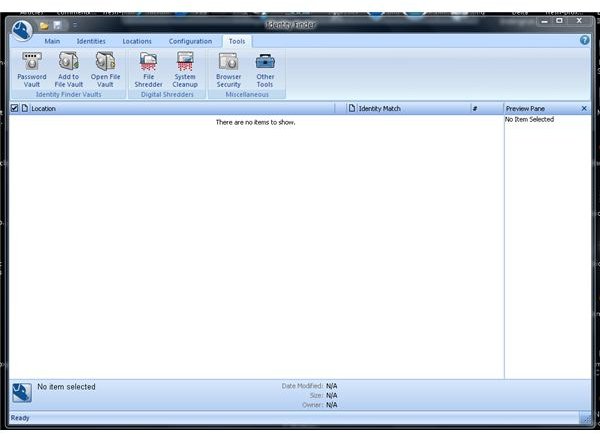 Features (5 out of 5)
Identity Finder scans your computer for sensitive data for such as passwords, health information, credit card as well as social security numbers and similar pieces of information identity thieves are after.
The anti-identity theft software can encrypt and password protect documents from a number of applications including Office and Adobe Acrobat for example in addition to shredding, scrubbing, or securely erasing sensitive data.
Features continued
In terms of password protection and encryption does Identity Finder on the application or file level what Folder Lock does on a container level. The comparative advantage of Identity Finder is that the software will help you identify files which contain sensitive data.
Please note: Identity-thieves often come along in the form of password stealing software in malware such as Trojan horse downloads or viruses for example. In case your computer is lost or stolen it is equally important to have your disk encrypted.
Performance (4 out of 5)
The Anti-Identity theft software scans your computer's files, mails, browser data as well as the registry and attached drives similar like an anti-virus program and in about the same amount of time.
The software has is particularly useful in the United States as it complies with the Protected Health Information (PHI) as well as Health Insurance Portability and Accountability Act (HIPAA) legislations. Some country specific search options are available for Australia, Canada, and the United Kingdom.
Help & Support (4 out of 5)
The software is accompanied by an excellent manual, and on the vendor's web site you find a user as well as an admin guide. Identity Finder support can be reached by the online form, but a FAQ section would be an asset.
Price to Value (5 out of 5)
Identity Finder Home carries a price tag of $24.95, and for ten dollars more you can buy the Professional edition which extends Identity Finder's search capabilities for data on servers, networks, databases, and Web sites.
BTW: Identity Finder is available as a minimal free edition, or enterprise style with centralized monitoring and analysis in addition to all the Pro edition's features.
The Bottom Line
Identity Finder Home, which can be tried for free, is useful for protecting your sensitive data but not a silver bullet. To contain damage should your PC or laptop get lost or stolen it is best to apply disk encryption to prevent additionally becoming a victim of identity theft.
As a best practice I recommend password manager software such as KeePass, and when you dispose personal computers or hard disks securely erase any data on it with a tool like [email protected] Kill Disk - Hard Drive Eraser 5.1 explained in the context of erasing external hard disks.
References
Author's own experience
Screenshots by the writer