Harden Your Connections With Harden-It Software
An Overview of Harden-It (5 out of 5)
One of the best new tools on the market is IT software by Yasc Ltd. called Harden-It. As described by the developers, it has been branded a " hardening tool for Windows" that mainly protects the Internet Protocol, and strengthens it from a potential denial of service attack. This tool is best suited for those who maintain networks professionally.
Harden-It Software Installation (4 out of 5)
The installation of Harden-It would be straightforward for an experienced computer user. The latest version 1.2 can be downloaded as freeware from https://www.sniff-em.com/hardenit.shtml. The file is small at only 586K and installs a program that requires at least 10 MB of space on your hard drive.
Harden-IT can be installed on any computer with a Windows platform with versions 2000 and above. The software does not have any special hardware requirements, but it is recommended that at least 256 MB of RAM is needed. The installation process contains over 30-35 steps the computer user has to select. These steps are necessary to configure the program, and before installation, the software does issue a warning that the use of Harden-it is not for novice computer users. During installation, the user is also given the ability to complete a general or a custom install.
Installation Images of Harden-It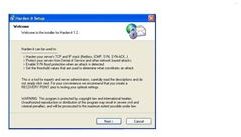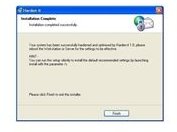 The Abilities of Harden-It (5 out of 5)
Harden-IT is not for people who are new to computers, but was created more for anyone who works professionally in IT. The "beauty" of this program is seen mainly during TCP transmission states and a denial of service attack (DoS). To briefly explain, during a denial of service attack, the SYNs will cause numerous TCP sessions to open, and prevent regular users from accessing. The server will respond with a SYN-ACKS being transmitted back, but since it is an attack, ACK messages are not transmitted in response. Therefore during a DoS attack, Harden-IT will quickly reduce the amount of SYNs that have lined up, making it possible for true TCP users to receive service.
Harden-IT also has the ability to:
Monitors and reports how many TCP connections during a DoS attack that normally will cause more TCP connections to be created.
Disables IP source routing that hackers use to find out information about a network
Evaluates the amount of server connections during the SYN-RCVD status
It also has the ability to maintain a TCP connection by sending "keep alive" packets of data to the server.
Determines the elapsed time between a TCP connection before no response is received and the connection is closed.
Prevents an attacker from accessing the system using a remote server.
Prevents an attacker from accessing information on the system when they use a "name release" command.
Disables the ability of a hacker to add new remote entries
However, this is just a small amount of the capabilities of Harden-It. It can block address-sharing, monitor how a browser is being used, and restricts anonymous users.
Overall Recommendation (5 out of 5)
Overall it is a program that would be useful to professionals based on the software's numerous abilities. The process does have a number of steps for a custom install for anyone wanting to tweak the system to their preferred specifications. It software does essentially do what it claims, without any "hiccups" to the TCP connections, server, or network.
It was surprising to see that with all its functions, Harden-It was quite lightweight compared to other software with the same characteristics that are very bulky and time-consuming. Therefore, based on the added benefits it can bring to users, it is a small program with a large value.