RegRun Reanimator Review : A Free Malware Remover and Diagnostic Utility
Introduction
Greatis Software offers free remote removal of malware using its free of charge RegRun Reanimator. The program will diagnose the system, create log which you can send to Greatis Support Team for analysis and you will receive a Regrun file which will execute the malware removal. Continue reading the sections below to learn more about Reanimator.
System Requirements and Installation (2 out of 5)
RegRun Reanimator supports new and old versions of Windows. The program will work together with your existing anti-malware or anti-virus program.
Reanimator's installer is straight forward and you do not need to restart the system to start using the program. I noticed that there's no EULA window presented during the install. It was placed by Greatis in the Help file which is located in the Reanimator's UI. The issue here is the EULA in the help file is not for Reanimator program but for RegRun Security Suite. Many people do not read EULA but software vendors should present the EULA before we allow the installer to proceed (that is, if we agree with the license) especially if the program will be collecting system information for analysis or will be connecting to third party servers.
As soon as the installation has finished, the program is automatically launched and will prompt to check for updates.
User Interface and Features (3 out of 5)
Reanimator's UI is neat and the features are presented by tabs so you can see all what it can do without having to pull any menu (except when using the scanner option where the options in using the scanner has command via menu)
The program has the ability to scan for malware (including rootkits), send a log report to Greatis Support team for analysis, manual scan, USB protection by disabling autorun not only in USB drives but all drives, execute the RNR file that you will receive from Greatis Support team if you opted to send the report and requires malware removal, restore function and protection using Partizan*.
*Partizan is Greatis Software's rootkit detector (kernel or application-based rootkits)
When you send the log to Greatis Support Team using Reanimator, their support team will analyze it, provide you a .rnr file which you can use to continue with the malware removal. This is why Greatis call their support as remote malware removal. Not the common remote help that we know (where in real-time, a support person will connect to your PC remotely and you can see what he or she doing in your PC during the fix or diagnostics).
Performance (3 out of 5)
The program continues to prompt for update whenever Reanimator is started. Quite irritating if you just finished updating it and you only re-launched the program an hour ago. There is no option to configure when it will check for updates.
During a test scan, Reanimator found 4 suspicious items in Vista and all of them are a false positive. For a person who is unsure whether the suspicious items are something to worry, Reanimator is able to help because there is option for beginners: An option to choose "I'm not sure. I need help" that will send the particular suspicious file to Virustotal.com for online scan and provide the scan result and file information: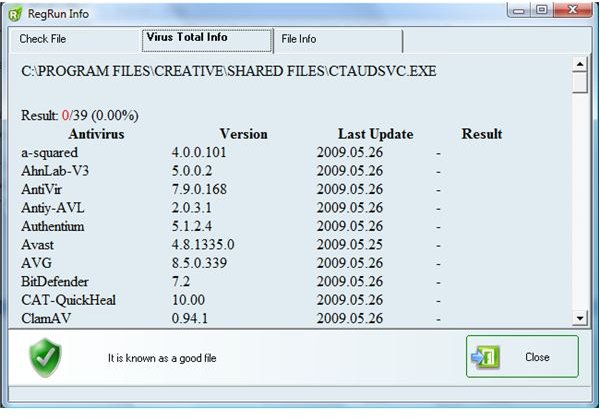 Images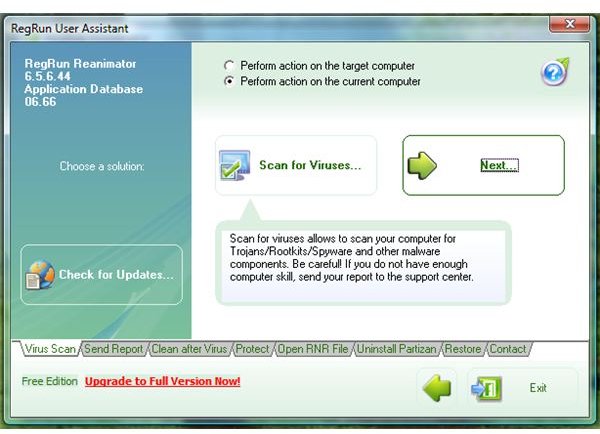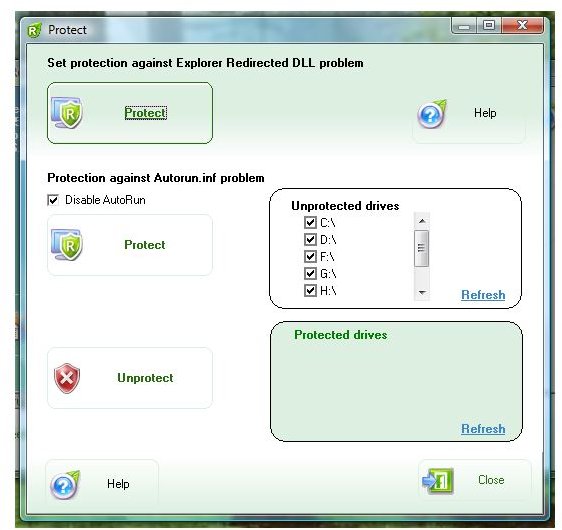 Price to Value (4 out of 5)
RegRun animator is free-of-charge.
Conclusion
If you need help without going to forums, RegRun Reanimator might help. However, the program should provide the EULA so people will be aware on what the program is sending or going to collect during the scan. I recommend to visiting HijackThis forums when you need help in removing malware or if you suspect that your computer is infected.
Read More Reviews!
Check other reviews on this channel: Regrun NIVA 6, DiskDigger, Backup Nexus, ioSafe Solo and KeePass Password Safe.