MojoPac: Free Virtualization Software to Run Your System on Portable Device
Introduction
RingCube Technologies has released MojoPac, free virtualization software to turn your USB or any portable drive into a "PC on a Drive". MojoPac let you use Windows in virtual mode so nothing is changed or removed in your main Windows.
System Requirements and Installation (4 out of 5)
I hope to see MojoPac to support newer system but MojoPac currently works with 32-bit of Home, Professional and Media Center editions of Windows XP. You can install MojoPac in your system drive or portable drive e.g. iPod, flash drive, external drive or USB digital camera and cell phone.
Upon installation, you are prompted to create a RingCube user account. The installation is quite straight-forward but a reboot is required before you can use the program.
Features and Option (4 out of 5)
MojoPac allows you to install any software you want in the virtual environment on your PC or in your USB 2.0 drive where MojoPac is installed. Installing MojoPac on USB drive let you have your Windows on that drive. What you have in your MojoPac stays in MojoPac which means no traces are left in the main system.
You can import and export your data or files from MojoPac to your host (main) system but this option is available to Professional edition of MojoPac as per the program. If you rather use the free edition, you can still transfer the files by simply switching to host (main) system and browse for the directory of MojoPac then start transferring by copying what you want to copy to and from MojoPac or hosts PC. Not quite convenient if we will compare with VirtualBox or Virtual PC where you should be able to transfer files without having to go to the host. However, MojoPac was designed not only to use a virtual system but to have it in your portable drive.
How to Use MojoPac (5 out of 5)
If you use more than one user in Windows, you cannot use MojoPac if other user account is login. Logging off will let you start using MojoPac.
Switching between MojoPac and host PC is easily done by clicking the option to "MojoPac Switch" or "Host - Switch" via MojoPac Toolbar. MojoPac works like XP Mode in the upcoming Windows 7 operating system by Microsoft.
When starting MojoPac, you have to enter the password before using. This is quite useful if you want privacy and security so no one can modify or view your MojoPac or what's in your MojoPac.
Images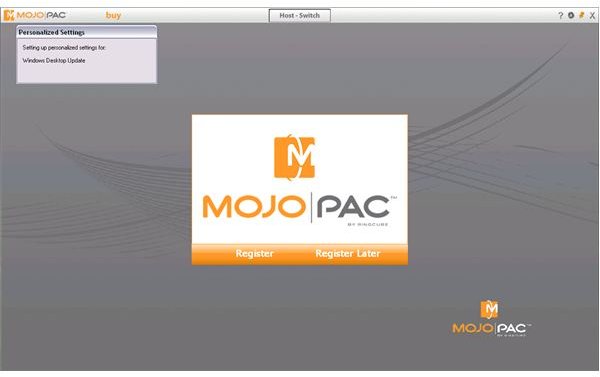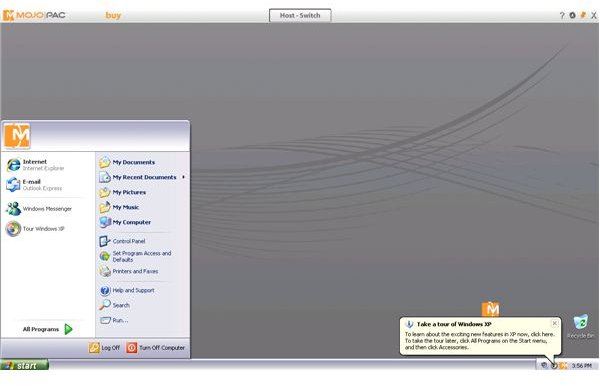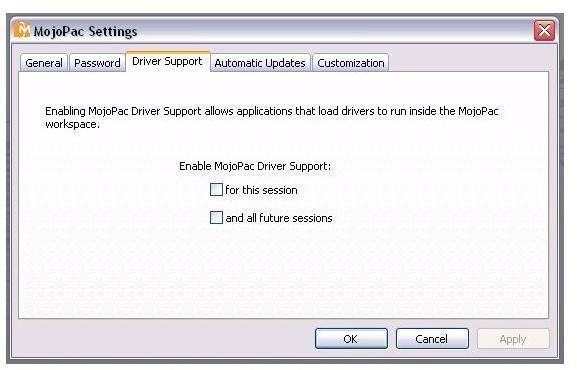 Price to Value (5 out of 5)
Free to use but limited features.
Conclusion
Free edition of MojoPac is worth to keep if you want a system on your portable device. If "PC on Drive" is not what you're looking for… I say use Virtual PC by Microsoft or VirtualBox of Sun.