System Surveillance Pro PC & Business Computer Monitoring Software
System Requirements (5 out of 5)
System Surveillance Pro 5.5 runs on recent 32-bit and 64-bit Windows Desktop operating system including Windows XP, Vista as well as on Windows 7, and on the Windows Server editions 2000 - 2008. The software needs approximately 20 MB of disk space, 512 MB RAM requirement and 600 MHz or faster CPU.
Installation (3 out of 5)
The antivirus and anti-malware software on the test computer blocked the installation of System Surveillance Pro for either of the two installation methods so it had to be turned off. The Internet/Online Installation method downloads a small executable which polls needed files from the vendor's server, whereas the Network/Offline Installation method involves a reusable, complete and slightly bigger installation source file.
It was necessary to contact the vendor's support as some components didn't register correctly. They responded within 30 minutes, and their instructions were to the point. When the install was re-initiated the Internet/Online Installation modus was again chosen, but this time the software was blocked by Windows Vista. After right-clicking the Vista pop-up alert and selecting run blocked program –> GPS System Surveillance Pro I was finally able to install System Surveillance Pro 5.5 as follows:
The welcome screen leads over to the EULA, and you can then change the installation path. After clicking Next the software started the installation and downloaded the required files quickly. When the installation finishes System Surveillance Pro places an instruction file in HTML form onto your desktop, but I suggest you first restart the computer and then read the file – on the Vista based test system the software only worked correctly after the reboot.
Setup (3 out of 5)
The first time you enter System Surveillance Pro interface a wizard guides you to the configuration. The first screen is self explanatory, and in step 2 you can define additional key words (Bright Hub has been chosen for testing purposes). Step 3 really deserves your attention: You should reduce the screenshot frequency from thirty to one minute, and increase the maximum default space for images.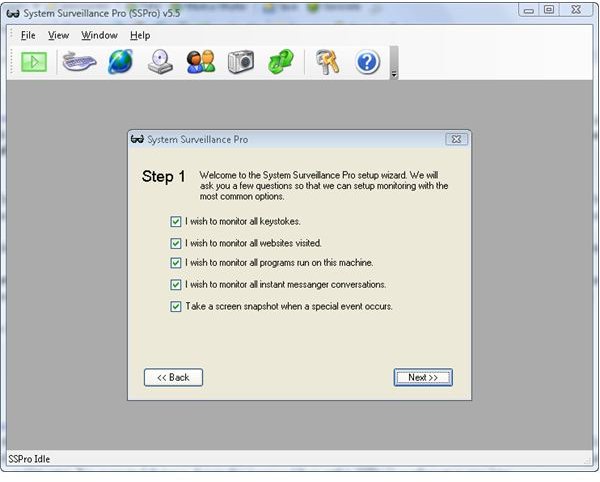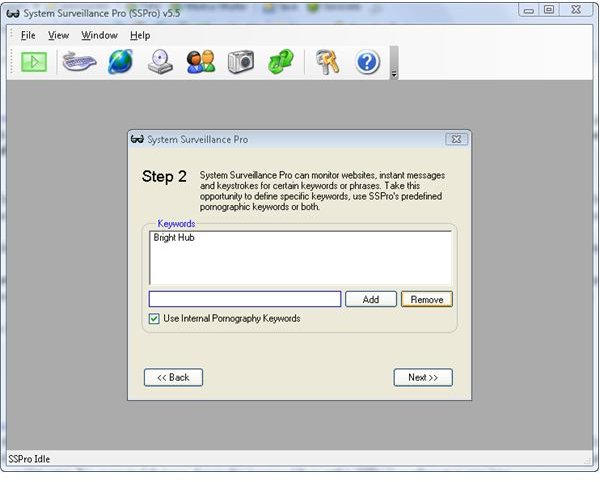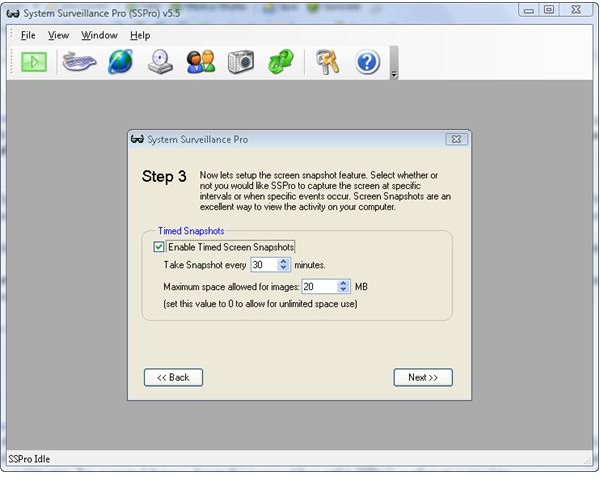 You can accept the default settings in step 4. In step 5 you can define whether or not you want to inform users that they are logged on to a monitored system, and disable the taskbar icon if you want. In other words, you decide if System Surveillance Pro runs in stealth mode. Leave Load SSP on Windows Startup ticked. In step 6 define and confirm a System Surveillance Pro password; click Finish on the next screen and reboot your system.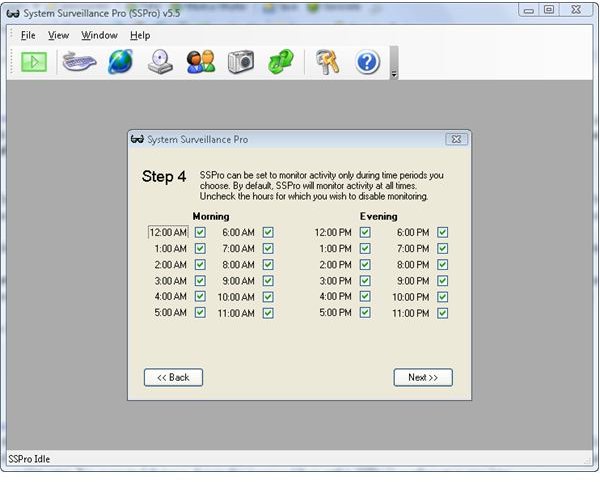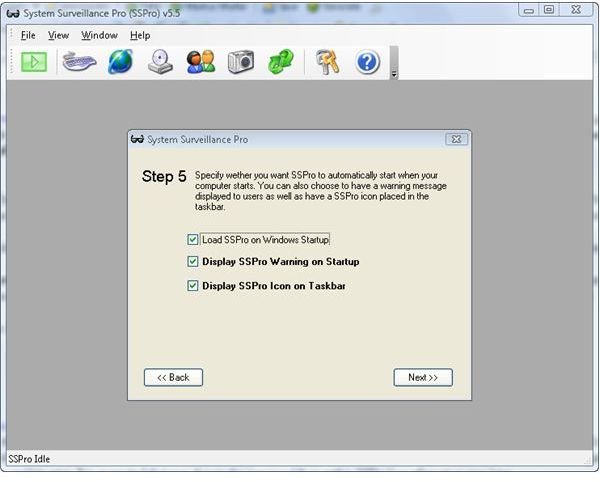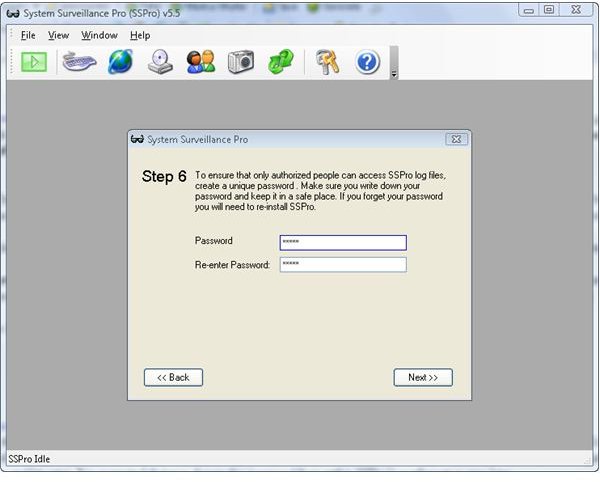 Interface (4 out of 5)
The GUI of System Surveillance Pro is accessed by means of Start menu –> Run –> SSPro and used to watch and analyze the collected data. The GUI meets the expectations.
Features (3 out of 5)
System Surveillance Pro monitors and logs all users' computer activities, offline as well as online, the Web being the primary reason for monitoring or surveillance software. System Surveillance Pro 5.5 can record any program used or keystroke typed. The software usually also collects frequent screenshots, which can also be forwarded to an email address along with the log files, or stored centrally on a network folder. Instant Messaging and websites cannot only be monitored but also blocked, for instance by keyword or URL.
From a technical perspective it makes no difference whether System Surveillance Pro is used to monitor your children's online activity and computer usage or that of your employees or spouse, yet not every use of use surveillance software, also known as commercial keylogger, is legal or ethical.
Performance (3 out of 5)
The software failed to block a test website, but I wouldn't use it as parental control software or web filter anyway as there are much better products such as NetNanny for example. However, even NetNanny can be tricked or circumvented, but a bullet-proof strategy I can think of is would combine frequent System Surveillance Pro screenshots with Web filter software.
Help & Support (5 out of 5)
On the vendor's home page you find an online help, FAQ's as well as tutorials which should answer most questions. When I wrote their support team an email they responded promptly, accurately and friendly.
Price to Value (3 out of 5)
The System Surveillance Pro 5.5 license covers two computers and has a price tag of $ 49.95, which is significantly less than what some premium competitors charge for monitoring software for one computer. You can try System Surveillance Pro 5.5 seven days free. .
The Bottom Line
System Surveillance Pro 5.5 provides common monitoring and logging functionalities at a very reasonable price, but the install, setup and configuration require rather intermediate computer skills.
References
Screenshots by the writer
Author's own experience